Student drowns in waterfall
Dehradun, July 21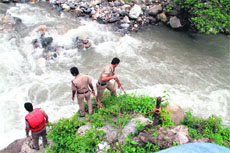 A Kashmiri student was killed at Sahastradhara picnic spot when he was swept away in the waters. A 12-member group of Kashmiri students belonging to Kupwara who are undertaking higher studies at Selaqui Institution in Dehradun went for a picnic at Sahastradhara waterfall today.



Policemen involved in the rescue operation at a Sahastradhara resort where a tourst was drowned in Dehradun on Sunday. Tribune photo: Vinod Pundir

Cong men to attend workshop
Dehradun, July 21
A group of Uttarakhand Congress spokespersons have been sent to attend a national workshop on publicity by the party in New Delhi. Party spokesman Dhirendra Pratap, said the group includes state Congress Vice-President Suryakant Dhasmana, former legislator Kishore Upadhyaya, Rajiv Mahrishi and Shilpi Arora.
GMVN devising ways to deal with losses after disaster
Dehradun, July 21
The Garhwal Mandal Vikas Nigam (GMVN) has estimated the losses to its property and business to the tune of Rs 76 crore in the disaster that occured last month. Besides this, officials have also chalked out plans to plug losses to some extent.
Man killed by wife's paramour
Dehradun, July 21
A case of man murdered by his wife's paramour has been revealed in Dalanwala region in Dehradun. According to Dalanwala police sources, victim Umesh Kumar's dead body was recovered from his house in Balmiki colony, Dalanwala, following which police started investigation and interrogated his wife Bala.
Compulsory registration of Kanwariyas welcomed
Haridwar, July 21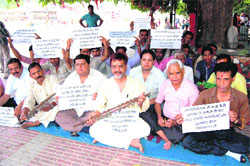 With the registration of Kanwariyas being made compulsory for this year's Shravan Kanwar pilgrimage, the step will surely pave way for an organised yatra in the state. As more than 1 crore Kanwariya's had reached Haridwar-Rishikesh and upper reaches of Garhwal Himalayas last year, in view of the large number of pilgrims at Char Dham getting killed in last month's natural fury, need of registration of Kanwariyas was being felt.


Teerth Maryada Raksha Samiti activists who sat on agitation, demanding the registration of Kanwariyas in Haridwar. Tribune photo: Rameshwar Gaur


'Happiness' art to help rebuild state


New Delhi, July 21
In a span of 10 days, 35 artists have got together to display their artworks, centred around the theme "happiness", for a fundraising exhibition to rebuild Uttarakhand. The exhibition, "A Brand New Day," begins today at the Indian August gallery in Noida and will continue till August 5. It is curated by Ravi Dhingra who admits there is no link between the photographs and artworks on display and the Uttarakhand tragedy.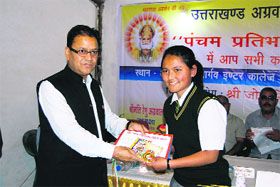 Former MC president OP Uniyal presents a citation and an award to a student of the Tibetan Homes Foundation excelling in academics. A Tribune photo
CSIR-IIP distributes relief material
Mussoorie, July 21
A team from CSIR-Indian Institute of Petroleum (CSIR - IIP), a premier national research laboratory under the Council of Scientific and Industrial Research (CSIR) distributed relief materials to the villagers in the disaster affected villages in Thatyur block in Tehri Garhwal district today.
Tashi Namagyal Academy win soccer tournament
Dehradun, July 21
Tashi Namagyal Academy, Sikkim has won the Indian Public Schools Conference (IPSC) U-14 boys Soccer Tournament held in Welham Boys School, Dehradun. In the finals today, Tashi Namagyal Academy, Sikkim, beat Birla Public School, Pilani, by 2-0. Dorjee scored both the goals for Tashi Namagyal Academy that too in the extra time (73rd and 75th minutes) of the match.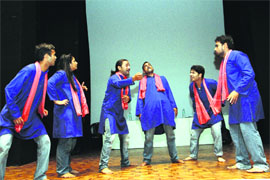 'Dhaad' activits stage a play on the flood disaster at the Dehradun Municipal Corporation auditorium on Saturday. Tribune photo: Vinod Pundir
Paytm donates RS 20 lakh
Dehradun, July 21
Paytm, India's preferred destination for prepaid recharges and bill payments for Mobile, DTH, 3G data and utility services donated Rs 20 lakh in the Uttarakhand CM's relief fund.
Asian, Kasiga schools win matches
Dehradun, July 21
In the HNB Memorial Football being played at Jogiwala, Asian School and Kasiga School won their respective matches. The first match was won by Asian School against Kendriya Vidhyalaya Birpur 5-3.
Ramayana sermon
Rishikesh, July 21
A five-day religious function will take place at Parmarth Niketan, Swargashram in Pauri Garhwal. On the occasion of Guru Poornima and 48th Nirvana Mahotsava of revered Swami Bhaku Devanand Saraswati Maharaj of Swami Bhaku Devanand Trust, Ramayana sermon will also take place.