Special rituals performed at Har-ki-Pauri


People participate in havan to pay tributes to calamity victims


Puja all over country by Shantikunj devotees
Tribune News Service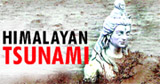 Haridwar, July 16
Special religious rites were performed here today at Braham Kund, Har-ki-Pauri ,to pray for peace of the souls of the people who got killed in the flash floods and the natural catastrophe in Uttarakhand last month.
Organised by Shri Badrinath and Kedarnath Temple Committee with Ganga Sabha, Haridwar, people from different walks of life participated in the havan-yagna to pay tributes to the deceased and speedy recovery of the affected people along side the holy Ganga river.
Titled ''Maha Shraddhanjali,'' Uttarakhand Chief Minister Vijay Bahuguna, Union Minister for Water Resources Harish Rawat, who is Haridwar parliamentarian, Deputy Speaker Anusuiya Prasad Maikhuri, Badrinath-Kedarnath Temple Committee vice chief Madhu Bhatt, chief working officer VD Singh, religious officer Bhuwan Uniyal, Ganga Sabha chief Virendra Shri Kunj, Uttarakhand Cabinet ministers Amrita Rawat, Surendra Singh Negi, Pauri Garhwal parliamentarian Satpal Maharaj, Leader of Opposition in the state Assembly Ajay Bhatt and former Lucknow Cantt legislator Reeta Bahuguna Joshi among other dignitaries participated in the havan-yagna.
Addressing the people Uttarakhand Chief Minister Vijay Bahuguna said that the whole country was with Uttarakhand in this time of crisis and the state government was with those families who had lost their near ones.
CM Bahuguna said that rehabilitation, restoration of damaged roads and supply of essential items was being undertaken in the affected areas to bring back life to normal.
Making it clear that despite the huge impact of the natural fury, the government was committed to reopening the Char Dham Yatra once again. Barring Kedarnath Dham, Bahuguna said that the pilgrimage will restart from Septemeber 30 onwards.
Portals of the revered shrines of Lord Shri Badrinath, Gangotri and Yamunotri will be opened once again for this pilgrimage season, while at the Lord Shiva Kedarnath shrine, an NDRF team was working to make sure the religious rituals started once again as soon as possible, added Bahuguna.
Earlier, Vishnu Shasthra naam path, shanti path,yagna,til tarpran, poornahuti and a two-minute silence to pray to the Almighty for peace for the deceased souls were performed.
A special three-day yagna was being performed by saints at the revered shrine of Maya Devi in Haridwar, which is being organised by Vishwa Hindu Parishad.
At Akhil Bharatiya Gayatri Parivar, Shantikunj, a special remembrance prayer was held simultaneously at different parts of the country from 6.30 pm to 7 pm in several Shantikunj centres.
As per Shantikunj officials, more than 1 crore Shantikunj volunteers, activists, students and followers and enrolled members took part in this mass special prayer nationwide. Along side, a special puja was done at 11 jyotirlings in the country by Shantikunj devotees.