Disaster-hit villagers want to be shifted to Terai region
BD Kasniyal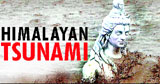 Pithoragarh, July 11
Over 10,000 residents of 36 villages in Dharchula and Munsiyari subdivisions in Pithoragarh district have demanded that they be shifted from their villages on mountain slopes to the Terai region as they have lost all avenues of livelihood in the rain fury that hit the state last month.
"We were already witnessing low business following a ban on economic activities due to laws governing the Askot musk deer zone. Heavy rains totally destroyed the already shaken economy. Therefore, we demand that we be shifted to the Terai region of Champawat or Udham Singh Nagar districts," said Aan Singh Rokaya, a zila parishad member from the Darma valley.
"Heavy rains not only shattered our wool business but also affected the cultivation of cash crops and animal husbandry. Besides, the service industry in the region has also been hit as most of the shopkeepers, tourist guides and ponywallas and local transporters have lost their sources of livelihood," said Rokaya.
He added the villagers in the disaster affected areas mostly depended on farming of cash crops like potato and rajma, mules, woollen crafts and small shops on the Kailash Mansarowar pilgrimage and other track routes. All these were destroyed in the calamity triggered by heavy rains.
The villagers said animal husbandry suffered the most as more than 200 mules and 500 sheep perished in the natural calamity. "The Gori river washed away my three mules, which were sufficient to earn a living for my family of five, on June 17. We were rendered dependent on relief ration but how long this could sustain my family," said Rukum Singh, a mule owner of Tawaghat town.
Other villagers, who used to rear mules for trackers going to Narayan Ashram or further to Panchchuli peaks for tracking, said a compensation of a few thousands of rupees would not make good their losses. If the government really wanted to resettle them it should compensate them fully for the losses suffered.
The killing of sheep would not only affect local craftsmen but also traders who go to Tibet as part of the border trade. "In the absence of local wool supply due to the natural disaster, the traders will have to bring extra wool from China, further tilting the balance of border trade in its favour," said Rokaya.
He said even if routes were reopened, the Public Distribution System ration could not be supplied to villages situated at higher places in the valley as almost all mules had perished. "The government should get mules for these traders. This is the only way to resettle them," said Rokaya.
The farmers in the Darma valley did not suffer much loss as the rains only blocked local routes but did not damage cash crops like potato and local beans. "The marketing problem has arisen. As all routes to Darma villages have been damaged clients could not come to purchase their cash crops this year," said KS Phirmal a resident of the Darma valley who had cultivated potato on his half an acre this year. "Due to lack of market, our produces will perish in the fields itself, making us poorer this year," said Phirmal.
Small shopkeepers, who had their shops near the road by the side of the Kali, the Gori and the Dhauli rivers in the valley, also lost their shops and businesses in the calamity. "About 28 small shops situated by the roadside in the Madkot area and an equal number of these in Baluakot and Tawaghat perished in the natural disaster on June 17, rending these families jobless," said Bahadur Singh Parihar, a resident of Madkot village of Munsiyari subdivision.
Rokkaya said transporters also lost their livelihood. Some of the transporters lost their vehicles while others suffered due to the closure of transportation routes following damage to roads. "I was comfortably supporting my family of seven by running a jeep but after a portion of the road was washed away it had been standing idle," said Khim Ram of Baram.
"If the government seriously wants to rehabilitate us it should first open horse tracks, followed by roads. It should compensate every victim with assets he had lost," said Rokaya. He added that the villagers, whose land had been washed away, required total resettlement instead of monetary compensation.