Capacity of kitchens, stores to be increased
Chandigarh, July 21
The capacity of kitchens and stores will be increased in the schools under the Midday Meal Scheme and directions have been issued to purchase food containers for proper storage.
Many Karnal schools sans kitchens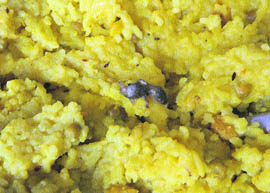 Karnal, July 21
Even though schools in the region are working overtime to remove the bottlenecks and many of them have been served the ultimatum, the ground reality remains unchanged. The grant of Rs 1.25 lakh for kitchen sheds of 15 ft by 17 ft, including a store of 10 ft by 15 ft dimension and 7 ft by 15 ft open verandah, and Rs 2,500 for utensils seem inadequate for schools with more than 200 children.
A dead lizard in food served to schoolchildren in a Kurukshetra school. A file photo
Short of ration, scheme halted in Sirsa, Fatehabad
Sirsa/Fatehabad, July 21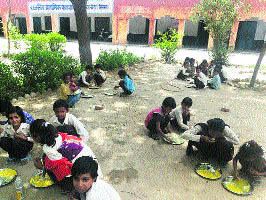 A majority of government schools in Sirsa and Fatehabad are yet to receive their mid-day meal stocks for the quarter that began from July 1. In the absence of stocks of wheat or rice, children are not getting the meal in several schools, in some, the scheme is being run with the leftover stock or by borrowing foodgrain. The Midday Meal Scheme has been put on hold in Government Girls High School, Bhodia Khera, in Fatehabad, as the school has no fresh stock for the past many days.
Children take midday meals at Government Middle School, Nejia Khera, in Sirsa. Tribune photo

Protest against arrest of Maruti workers

Kaithal, July 21
The Nagrik Adhikar Sangharsh Samiti supporting dismissed and jailed Maruti plant employees held a public meeting in Jawahar Park here today in which workers of the CPM, the Janvadi Mahila Samiti, CITU and other trade and employees unions participated.
Members of various trade and employees unions participate in a rally against the arrest of Maruti employees in Kaithal on Saturday. Photo Satish Seth

Raise marriageable age for women to 21 yrs: Civil Surgeon
Karnal, July 21
With decadal growth of population coming down marginally by 3.51 per cent from 21.15 per cent in 2001 to 17.64 per cent in 2011 and Haryana recording decadal growth of 19.9 per cent with population rising to 25,353,081, Karnal Civil Surgeon Dr Vandana Bhatia has suggested that the minimum age of marriage of females should to raised to 21 years to bring it on par with males.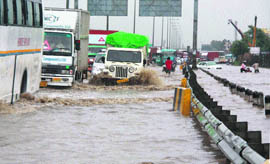 Vehicles wade through the waterlogged Delhi-Jaipur national highway at Hero Honda chowk in Gurgaon. Tribune photo: Sayeed Ahmed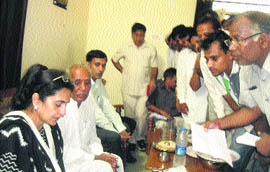 Haryana Minister Kiran Chaudhary hears public grievances at Bhiwani on Sunday. A Tribune photograph

Missing Andhra woman reunited with family
Fatehabad, July 21
Tears of joy rolled down Pakerela Narasimha Murthy's eyes as she met her lost 47-year-old daughter Talluri Marthamma at Tohana in Fatehabad after four months. Talluri Marthamma, a married woman, was found sobbing on Tohana railway station a fortnight ago.
Rs 2,000 crore to boost power distribution
Chandigarh, July 21
The Uttar Haryana Bijli Vitran Nigam (UHBVN) and the Dakshin Haryana Bijli Vitran Nigam (DHBVN) plan to strengthen the distribution system with an investment of Rs 2,000 crore in the state during the current financial year.
Sirsa villagers postpone stir against Bathinda refinery
Sirsa, July 21
Residents of nearly 12 villages of Sirsa have postponed their agitation against Guru Gobind Singh Oil Refinery at Kanakwal village in Bathinda district till July 24 after an emissary of the Bathinda district administration met them and assured that their grievances would be solved.
MP wants RTH on Rajasthan pattern
Fatehabad, July 21
Sirsa MP Ashok Tanwar wants Haryana to replicate the Right to Hearing (RTH) Act 2012 enacted by the Congress Government in Rajasthan. As a pilot project, he has announced to start implementation of the public grievances redress system as enshrined in the Act at Fatehabad.
No clue to rape, murder of Fatehabad girl
Fatehabad, July 21
Even as the police is yet to find any clue to the incident in which an 8-year-old girl was raped and thrown into a canal along with her 10-year-old brother at Bhattu Kalan in Fatehabad, a one-and-a-half year old brother of the two victims died today after brief illness.
Seed producers flay charges of certification
Kurukshetra July 21
The Haryana Seeds Producers' Association (HSPA), in its meeting held under the chairmanship of its patron Ravinder Kumar Gupta on Saturday late evening here, severely condemned the increase in accidental charges being paid by the association members for getting their respective seed certified from Haryana State Seed Certification Agency.
Outsourced power staff tenure extended up to Sept 30
Chandigarh, July 21
The Uttar Haryana Bijli Vitran Nigam and the Dakshin Haryana Bijli Vitran Nigam have decided to extend the tenure of their outsourced employees up to September 30. Their will expire on July 31. This decision was taken in a meeting chaired by Chairman and Managing Director Devender Singh here today.
Forest Dept starts plantation drive
Chandigarh, July 21
The Haryana Forest Department has started planting the targeted three- crore saplings across the state during the current monsoon season.
Computers worth lakhs biting dust in govt schools
Jhajjar, July 20
Computer labs set up at a cost of lakhs of rupees in government schools have been biting dust owing to the non-availability of computer teachers. The Education Department says that the schools will soon get IT teachers as the process to appoint them through outsourcing had already started.
Ex-sarpanch held in murder case
Faridabad, July 21
A former sarpanch of Chaprola village, Ram Singh, who is the main accused in the murder case of village sapranch Bijender Singh, was arrested in Mathura today. Sources said the crime branch of the Haryana police had made the arrest. He will be produced in a local court tomorrow.
Encroachments removed from Sonepat roads
Sonepat, July 21
Continuing its drive against encroachment on roads by shopkeepers, a team of the district administration, led by Sub-divisional Magistrate Virender Lather, demolished structures, sheds and iron grills on Murthal and Subji Mandi roads in the town on Saturday evening. The team also seized the articles which were displayed on the roads by the shopkeepers. The team used JCB machine in the drive, which was started after receiving complaints of encroachment and traffic congestion on the roads.
INLD to go it alone in Assembly poll
Gharaunda (Karnal), July 21
MLA Abhay Chautala yesterday ruled out alliance with any party and said the INLD would go alone and win the assembly elections comprehensively.
Tohana chemist robbed of Rs 35,000
Tohana (Fatehabad), July 21
Two masked miscreants struck at a chemist shop on Chandigarh road here last night.
Sant Gopal Dass urged to end hunger strike
Sonepat, July 21
Acharya Baldev, president of Sarvdeshik Arya Pratinidhi Sabha today urged Sant Gopal Dass to end his indefinite hunger strike as the state government had already started exercise for release of the Gaucharan land from the unauthorised occupations.
BJP workers launch awareness campaign
Kaithal, July 21
BJP workers have started a door-to-door campaign in various parts of the district to propagate the party's policies and programmes. They are educating people about the achievements of the NDA government at Centre and failure of the UPA to provide a corruption-free government at the Centre. Office-bearers of the local unit led by Sanjay Bhardwaj, president, Bharatiya Janata Yuva Morcha, have covered a major part of the town under this campaign. Sanjay Bhardwaj said the campaign would continue for a couple of months. — OC
Karnal reports 715 maleria cases
Karnal, July 21
Alarmed over 715 positive cases of maleria in Karnal, a four-member team of entomologists from Chandigarh today visited various areas of the district and prepared slides after taking blood samples of persons having fever. Dr Seema, a member of the team, said blood samples had been collected from Gharonda, Nissing and Karnal. With large areas of the district running contiguous to the Yamuna, Karnal residents have been advised to take all precautions. She said a special survey of villages would be conducted within two days and insecticides sprayed in affected areas. — TNS
27 schools for SC/ST girls
Chandigarh, July 21
As many as 27 schools would be opened in the economically backward blocks of Haryana during 2013-14 under the Kasturba Gandhi Awasiya Balika Vidyalayas scheme. Nine such vidyalayas were already functional in Jind, Kaithal, Mewat and Palwal districts.Education Minister Geeta Bhukkal said here that Kasturba Gandhi Awasiya Balika Vidyalayas were being set up with a view to providing modern education up to class VIII to girls belonging to the Scheduled Castes and Scheduled Tribes, other backward classes and minority communities. — TNS
8-year-old raped in Jhajjar village
Jhajjar, July 21
An eight-year-old girl was allegedly raped by a youth in Jakhoda village of Bahadurgarh subdivision. The police has booked Mohit, alias Golu, of the same village on the rape charge. The accused took the victim to his house after luring her with a chocolate. He raped her there and fled. The victim reached her house and narrated the incident to her parents who approached the police. Her medical examination confirmed rape. — OC