Four cyclists and miles to go to deliver the last messages!
Himani Chandel
Tribune News Service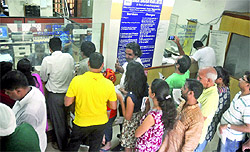 People queue up to send telegrams on the last day of the service at Telegraph Office, Eastern Court, Janpath in New Delhi. A Tribune photograph

New Delhi, July 21
Four messengers on cycles and thousands of telegrams to be delivered in the far-flung corners of the city! It is quite an uphill task for the staff at telegraph offices even as the era's mode of communication came to an end on July 14.
"We have become busier than before and don't know how these messages will be delivered," said Kishan Kumar, scrutinizing the 2,191 telegrams registered on the day of the closing of telegraph services. Kumar is telegraph master at the Chief Telegraph Office (CTO).
Thousands of people queued up at the telegraph offices to send messages, most of which were rather unimportant and some even promotional.
The CTO at Western Court which earlier used to receive 200 to 250 messages daily was flooded with 2,191 messages registered on July 14, the last day of the service.
"An era is going to be closed. Telegram becomes a history," said Avinash Mishra, a Doordarshan employee who sent it for record to both Rahul Gandhi and Director General of DD News, SM Khan.
Officials said besides CTO, Kashmere Gate received 226 telegrams, Janakpuri 118 and Delhi Cantonment 12.
"From Delhi 2,547 telegrams originated but there is no end to telegrams from outstation. The machine has not stopped in the last three days and is still receiving messages," CTO Sub-Divisional Engineer Kiran Pal said.
With the withdrawal of infrastructure by BSNL and limited available resources, the staff at the telegraph offices are facing the challenge of not only delivering the messages but also with the efficiency they have always known for. It is quite another matter that this time Khan received the 'Tar' on July 19, taking six days to travel a distance of less than 2 km.
"It may take at least a month to deliver these telegrams as only four messengers are left with us. And they too commute on cycles. One can imagine how much time it takes to deliver a letter in Faridabad on a cycle," said Pal.
The CTO, in its happy days, used to send more than 800 messages through its 100-plus messengers.
While a majority of the telegrams have been addressed to Congress chief Sonia Gandhi, party vice president Rahul Gandhi and Telecom Minister Kapil Sibal, some were also used as promotional messages. "Telegram ends today with no plans for future. Have you planned your future," said one telegram sent by an insurance company. "Telegram was 24x7 at your service, so are we," said another promotional message.
On the other side, a significant number of telegrams addressed to Sibal requested him to retain the service. "You are requested to let the telegram continue to light people's life," said one message. The other messages included best wishes for the Gandhi family. Though the staff at the CTO office only wished that the century-old customer service survived.
"They (government) said it was at a loss. BSNL is also incurring losses, so will they shut that as well. We are messengers of the public. We have earned so much money for the government," Pal said with a sigh.
"It is only the telegram that can reach even the soldiers posted at borders where there ccare no means of mobile or the Internet," said Kumar.
The staff said that the CTO received an official intimation of the closure of services about a month earlier, asking the employees as to where they would prefer to be transferred within BSNL. Most of the employees in the office are nearing retirement.
"Most of us have two or six months left before retirement. Shifting to other department means learning new work all over again," Pal said.