punjab Industry
The rust belts of Punjab
The industrial policy announced by the Punjab Government in June is a huge letdown to the existing industry. While it extends incentives to new investors, it has nothing for those trying to keep it together. The government's own precarious financial condition does not allow it to lower the tax rates and offer inducements that are essential for the industry's revival, without which it is sure to sink.
Ruchika M Khanna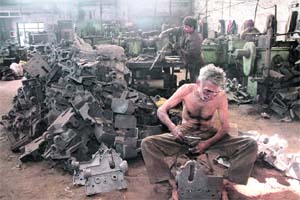 A large number of manufacturing units are closing down in Punjab or shifting to other states, where governments are offering a favourable tax regime and encouraging the growth of the industry.
THE glimmer of hope that Punjab Industries Minister Anil Joshi held for the hundreds of small and medium enterprises across the state was gone soon after the state announced its new industrial policy in June. For two years, the minister had been saying the new policy would offer incentives to the existing industry and lift the sagging economic sentiment in the state.
But once the package of fiscal incentives was announced, it had nothing to offer to the existing industry. Punjab Deputy Chief Minister Sukhbir Singh Badal, who also holds the portfolio of Minister for Investment Promotion, categorically says the new policy is meant only to attract fresh investment.


"We cannot offer the package of fiscal incentives retrospectively. But the best part of our policy is that it offers incentives even to the small investors. Those who will invest up to Rs 1 crore, can also avail fiscal concessions," he says.
However, the plunging growth in the manufacturing sector; and the unwillingness of the services (mainly IT sector) to move out of their tier-1 cocoon, is unlikely to see much investment coming in the state. In times of recession, and with the parliamentary elections due next year, investors are keeping their purse strings tied. It's a wait-and-watch situation.
The industry wants to wait for the new government to come in and see continuity in policy or in case of a change in government, wait for the new government firm up its economic policy, before they start investing.
Badal, however, is not convinced that weak economic sentiment would mar the chances of fresh investments. He wants to build the state as one of the most attractive investment destinations. "We are holistically creating development, and not just the new investors, but also the existing industry will benefit from it," he claims.
Industry leaders, however, feel in a scenario where the existing industry is taking a flight to tax havens, the state government should have a more proactive approach and look at protecting their interests.
Protectionist policy for the local industry - be it leather, sports goods, engineering goods, textiles, steel or bicycle industry - is the need of the hour.
RS Sachdeva, co-chairman of the Punjab Committee of PHD Chamber, agrees that with the industry moving to more attractive destinations, where there is tax exemption like Himachal and Uttaranchal, or better fiscal packages like Gujarat and Madhya Pradesh, the priority should be to protect the interest of the local industries.
The financial crunch facing the state does not allow for lower tax rates, but the government can lobby with the Centre to ensure that the existing industry gets freight equalisation subsidy (a policy where freight rates are refunded) and some other tax concessions.
The government claims that the state will be power surplus by the end of this year. The emphasis is on building road infrastructure and air connectivity, which will make the existing industry here more competitive and facilitate the movement of buyers. The improved power supply will also increase production, and thus profitability.
Investments coming in

The investment scenario is not bleak. Our industrial policy is very attractive and big-ticket investors are taking a keen interest. Why else would a big group like Tata and the top management of most group companies be coming here? Though things are still at a drawing board stage, they want to invest in IT, health, infrastructure development and services sector.
Sukhbir Singh Badal, Punjab Deputy Chief Minister
Steeling themselves for a dim future
Sanjay Bumbroo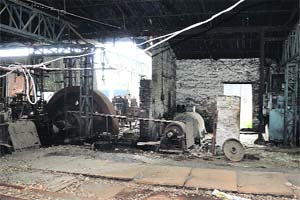 Machinery gathers dust at a closed steel furnace unit in Mandi Gobindgarh. A Tribune photograph
MORE than 30 per cent steel and furnace industries in the steel town have shut down. The imposition of 2.5 per cent import duty on steel scrap and a 5 per cent VAT has sounded the death knell for the units. About 15 to 20 per cent manufacturers have put up their furnaces for sale, but have failed to find buyers. The others have cut down production by 50 per cent.
With no natural resources like ore mines in the state, industries have to import these from other states, thus enhancing the manufacturing cost. About 20 per cent furnace unit owners have also put their units on sale.
The district excise and taxation department collected Rs 173 crore as VAT in 2011-12 against Rs 138 crore generated in 2010-11. However, the department had collected Rs 205 crore in 2012-13, showing a decline of around 7 per cent.
The ban on mining and shortage of scrap supply has pushed the steel industry on the brink of closure. The demand for steel has gone down by 50 per cent. Most units are operating one shift a day, forcing the labour to sit idle or move to neighbouring states.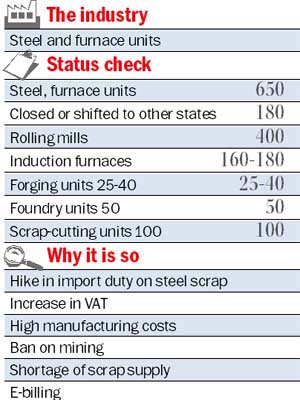 Re-rolling and furnace units at Mandi Gobindgarh, Amloh and Khanna are facing shortage of steel scrap as dealers from other states stopped the supply after the introduction of e-billing. It is mandatory for iron and steels traders to submit information on intra-state movement of goods worth over Rs 2 lakh under the e-TRIP. The industry has been opposing it, saying it would lead to the shifting of units to Himachal Pradesh.
Nearly 400 rolling mills are serving 20 per cent of the secondary steel market of the country and about 160-180 induction furnaces are producing raw material for the mills. About 25-40 forging units cater to the steel rolling mills and sugar and paper industry. There are 50 foundry units and 100 scrap-cutting units.
"The government should cut VAT from 5 per cent to 2 per cent. The Centre should withdraw VAT so that we can compete with other states. The 2.5 per cent customs duty on iron scrap should also be rolled back. Sops should be given to industries in this border state on par with Jammu and Kashmir and Himachal Pradesh," says Mohinder Pal Gupta, general secretary of the Mandi Gobindgarh Induction Furnace Association.
High VAT unravels knitwear industry
Manav Mander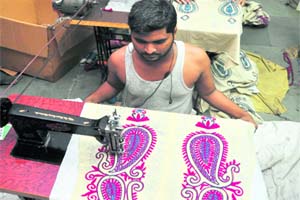 Hosiery units are incurring losses in Ludhiana. Tribune photo: Himanshu Mahajan
THE century-old knitwear industry is declining due to heavy taxation and unfavorable conditions. Those who developed the industry here were first-generation entrepreneurs who migrated after the Partition. Sewak Ram, a small-scale hosiery unit owner, says initially it began as a means of livelihood for migrants. They set up small units in the backyards of their houses and transported materials on cycles and scooters. Because of their hard work, the industry made a mark globally.
In 1903, the first unit with imported hand-operated machines was set up. The requirement of knitwear, especially for defence forces during World War-II, gave a boost to the industry. The industry did not expand much during the pre-Independence period. Knitwear production multiplied after Independence.
Over the years, the industry expanded exponentially. Business grew from less than Rs 100 crore in the 1970s to about Rs 10,000 crore. At present, there are around 12,000 knitwear units operating in the city that provide employment to over 4 lakh people. Three years ago, the number of units stood at 13,000.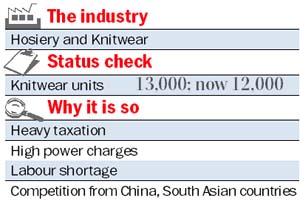 Increase in taxation and power charges are cited as reasons for the downfall of the industry. The knitwear industry in Ludhiana is highly decentralised and varied in size. Small units are located in residential areas around Sunder Nagar, Madhopuri, Brahmpuri, Shivpuri, Purana Bazar, and Bahadur Ke road while medium and large units are located in the Industrial Area, Focal Point, Chandigarh Road and Jalandhar Road. Most units are based in residential areas that have been converted into commercial places.
"Two years ago, VAT was imposed on yarn and finished garments at the rate of 4 per cent. Today, it is 6.5 per cent. Power rates have also been raised. Small units could not bear the burden and closed down," says Darshan Dawar, president of the Knitwear Club. The industry is also facing labour shortage. "Due to schemes like MGNREGA, migrants have moved back. The government should open skill training centres to train the local youth," says Dharampal Sabharwal, another manufacturer.
"We are working very hard to sustain ourselves, but are not being given any facilities. The industry in Karnataka is growing at a faster rate. Small manufacturers are switching to other professions," says Inderjit Singh, a manufacturer. The challenge facing the hosiery industry is how to compete with China and other South Asian countries. "How do we compete with foreign suppliers entering the market with branded products in a promotional and marketing environment?" asks a member of the Knitwear Club.
Global recession played spoilsport
Bipin Bhardwaj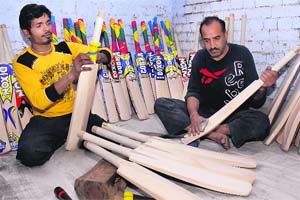 Chinese sports goods have captured a major segment of the Indian market. Tribune photo: Malkiat Singh
THE erstwhile capital of Punjab after Independence (until Chandigarh was built), Jalandhar is know for its sports goods, hand tools and leather industry worldwide. It is a major rail and road junction, but lacks direct air connectivity. After Partition, many skilled craftsmen migrated from Sialkot and settled here. They developed units for sports goods and hand tools while the leather industry already existed.
The industry witnessed a phenomenal growth over the past five decades, but was eclipsed when global recession broke its backbone in 2000.
The reasons for growth were easy availability of affordable raw materials, less competition, steady prices, dedicated power supply and availability of labour. The state and Centre had extended various schemes to facilitate the industry.
The industry started withering with fluctuation in the prices of raw and finished goods after 2000. With more manufacturing firms, including multinational companies, entering the market, the industry took a beating. Lack of the latest technology and the government's reluctance to give the industry a boost are the other reasons.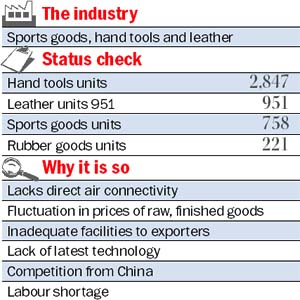 Inadequate facilities and benefits to exporters of finished goods, and on the import of raw materials further added to the problems. The high cost of land, tedious formalities and corruption discouraged those wanting to set up new units. Inadequate power supply and collection and refund of VAT also acted as deterrents. Against Rs 12,000 crore worth of VAT to be refunded, the government has not refunded Rs 200 crore (since March 2012) to industrialists of Jalandhar alone.
Sports and leather units are the worst affected as Chinese goods have captured a major segment of the Indian market. Chinese products have replaced a majority of traditional products like football, volleyball, hockey sticks and badminton and squash rackets, barring cricket bats and balls. The same is the case with leather products.
As per records of the District Industry Centre for 2012, nearly 2,847 units in the district manufacture hand tools, providing employment to 34,570 persons. The industry has invested Rs 25,277.41 lakh against its production of Rs 88,581.31 lakh.
The leather industry has emerged as another bid sector, with 951 units providing jobs to 7,326 people. With an investment of Rs 7,587.77 lakh, the industry has a production record of Rs 22,835.10 lakh.
Similarly, 758 units manufacture sport goods provide jobs to 5,346 persons, with an investment of Rs 3,003.67 lakh. The district has only 221 rubber goods units providing employment to 1,390 workers. It has an investment of Rs 1,470.50 lakh while the production is Rs 5,920.42 lakh.
"The government must provide the latest technology and incentives to entrepreneurs for them to compete in the international market. Land should be made available for the sports goods manufacturing industry at controlled rates and there should be a single-window system to grant permissions," says Raghunath Singh Rana, chairman, Sports Goods Manufacturers and Exporters Association.
Export orders have also been hit. "Unannounced power cuts have hit the industry and brought a bad name in the export market. We are unable to deliver consignments on time. Labour shortage is another problem. Delay in VAT refund is making it worse," says Ashwani Kumar, general secretary, Hand Tool Manufacturing Association.
The damage to the leather industry is irreparable. People don't rear cattle anymore. We have been asking the state and central governments to promote organised farming and rear male calves, which generally starve to death. There is need to introduce the latest advancements in leather technology, says Lt-Col (retd) JS Paul, chairman of the Punjab Leather Federation.
'Manchester of Punjab' no more
Umesh Dewan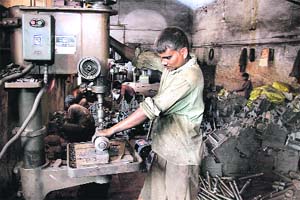 A labourer at a foundry in Goraya. Many units have shifted to Uttar Pradesh and Haryana. Tribune photo: Sarabjit Singh
THE industrial township of Goraya, once called the "Manchester of Punjab", is vanishing fast. Housing mainly foundry and ball-bearing units, Goraya was one of the important industrial centres three decades ago. But now almost 90 per cent of units have either shut down or shifted to other states, mainly due to the "anti-industry" policies of successive governments.
MP Singh, an industrialist, says during the 1980s, about 400 big and small units were manufacturing ball bearing, tractor parts and thresher, but today 90 per cent of the industry has left Goraya. "No concessions to units and absence of a tool room for the chemical testing of goods have taken a toll," he says. A majority of the units have shifted to Varanasi in UP and Narwana and Samalkha in Haryana because of the favourable policies of the state governments there.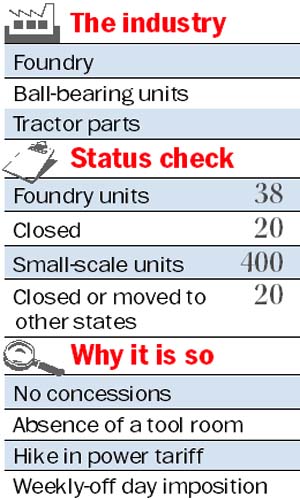 Satish Bhatia, president of the Small Scale Ball Bearing Manufacturers Association, says with the Punjab Government announcing a "hollow" industrial policy, the hope for any revival of the industry seems impossible. "The policy has nothing to offer to the ailing industry. Except for a passenger train, no other train halts at Goraya," he says.
Terming the drastic increase in the power tariff every year, weekly-off day imposition on the industry and the heavy imposition of various taxes as the main factors behind the migration of the industry, another industrialist Sukhvinder Singh says: "Compared to Punjab, the taxes are considerably less in Haryana. Hence, it is obvious that costlier goods manufactured by the Punjab industry will not find a place in the market."
Industrialists also say that while many units and foundries shifted to Haryana and UP, some big firms disposed of their infrastructure and sold their trademarks and land. "Hardly two dozen foundries are left. If such policies continue, even these will not be left," they say.
Land costs make it unviable
Akash Ghai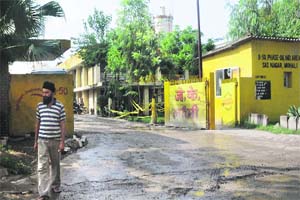 An industrial unit has been changed into a cement store in the Industrial Area, Phase-6, Mohali. Tribune photo: Vicky Gharu
All's not well," say industrialists in Mohali district. The district has not seen any "mother industry" for the last three decades and industrialists are wary of setting up new units or going for an extension.
"If someone wants to establish a unit or extend a manufacturing unit, Mohali is certainly not an ideal location," says Anurag Aggarwal, president of the Mohali Industrial Association. "The cost of land is very high compared to any other place in the area. The government, which talks of the district as an industrial hub, is not considering the high cost of land and rents in the area. There is no check on its part. Power cuts that go on for days and non-availability of skilled manpower are also a hindrance in the setting up of new units," he says, adding VAT refund is also a problem.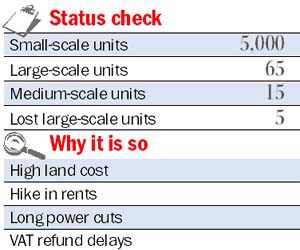 Bhupinder Singh, president of the Mohali Small Industry Welfare Society (which looks after the welfare of industrialists running units from rented premises), says: "The government is doing nothing to save small units. The rise in rents and inflation has forced several small-scale units to switch to other trades. The rents used to be between Rs 5,000 and Rs 8,000 three-four years ago. Now, you cannot even get a small portion in the industrial area less than Rs 25,000. Unit owners who are getting low rents from old tenants want their units vacated. Our margins have shrunk. Many of us have started shutting down our businesses," he says.
Things are no better at Dera Bassi. In the past few years, the town has witnessed an exodus of around 50 units to Baddi and other states. Vinay Mittal, president of the Dera Bassi Industries Association, claims the industry is facing an acute problem of overcharging by the truck union. "They are demanding almost double freight compared to the transport rates at Mohali. If the freight to Ahmedabad is Rs 18,000 at Chandigarh, here it is Rs 32,000. The union is being patronised by certain politicians", he alleged.
Equal freight may help
Ravi Dhaliwal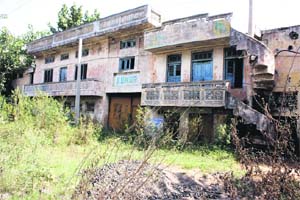 An abandoned foundry in Batala. Industrial plots have no buyers. A Tribune photo
Industrial units, which in the pre-Partition days, catered to nearby cities like Sialkot and Lahore, need reintroduction of Freight Equalisation Policy (FEP), good roads, better rail connectivity and quality power supply for survival.
Data from the industries department reveals that in the last two decades, over 60 per cent units have shut down. Business boomed before the Radcliffe Line cut off trade to adjoining towns. Businessmen now are surrendering their sales tax numbers and power connections. "Coastal states of Gujarat, Maharashtra and Kerala became the biggest beneficiaries after the FEP, as were Haryana and Punjab. Industry would get pig iron, aluminum and coke at the same price as they used to in mineral-surplus states," says Harmanjit Singh Goraya, a businessman.
Jawahar Marwaha, president of the Hindustan Foundries Association, says: "Negligence by the state and central governments killed the industry."
Dharam Pal, general manager (industries), says: "The pace at which the units are closing down, Batala may become a haunted town. For the past decade, the industry has been registering a negative growth rate. The cost of raw materials exceeds the price of finished goods. Batala was once the largest manufacturer of cast iron and machine tool." Stiff competition from China and Korea is another challenge.
Ashwani Sekhri, an MLA and a former president of the Batala Foundrymen Association, says: "A special package should be offered to Gurdaspur, Amritsar, Tarn Taran, Fazilka, Pathankot and Ferozepur. The decision to allow the import of second-hand machinery has also come as a blow."
It is also tough for the sports goods manufacturing units. Export orders are going to the Sialkot industry as its products are better and cheaper. Dr SS Nijjar, a social activist, says: "Manufacturers cannot bring willow from Kashmir or the Andaman and Nicobar Islands. We were leaders in cricket bats in the world. We need cane and good willow. Bats made of Kashmir willow have a good market in the UK. In the 1970s we used to export our goods to Europe and South Africa."
About poor rail connectivity, an industry owner says: "The Amritsar-Pathankot track cannot be electrified. There is a cartel of rich transporters operating in Batala. People travel by bus since not many trains run from Batala to Amritsar."
However, the Institute for Machine Tools Technology (IMTT), set up in collaboration with the United Nations Development Programme, is doing well. It provides the latest equipment for testing and arranges tours of foreign experts to share their knowledge with industrialists. "It is assisting small-scale units to upgrade technology," says Iqbal Saimi, a businessman. An IMTT official says: "We cater to nearly 600 units of Ludhiana, Pathankot, Hoshiarpur, Jalandhar and Amritsar. Not many local industrialists get their products tested here. Our tool room and common manufacturing facility are equipped with the state-of-the-art machinery." An industrialist points out: "There is red tape in the institute. I get my products tested from private laboratories."
When Gurdaspur-based Ashwani Kumar became the Minister of State for Industry in 2006, people hoped he would revive the sagging industry, but nothing happened.
Partap Singh Bajwa, Gurdaspur MP, insists there should be interaction between foundry owners and their counterparts in China, Romania and Poland, where the foundry business is flourishing despite innumerable government restrictions.
What is FEP
Freight equalisation policy (FEP) was adopted in 1948 to facilitate equal growth of industry across the country.
Was withdrawn in 1992; industrialists began shifting to Ludhiana, Agra, Secunderabad and South India because of better business environment.
Under FEP, a factory could be established anywhere in India and transportation of minerals would be subsidised through the railways.
Helped heavy and middle-level industry grow outside mineral-rich regions.