Short stay homes for women in distress
Dehradun, August 12
For providing succour to the women who lost their husbands in the mid-June calamity, the Department of Social Welfare plans to set up short stay homes along with crèches-cum-counselling centres in the four worst affected districts of the state.
Ministry: No pollution threat to Gangotri, Yamunotri, Badrinath dhams
Dehradun, August 12


The Union Environment and Forests Ministry has ruled out any major pollution threat to Gangotri, Yamunotri and Badrinath dhams in Uttarakhand. In a written reply to a question in the Lok Sabha today, Jayanthi Natarajan, Minister of State (Independent charge) for Environment and Forests, ruled out any scientific report relating to ecological degradation in the famous Gangotri, Yamunotri and Badrinath dhams due to environmental change and pollution.
Jayanthi Natarajan, Minister of State for Environment and Forests
Villagers suffer losses as heavy rains damage Yarsa Gumba
Pithoragarh, August 12
The trade of Yarsa Gumba, a wonder drug found at above 11,000 feet high valleys in the Himalayas in this part of the region, has dwindled this year due to heavy rains in the state. This has caused losses to hundreds of villagers, who are dependent on the drug trade for their livelihood. Yarsa Gumba is used in the Tibetan and Chinese systems of medicine for aphrodisiac purposes.
GMVN rest houses in urgent need of repairs
Dehradun, August 12
The poor condition of tourist rest houses (TRHs) is spelling double trouble for the Garhwal Mandal Vikas Nigam (GMVN), which is already suffering losses after the flash floods disaster. Mussoorie rest house Garhwal Terrace, which yields an annual profit of approximately Rs 50 lakh, calls for immediate attention for minor changes which can make a world of difference to it.
Govt has failed to tackle natural disaster: BJP
Pithoragarh, August 12
Former Uttarakhand minister and BJP panchayat raj cell organiser Mohan Singh Gaunwasi has said the state government has failed to tackle the disaster in the state as it has no regular and long-time policy.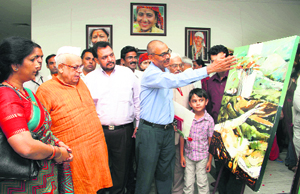 Governor Aziz Qureshi looks at a painting at the closing ceremony of a three-day art exhibition at Raj Bhavan in Dehradun on Monday. Tribune photo: Vinod Pundir

Aged person found dead in Mussoorie
Mussoorie, August 12
The body of an elderly person was found lying on the Lambhidhar road in the Bansa Gad forest area near Mussoorie today. The police has sent the body for a post-mortem.
Relief work to continue in Darma, Johar valleys
Pithoragarh, August 12
Relief operation in the disaster-hit villages of Darma and Johar valleys will continue for some more days as the administration is yet to drop ration for the month of September at some places in the upper valleys where farmers move in the months of summer.
Students want HC order on age challenged
Dehradun, August 12

The Aryan Group of DAV PG College has demanded that the Uttarakhand Government must challenge the recent verdict of the High Court in the Supreme Court in which it had stayed the government decision to increase the eligibility age in state services from 35 to 40 years.
Students belonging to the Aryan group of DAV PG College hold a dharna in Dehradun on Monday in support of their demand for raising the upper age limit for government jobs. Tribune photo: Vinod Pundir

THDC gives Rs 36.9 lakh for disaster relief
Dehradun, August 12
Uttarakhand Chief Minister Vijay Bahuguna was presented with a cheque for Rs 36,91,170 by the Tehri Hydro-electric Development Corporation (THDC) here today. The money has been presented for the CM's Disaster Relief Fund. Present on the occasion were CMD RSI Sai and the Director, Technical, DV Singh.
Babita nominated Lioness district chairperson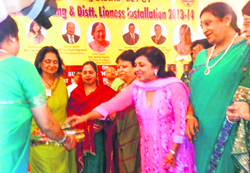 Mussoorie, August 12
Lioness club zone district chairperson Babita Agarwal from Mussoorie was nominated as the Lioness district chairperson during the installation ceremony held in Dehradun yesterday. The chief guest on the occasion of the installation ceremony was state Minister for Bharat Rajya Vikas Parishad Savita Kapoor.
Babita Agarwal who has been nominated as District Chairperson of the Lioness Club during the installation ceremony in Dehradun on Sunday. A Tribune photograph

Part-time teachers launch indefinite stir
Dehradun, August 12
Members of the Unemployed Shiksha Acharya and Part-Time Teachers' Association staged a protest at Lansdowne Chowk here today in support of their demand for recruiting them against the vacant posts of shiksha mitra. Later, they launched an indefinite agitation. In 2008, the government had closed EGS and AIE centres following which a large number of shiksha acharyas and part-time teachers across the state lost their jobs. The aggrieved teachers said the government, through its order in 2010, gave employment to 1,107 shiksha acharyas and part-time teachers on the basis of their. However, the remaining 1,745 shiksha acharyas and part-time teachers had not been recruited against the vacant posts so far, they alleged. — TNS
MNREGS staff continues with dharna
Dehradun, August 12
The Mahatma Gandhi National Rural Employment Guarantee Scheme Employees Association today continued with the indefinite dharna at the Old Raipur bus stand, Dehradun. The angry demonstrators reiterated that despite repeated promises, their demand for direct employment from the Rural Development Department on a contractual basis was yet to be fulfilled by the state government. The association also pledged to stage a protest march to the residence of Chief Minister Vijay Bahuguna shortly. Dwarika Prasad Devli, Vimal Rana, Bijrendra Jagudi and Rakesh Bisht participated in today's dharna. — TNS