Smooth sailing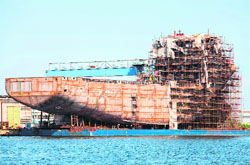 In most parts of the country we rarely think of the sea or activities associated with it except when we think about a holiday on the beach. Yet, India is a major maritime country, predominantly peninsular in nature having a huge coastline of 7,515 km and 1197 islands, and is located strategically on major maritime routes. So sea-related industries such as shipping are an important pivot of the country's commercial activities whereby commodities such as oil, food grains, tea, machinery items, and even cars and other large items, for export and import are transported by sea.
Career Hotline
From where can I do a course in film appreciation?
What kind of work is involved in multimedia?
Are engineering grads eligible for NET?
Scholarship roundup
Offer for marketing and finance students
The School of Business and Economics at the UK-based Loughborough University is offering scholarships to students on its one-year postgraduate programmes in Management, Finance and Marketing, starting from October, 2013.
Newsboard
ISB iDiya contest
The Indian School of Business (ISB) has announced the launch of the fifth edition of iDiya — India's biggest social venture competition for working professionals in the country.
T-learning takes off in Chandigarh
The Curriculum Company (TCC), an innovator in the K-12 education space, has launched India's first end-to-end Tablet-based Classroom Management Platform. The Tablet-based Learning Platform enables a teacher to conduct an engaging class by empowering them with the apt tools and providing a strong locus of control for even classrooms as big as 40+ learners.
The Integration Edge
Nomenclature
There is often confusion between dual degrees and integrated courses and very often both are used interchangeably. A joint degree programme is an outcome to an integrated course of study.
study abroad
Make the right beginning
Want to study abroad, but don't know where to begin? It's an arduous process, but with the right information and direction, you can get into that dream college you deserve.
Course cruising
Film courses
Satyajit Ray Film and Television Institute, Kolkata, is inviting applications for admission to 3-year postgraduate programme in cinema specialisation in direction & screenplay writing, cinematography, sound recording & design, editing and producing for film and television for the session 2013-2016.
testing times: cat preparation
Work on confidence levels in the last leg
With less than two months left for the CAT exam, candidates are in the last leg of the preparation race. Here are some last minute preparation tips that will stand you in good stead at the time of the exam:
Take the right call
Video conferencing is one of the easiest and most convenient ways of communicating across long distances. The concept allows individuals at multiple locations to connect through two-way video and audio transmission. With organisations cutting down travel expenditure, video conferencing is gaining popularity across the globe.
work station
Tech tonic for your career
There was a time, in the not too distant past when all you had in the office besides your typewriter was access to a common landline phone and a fax machine. The bigger offices supplemented this barely industrial technology with a teleprinter. And that was that. No mobile phones, no personal PCs and tablets, no super-smart phones, no SMSes, tweets, FaceTime, Facebook, WhatsApp, what's down, and what's out!
cubicle trends
Firms woo top execs with better pay
As companies seek to retain their best-taken employees amid a global economic slowdown, they have hiked the pay and perks of top-level executives in India by about 70 per cent in the past four years, shows a study. Showing a better trend in remuneration and other benefits for the top-level executives, staff salaries across the board have risen by an average of 50 per cent during the same period, as per executive search firm MANCER Consulting.
CareerCature
SANDEEP jOSHI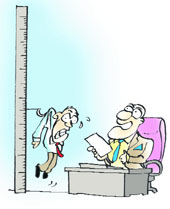 I'm sorry, but we can't give you a better raise than this .
bookshelf
Addressing the need to lead
John Adair is a power-packed name in the world of leadership and management. Confucius on Leadership is yet another ground-breaking piece of work on the topic. It is a perfect combination of ancient gems of wisdom and contemporary forethought written in a candid way. This is a masterpiece descended from the brain-shelves of the 'Master of Masters' as Confucius is referred-to in China.
Happiness @ work
Get right reports
Many decisions need to be taken every day in all fields of work. For the right ones to be taken, the presence of right reports is vital. On landing in Lanka in search of Sita, Hanuman realised that mighty Ravana would not restore Sita to Rama without a fight. So, in the form of a small monkey, he took note of Ravana's military resources. He met Vibhishana and told him about Rama's plans to invade Lanka, thereby sowing dissension in Ravana's ranks.