Footprint of LUXURY
Luxury housing segment has been growing in spite of the slowdown in the realty sector all over the country. Developers are lining up a vast array of such homes for the HNIs and NRIs
Geetu Vaid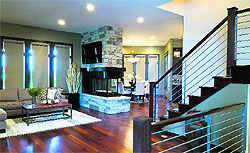 While slowdown has crippled the realty sector in the country to a large extent with low sale volumes and increasing inventory overhang, the luxury segment has managed to buck the slowdown trend so far. Commenting on the trend being witnessed in the Indian realty market, Ananta Raghuvanshi, Director Marketing and Sales, DLF India said that demand in the luxury segment has remained robust over the past couple of years and, "Luxury and super luxury real estate products seem to be immune to the ups and downs in the market sentiment. "
Luxury housing primarily caters to the high-end investors. With the rapid pace of urbanisation, the urban families are increasingly opting for luxury homes. Property portal Makaan.com recently conducted a survey to measure whether the luxury housing (having a budget of Rs 1 crore +) is gaining momentum in India. The maximum number of people (58%) were of the view that there is an increasing demand for luxury segments while only 7 per cent said that they did not have much idea about it.
Steady growth
With new luxury projects being launched in the top metros regularly over the past couple of years and the developers claiming good sale and response, this market is slated to grow at a compounded annual growth rate of over 80 per cent during 2012-2014, according to the figures provided by research firm RNCOS.
Is luxury housing gaining momentum in India?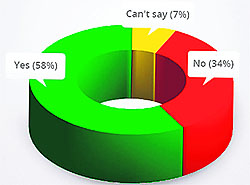 Surprisingly, in the 2008-12 period, with the global economy facing a downturn, the total value of luxury homes, launched in 182 luxury residential apartments, offering a total of 25,570 units across the top seven cities of NCR-Delhi, Mumbai, Bangalore, Chennai, Hyderabad, Pune and Kolkata was around $ 30 billion, according to real estate consultants Jones Lang LaSalle.
The increasing demand of luxury segments can be attributed to the increasing rate of High Net worth Individuals (HNI) and the rapid pace of urbanisation. " At a growth rate of more than 20 per cent, India has the fastest growing number of HNIs in the world, and real estate comprises approximately 40 per cent of their investment portfolio," adds JLL.
According to global real estate consultancy, Cushman and Wakefield, developers are planning to launch about 9,000 homes in the super luxury segment across major cities in India over the next 2-4 years. Developers say luxury housing consumers generally demand residential units with an area of 4,500 to 7,000 sq ft.
The demand, no doubt is more in the metros as JLL figures show NCR having the biggest chunk of luxury housing in the country with a 35-40 per cent share, Mumbai with 20 per cent and Bangalore with 15-20 per cent are the other preferred locations for luxury house hunting.
Price point
The average price for a luxury segment real estate across India is above Rs 1 crore depending on the location and available facilities. Price points for luxury housing in the prime locations of Mumbai range from Rs 25,000 to 1,10,000 per sq ft, while similar projects in the prime areas of South and Central Delhi range from Rs 15,000 to 65,000 per sq ft. Gurgaon's prime locations fetch Rs 7,500 to 30,000 per sq ft, while Bangalore's luxury housing projects range from Rs 20,000 to 30,000 per sq ft.
There is availability of these luxury houses in metros like Delhi, Bangalore, Mumbai, Kolkata, Gurgaon and Chennai. The changing demographics of the country coupled with the rising aspirations initially brought up the existence of luxury housing.
Leading developers like Tata Housing Development Company, Sobha Developers, DLF, Kalpataru, Nitesh Estates, Unitech, Omaxe, Royal Palms and Lodha Developers are currently developing projects in cities like Mumbai, Delhi Pune, Goa, Bhubaneshwar, Bangalore and in Kerala, with the price of an average luxury home varying anywhere between Rs 1 crore and Rs 50 crore.
Tata Housing's 'The Promont' project in Bangaluru is one such luxury housing project. Spread over across 14 acres on Bengaluru's exclusive hill — Promont Hill at Banashankari, it offers elegantly-designed residences of double-height cantilevered terraces with landscaped gardens. The project is designed by world-renowned architect Moshe Safdie, whose most recent creation includes the Marina Bay Sands Resort in Singapore.
The DLF group that has delivered a number of luxury projects over the years, has not slowed down its launches in this segment. Sama Tara, the super luxury villas in Shimla, Sama Vana Luxury villas in Kasauli and Commander's Court in Chennai are some of the new offerings in the uber- luxury segment.
Lodha is yet another developer whose Fiorenza project in Mumbai's suburbs became renowned for its association with Jade Jagger. The developer is enticing consumers with its grand sky villas; while Indiabulls' Blu is another similar luxury project in Mumbai's central district of Worli.
Supertech Limited has its ultra luxury Rs 2000 crore project Supernova in Noida for which it has entered into a partnership with Armani/Casa, the home and interior design division of the Armani Group to design ultra luxurious high-end residences – "Residences by Armani Casa". The group is also going to come up with another project in association with Disney India. The Fable Castle project will be part of its integrated city project Golf Country, at Yamuna Expressway, Greater Noida.
Builders and developers of tier 2 cities are also exploring the luxury segment market and are providing the home buyers the option of luxurious, super luxurious and studio apartments. Tata Housing even has a luxury housing project, Ariana, in Bhubaneshwar, a city that has hitherto not been associated with high-end living.
So while Karnal has its set of expandable Spanish villas in the form of CHD Developers' 'Spanish Meadows', the ATS group has Cassa Espana luxury homes coming up in Mohali. The footprint of luxury is visible all across the country. As Tata Housing's MD and CEO Brotin Banerjee says, "Even Tier I and II cities that comprise primarily of a middle class population are also fast moving towards luxury housing, mostly on the back of ancestral money and the aspiration of living life, king size with their disposable incomes. We get many inquiries for our luxury housing project in Bhubaneshwar from Odiyas residing in US and UK."
Loaded with luxury
A typical luxury home is spread over about 4,430 sq ft in Mumbai, whereas the comparable size of a home for an average family of four is about 800 sq ft. These high-end homes are typically located on private roads or extensively protected and gated private communities that boast of ultramodern security systems, making them a private heaven.
Given that these consumers are shelling so much, expectations run high. These multi-million dollar mansions, villas, apartments, penthouses and condominiums — call them what you want — offer ostentatious amenities and services that remain at the beck-and-call of their patrons.
Super luxury segments are equipped with world-class features both in terms of price and style, for example, there are sixth sense electronic fittings and 80 per cent oxygen-rich environment to boost the health of the residents.
From an entire room dedicated to a home theatre with state-of-the-art surround sound system, to a personalised library; from an open swimming pool in your terraced garden that overlooks the Arabian Sea to a stylish kitchen with ultramodern appliances that resembles a cooking show kitchen; from humongous walk-in closets that are straight out of the movies, to a tailored gym, coupled with a Jacuzzi and spa-sauna — the super-rich have it all.
Not surprisingly, these homes are all smart homes. These are intelligent living spaces that have been developed with the help of latest gadgets and technology in the world of interior design and architecture. Digital locks, electronic surveillance systems, in-built temperature control, wireless communication for Internet, in-house entertainment, sensors that enable residents to control ambience, light and temperature through pre-programmed machines are all regular services and amenities that developers use to woo these hi-end customers.
Dollar shower
Another reason for the luxury housing to gain momentum is the increasing investment by the NRIs in the Indian real estate industry. Moreover, at present, in comparison to hotels, the studio apartments are proving to be more convenient and sought after by the NRIs visiting India. Independent swimming pools, personalized Jacuzzis, private elevators that lead straight into your living room, complete home automation, modern clubs with exclusive members' lounges and spas - these are just some of the luxurious amenities that real estate developers are including in their luxury housing projects - a move that is aimed at the Non-Resident Indian (NRI) audience.
Aiding this agenda is the timely depreciation of the rupee against the dollar. With the rupee nose-diving to new lows compared to the global benchmark, homes in India are becoming cheaper for the NRI community.
Banerjee of Tata Housing says , "Tata Housing has been witnessing a steady response from NRI customers from UAE, Singapore, UK and even from US, ever since the Rupee has started to depreciate. The demand from the NRI segment has increased by 25 to 30 per cent as compared to the past.
"Interestingly, this demand is spread across geographies. We have steady demand for our uber-luxury housing project — The Promont in Bengaluru and Primanti in Gurgaon, from Indians living in US, UK and the Gulf. This is an opportune time for NRIs to invest in real estate in India due to lucrative pricing as well as the easing of lending norms for NRIs." The world of high-end luxury and premium housing has seen a massive change in the past few years, especially with the exploding growth of India's new affluents, a top-of-the-tier working class population that is single-handedly driven towards living the big life.