Teachers' Home: Pushed into oblivion by its creators
Bathinda, September 4
While Teachers' Day will be celebrated in all the schools across the city on Thursday, the Teachers' Home, a landmark of the city, will hold more congregations of teachers who are protesting against the state government. No wonder then that the Teacher's Day is a perfect day to ask the question - has the landmark been reduced to a place for holding protests only?
School to be upgraded soon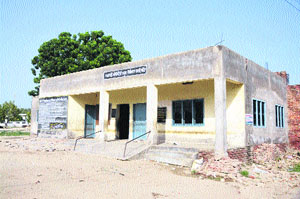 Bathinda, September 4
At the sangat darshan programme held by the Deputy Commissioner of Bathinda, Kamal Kishore Yadav, on Tuesday, the DC directed the District Education Officer (elementary education) Dr Amarjit Kaur Kotfatta to upgrade the infrastructure of Dhobiana Basti School. The school has more than 450 students and no toilet or potable water facility.
The building of the Dhobiana Basti school, which will be upgraded soon following the orders of the Deputy Commissioner. A Tribune Photograph

Three booked for committing fraud
Bathinda, September 4
The Nehianwali police has booked three people, including a woman, for allegedly trying to sell a portion of land fraudulently. In his complaint Sukhdev Singh from Baba Farid Nagar of Rampura stated that accused Jagmeet Singh and Jaswinder Kaur from Goniana Mandi and Bhan Singh from Mandi Kalan area tried to sell his land using fraudulent means in the Goniana Mandi. No arrest has been made so far.
Max Hospital to organise Food Mela
Bathinda, September 4
Max Super Speciality Hospital will hold a Food Mela for residents of the city on September 6 and 7 to celebrate National Nutrition Day. A spokesperson for the said mela will have stalls displaying various healthy foods like sprouts, salad, fruit salad, green salad and oats etc. The hospital dieticians will provide free consultation to people regarding their diet needs and educate them about the healthy eating habits. The people can also avail free blood sugar tests and BMI check up.
STR teachers threaten to intensify stir against govt
Bathinda, September 4
The members of the Special Trainer Teachers Union, Punjab, today threatened to intensify their stir against the government if it failed to heed its demands. This was stated by the members of the union in Bathinda on Wednesday.
Balanced diet key to healthy life, say experts
Bathinda, September 4
A function was held to observe National Nutrition Week in the city. Civil surgeon Dr Ajay Sahni said balanced diet is the key to healthy life. People should refrain from junk food and avoid sedentary lifestyle.
Residents raise their voice against rising prices
Bathinda, September 4

The residents of Paras Ram Nagar area lodged their protest against the spiralling prices of fuel and food by raising slogans against the Centre government. Former municipal councillor Vijay Kumar said the prices of petrol, diesel and LPG cylinders were constantly rising. "Getting a decent two-square meal a day has become a challenge in itself. A labourer earning Rs 100 daily has no money to buy vegetables, grocery or milk for his family.
Vijay Kumar, former MC, carries vegetables while residents bang utensils to raise their voice against the rising inflation at Paras Ram Nagar in Bathinda on Wednesday. Tribune Photo: Pawan Sharma

Kabaddi competition held at GKU
Bathinda, September 4
The Department of Physical Education of Guru Kashi University organized a Kabbadi Intramural competition. Students of different semesters participated in the competition.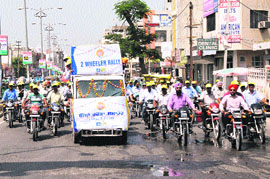 Celebrating Anniversary: A motorcycle rally was taken out in Bathinda on Wednesday to celebrate the 57th anniversary of Life Insurance Corporation (LIC). tribune photo :pawan sharma

Four students of Govt Polytechnic College hired
Bathinda, September 4
As many as four students of the Government Polytechnic College were placed with the JTEKT Sona Automotiv India Limited. The students, belonging to the Electronics and Communication and Production and Industrial Engineering were selected during a placement drive held in the college.
Industrial tour for students
Bathinda, September 4
The electrical engineering department of Baba Farid College of Engineering and Technology (BFCET) organised an educational industrial visit to Havell's India Ltd in Baddi, Himachal Pradesh. Students were taken on an industrial visit where they were briefed about electrical equipment, how they are manufactured and transported to markets. The students got an opportunity to interact with the engineers and technical staff and learnt about the work atmosphere and various functional areas like manufacturing, quality control, supply chain, logistics and the company. — TNS