Teachers to observe Sept 5 as 'black day'
Decide to stage protest against non-receipt of salaries, grants, allowances and failure to fill vacant posts
Tribune News Service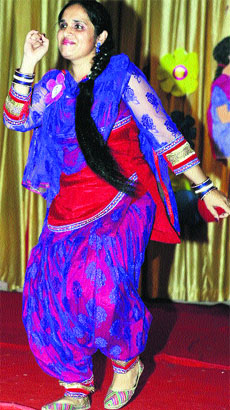 Teachers of St Soldier School, Mithu Basti, perform dance during celebration of Teacher's Day in Jalandhar on Wednesday. Tribune photographs
Jalandhar, September 4
Stalled salaries, delayed regularisations, vacant posts, salary and pay anomalies, are all set to make this Teacher's Day a rather pensive one for educators this year.
Even as the Chief Minister extends cheery Teacher's Day greetings to his state's educators, teachers are clearly in a mood to protest.
Thousands of teachers shall be observing Teacher's Day as a black day of protest, wherein, they suspend work or hold black badge protests as they go about their routine duties, to display their ire against state government policies and the government's delay in responding to their long-pending demands.
The PCCTU, SSA,RMSA and CSS Teachers Union and the Punjab State Aided School Teachers and Other Employee Unions will be observing Thursday as a day of protest.
PCCTU
The Punjab and Chandigarh College Teachers' Union will be observing black day on this Teacher's Day. PCCTU employees across the state , will hold a dharna outside treasury offices on September 5, to display their ire regarding non-receipt of grants by colleges and salaries by teachers.
While teachers haven't received salaries for the past four months to one year and grants by colleges haven't been received for the past nine months (three quarters).
Area Secretary PCCTU, Dr Tajinder Virli said, "The financial crisis in the state is so deep that employees can't even withdraw money from their own GPF accounts. None of the arears are being released. The DA instalments of the months of January and July have also not been announced. While colleges face an acute financial crisis, the government continues to spend lavishly on cars and foreign visits."
SSA,RMSA union
The 14,000 teachers (across the state) of the SSA,RMSA and CSS Teachers Union shall be holding a black badge protest tomorrow protesting (primarily) against denial of regularisation and stalled salaries for the past three months, among others.
District president of the union Daood Alam says, "We are being given false hopes regarding the government framing a regularisation policy, for the past two years, only to later see the government backtracking on the issue. In a meeting with the government on August 25th, the hope of being regularised was further narrowed down with the government citing concerns regarding a fund crisis."
The union members (SSA,RMSA teachers across the state) haven't received their salaries for the past three months as well.
There are 14,000 SSA,RMSA teachers across the state, and there are about 400 in the district. The teachers also say they are overburdened due to many empty posts.
"At this point, the state needs at least 30,000 new appointments to deal with the vacancy crisis. The talk and policy about rationalisation, mergers and transfers is misleading the public. By merging upper-primary and primary schools the government wants to create a situation, for example, where five teachers will have to carry out the task, for which there were earlier 12 posts," Alam added.
Aided school teachers
It's been years since aided schools have been demanding a merger owing to understaffed schools and delayed salaries as well as allowances.
Aided school teachers will hold a rally at the Lyallpur Khalsa College, Nakodar Chowk, Jalandhar tomorrow. After that, they will march to the residence of the Cabinet Minister Chunni Lal Bhagat.
There are 484 aided schools in the state and the merger would bring all 4300 employees of thse schools directly under the government ambit.
Their previous protests had started from August 5 (to August 8th) throughout the state and had later culminated in a dharna at the DPI office at Mohali on August 27.
While their pending salaries had been released shortly, the demand for a merger of HRA and MA as per the 5th Pay Commission recommendations, revised pay grades and new recruitments,are still pending.