CRIMINALISATION OF POLITICS
Dismiss Chautala from House, demand Cong MLAs
Chandigarh, September 6
Leader of Opposition Om Prakash Chautala may have been absent from the monsoon session of the Haryana Vidhan Sabha but the treasury benches marked his presence in the House with a "bashing session" in which Congress MLAs demanded that he not only be stripped of his designation but even dismissed from the House.
Hooda hits out at Oppn behaviour
Chandigarh, September 6
Perturbed at the "unbecoming" behaviour of the Opposition, an apparently disturbed Chief Minister Bhupinder Singh Hooda today lashed out at the opposition Benches, calling them "tainted, dented and painted" member of the House who "did not observe the decorum and discipline of a responsible opposition".
Diseases grip 150 families of uprooted Sikh farmers
Karah Sahib (Pehowa), September 6
Miseries are far from over for Sikh farmers and their families who have been evicted from their land in Kurukshetra and Kaithal. After the traumatic experience of losing their fertile land, which they cultivated for six decades, malnutrition, unemployment and mental agony has cast its shadow on150 affected Sikh families of Kupia Plat in Karah Sahib village and almost one-fourth of the population is suffering from various diseases.
Migrant worker sodomised, murdered
Rewari SP, SHO suspended for 'dereliction' of duty
Rewari, September 6
Superintendent of Police Simar Deeep Singh of Narnaul ( Mahenderagarh district) has suspended SHO Inder Singh Chandela and ASI Bijender Singh of the Kanina police station of Mahenderagarh district, about 35 km from here, for dereliction of duty.
CHEATING OF JOBLESS YOUTH
Bank accounts of tainted society frozen, main accused Vinod Beniwal sent to jail
Hisar, September 6
The police has frozen the bank accounts of the NGO, All-India Organic Farmers' Society (AIOFS), which had duped around 60,000 youth of around Rs 2.20 crore by inviting applications for various jobs in Hisar.
Minor girl raped in Rohtak
Rohtak, September 6
A 14-year-old Dalit girl was allegedly raped by a neighbour at Karontha village yesterday. The accused, Neeraj, raped her when she had come out to answer nature's call at night. He fled the spot after the incident. The victim told the matter to the kin, who the lodged a complaint against the accused in the morning. The police was looking for Neeraj, who had been absconding ever since the incident, said a police official.
Haryana Insaaf Manch to remain apolitical: Inderjit


New Delhi, September 6
Congress MP Rao Inderjit Singh is planning a second political rally in southern Haryana on September 23. Earlier, he addressed a huge rally at Pataudi in March and announced the formation of the Haryana Insaaf Manch. The MP from Gurgaon, who is opposed to the style of functioning of Haryana Chief Bhupinder Singh Hooda and has openly questioned Hooda for ignoring southern Haryana, has convened a meeting of his supporters for September 8 in connection with the martyrdom rally at Rewari on September 23. The rally is to mark the death of Rao Tula Ram.
Illegal constructions razed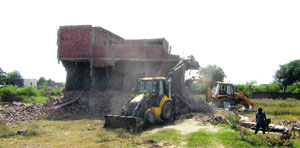 Sonepat, September 6
Unauthorised constructions were yesterday demolished by a team of the Town and Country Planning Department in East Kundli on the GT road, Janti Kalan and Khatkar villages in the Kundli area here.
A house being demolished at Janti Kalan village in Sonepat district. Photo: BS Malik

OP Jain, ex-CPS Zile Ram granted interim bail
Chandigarh, September 6
Acting on petitions filed by Haryana's former Chief Parliamentary Secretary Zile Ram Sharma and former Transport Minister Om Prakash Jain, the Punjab and Haryana High Court today granted them interim bail. The two are accused in a case of abetment to suicide.
Husband held in dowry death case
Hisar, September 6
The police arrested a block development and panchayat officer (BDPO) on the charge of murdering his son's wife for dowry on Thursday evening. The police has already arrested the husband and the mother-in-law of the deceased woman.
Seven SDMs shifted
Chandigarh, September 6
The government today gave additional charge to an IAS officer and issued the transfer and posting orders of seven HCS officers. Neelam Pradeep Kasni, Secretary to the Haryana Governor, will also be Commissioner, Ambala Division.Jitender Kumar, SDM, Bahadurgarh, has been posted as SDM, Ballabgarh vice Manoj Kumar.
House pays tributes
Chandigarh, September 6
The Vidhan Sabha today paid tributes to those former ministers, MPs Parliament, former MLAs, freedom fighters, martyrs of Haryana and close relatives of members of the Assembly who had died after the last session of the House. Grief and sorrow were expressed for the people who had died in the Uttarakhand devastation. Parliamentary Affairs Minister Randeep Singh Surjewala moved the obituary resolution and paid tributes to the departed souls. Chief Minister Bhupinder Singh Hooda, Speaker Kuldeep Sharma, Ashok Arora (INLD), Anil Vij (BJP) and Renuka Bishnoi (HJC-BL), among others, paid tributes. — TNS
50 booked for vandalism
Sonepat, September 6
A case under different sections of the IPC has been registered against more than 50 persons for their alleged involvement in damaging the furniture and other articles in Hotel Gazal on Murthal road in the town yesterday. The complaint was lodged by Dharambir of Ratangarh village who had taken the hotel on lease from its owner Vikram Rathi, an HJC leader and son of former Education Minister Shanti Rathi. In the complaint, Dharambir had named Ramesh Fauzi, Satyavir Khewra, UK Verma, Vikki, Ravi Dahiya, Usha Rani, Hoshiar Singh, Sohit and Prakash and 50-60 others. — OC