BPL families to be re-identified
Dehradun, September 7
In view of the severity of the mid-June calamity when several people were left homeless, the Ministry of Rural Development has asked the Uttarakhand government to conduct a survey for re-identifying BPL families in the state, so that the flood-ravaged families could be covered under the various welfare schemes of the Ministry of Rural Development.
Renounce worldly pleasures: Kaushal Maharaj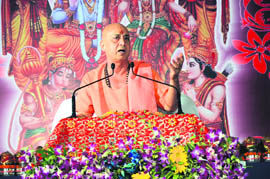 Haridwar, September 7
Thousands of devotees are attending the ongoing Shri Ram Katha being held at Prem Nagar ashram, which has been going on for the past five days. Saint Vijay Kaushal Maharaj said temples were not the places to ask but the holy places to give. Maharaj said the Almighty gave his blessings to those, who had patience and did not seek from God, but only offered devotion. He cited various instances from Shri Ram Katha.
Religious guru Vijay Kaushal Maharaj recites Shri Ram Katha at the Prem Nagar ashram in Haridwar on Saturday. Tribune photo: Rameshwar Gaur

Dalits facing govt neglect, says forum
Mussoorie, September 7
Members of the National Action Forum for Social Justice alleged in a meeting held at a hotel today that the Dalit community was facing neglect due to the apathy of the state government. The forum president, Nanak Chand, addressing the gathering in the meeting said that the state had failed in implementing the development projects introduced by the Central Government for the Dalit community even after the 13 years of the formation of the state.
GAIL officials request govt for early clearance
Dehradun, September 7
Officials of the Gas Authority of India Limited (GAIL) have requested the Uttarakhand Government to give early clearance for providing the right way for the pipeline section from Nepali farm to Rishikesh, that has been pending with the National Highway PWD, Dehradun.
Fabricated huts for disaster victims
Pithoragarh, September 7
The process for rehabilitation of disaster victims has started in the district. All those people, who were rendered homeless due to natural calamity would be provided fabricated huts. The administration has sanctioned construction of 259 such huts for the district.
2,062 state roads opened for vehicular traffic
Dehradun, September 7
With around 2,062 roads in Uttarakhand that were damaged due to the mid-June disaster having been opened for vehicular movement, some semblance of normalcy is expected to return in the disaster-ravaged villages.
Left parties flay 'failure of state govt' to provide disaster relief
Dehradun, September 7
The CPI, the CPI (M) and the CPI (ML) criticised the state government for its complete failure to provide relief to victims of the natural disaster that hit the state on June 16 and 17. At a joint party meeting held in the city on Thursday, speakers alleged that despite passage of two months, the state government was yet to get any respite. They said the state was moving at a snail's pace toward providing relief and rehabilitation to the victims. Most of the roads were still to be repaired and connectivity was a big problem in hills, the speakers added. CPI's Samar Bhandari and CPI (ML) Raja Bahuguna were among the speakers who addressed the meeting. — TNS
BJP chief hails ABVP's victory
Dehradun, September 7
The president of the Uttarakhand BJP, Teerath Singh Rawat, has congratulated the ABVP for winning the students' union election of the DAV PG College for seventh consecutive time. Rawat said right from the day of nominations till the day of counting, the Congress tried all kinds of tactics to influence the election, but the ABVP emerged victorious. He added Saket Bahuguna, son of the Chief Minister, was at the forefront during the election, but his efforts could not ensure victory of the NSUI. — TNS