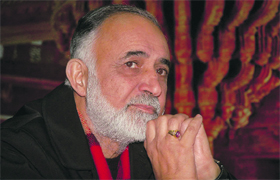 An artiste is an island unto himself, may be in another time and another world. However, for MK Raina, a celebrated theatre person and filmmaker, being an artiste is no different from being a sensitive human or a fiery cultural crusader. Both passion for arts and the conviction that it can change the world, drives his plays, films and television ventures. Currently preoccupied with television series Yeh Ilmo Adab Ke Ghavare, the man fresh with a film on Sufiyana kalaams of Kashmir, has produced memorable plays like Kabira Khada Bazar Mein, Karmawali and Parai Kukh. From starving Indians to winds of change blowing in his home state of Jammu and Kashmir, this National School of Drama graduate has an interesting take on all. While his art unravels unexplored subjects, the man with fire in his belly talks of issues that concern the common man. Excerpts:
You have been active in the cultural resurrection of your home state. Have things changed for the better in J&K?
Renaissance may be far away but there has been a visible organic change. Everything looks normal, what with cultural bodies organising festivals, workshops happening and many more cultural activities becoming the order of the day in a state where music ceased to be heard.
Recently you organised a festival Revisiting Bhand Pather. How important is it to incorporate folk forms in the modern idiom of theatre?
Innovation holds the key in all performing arts. Be it classical music or other arts, in the Indian system there is a form within a structure and amid that there are free spaces in which improvisation is possible. Without experimentation arts would be dead. Thus, doing a King Lear in Bhand Pather is another way of keeping the great tradition alive.
You suffered personally from the Kashmir turmoil, but your faith in the secular fabric has not been shaken.
I believe secularism is the only way forward for the Indian democracy. In the celebration of our cultural and religious diversity lies the nation's strength. Let a thousand flowers bloom, only then can we prosper individually.
Why should artistes raise their voice?
Why not? How else do you prove that you exist and are not just another dead piece of wood? I have nothing against those who don't come out in the open. We all have our own individual ways of negotiating with the truth.
Literature is a common leitmotif of many of your works. What are the challenges in transforming a literary piece into a play or a film?
When you translate the great words of great minds into an audio-visual experience, the excitement of finding meanings and subtexts within the written narrative is unparalleled. In my play Andha Yug, I spent days and nights to arrive at what exactly the writer wanted to convey in a simple one-liner.
You have been an angry man. What angers you now?
Not angry really, only concerned. I am perturbed by where our economy is going, how there is a race to control the Capital, how there is hue and cry over subsidy to the poor, but none when thousands of crores are doled out to the industry. In a country where industrialists control the media and can be seen in Parliament, what else can you expect?
What can arts or artistes do?
A lot. Arts can bring to the fore the anger, angst and pain of the masses. Contrary to what people think, it can find solutions. What is arts if it can't look at the present and think of the future? It is the glue that holds the harmonious balance of society.
What is your take on Indian theatre today?
It's being asphyxiated. There are no resources, no spaces where theatre can be performed. Yet it survives for it's the singular largest voluntary enterprise in social science where people put their own money, energy and organisational skills. It will never die.
You have been associated with children's theatre. Where is it headed?
There is a growing awareness in the NCERT and state-level educational bodies that arts can be a big driver of education and help build self-confidence. However, for children's theatre to truly grow, it must happen in vernacular languages as children learn the best and fastest in their mother tongue.
How did you manage to do theatre in 13 languages?
(Laughs) I am a nut case! Learning Punjabi, Haryanvi and Rajasthani was not very difficult and since I knew Sanskrit, other languages came easily too.
Do we get to see anything in Punjabi anytime soon?
Though the year 2015 is Bhisham Sahni's centenary year, I will be doing his play Muwaize in Punjabi before that.
How has been the experience of acting in films like Taare Zameen Par and Rab Ne Bana Di Jodi?
It's a picnic, nothing much to learn. I know a whole lot about cinema, but I find it a good diversion that pays me well.
How do you delineate between different mediums?
The fundamentals are the same, but the science is different. While making films you have to be well versed with technology and update yourself with new techniques. Technology is changing at lightening speed. It has facilitated and democratised arts.
What is your television programme Yeh Ilmo Adab Ke Ghavare about?
It underlines the greatness of institutions, rich repositories of culture and education like the Khuda Baksh library. During the making of these series (yet to be aired), I have come to the heartening conclusion that Urdu is very much alive.