Good News
Sorrow or happiness, it's reason to plant trees
Triveni Baba has planted 10 lakh saplings across Haryana. For two decades, he's been motivating village residents to plant trees no matter what the occasion.
By Deepender Deswal
HE renounced his family and society to don the saffron robe about two decades ago. But he is neither a preacher of religion nor a 'dharma guru'. He is on a green mission. Haryana's shrinking green cover has found a succor in Satyawan, also known as Triveni Baba, a popular figure across the state.
The 47-year-old Baba's persistent efforts are now bearing fruits in several villages where he initiated tree plantation drives about two decade ago. Residents in several villages have got hooked to the plantation campaign.
From the birth of a girl child, to weddings and even the demise of an elderly person, the Baba turns every occasion into an opportunity to plant a sapling. And the village residents are following suit.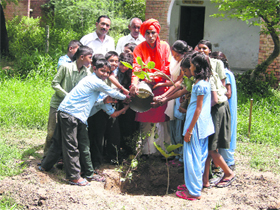 Triveni Baba plants a sapling at Government Girls High School on HAU campus, Hisar.
Forever green
The Baba inspires as he himself has planted around 10 lakh saplings in the state, besides 1,200 banyan, ficus religiosa and azadirachta indica trees, which are eco-friendly and have religious significance.
Though his campaigns cover almost the entire state, the Aravali ranges in Bhiwani district have been his priority area, where missing trees and mining have become a serious issue for environmentalists and the local populace.
Taking to The Tribune during a plantation drive at Government Girls High School in Haryana Agriculture University, Hisar, Baba Triveni says his drive has been most successful in villages of Saral, Dhalanwas, Chahad Kalan, Khariawas, Sherla, Dadam, etc. in Bhiwani district as people have got accustomed to planting saplings.
The Baba, a native of Bhiwani village and follower of Swami Vivekananda, says he started the plantation campaign from Saral village about two decades ago. "The campaign gradually gathered momentum and for the last four-five years, I have been organising plantation functions almost every day at one place or another. I have a target of planting 1.5 lakh saplings this year, which coincides with the 150th birth anniversary of Swami Vivekananda," he says.
He has been creating awareness and roping in village panchayats and educational institutes to motivate people to plant more and more saplings.
Fresh trend
Chahad Kalan, a village in Bhiwani, recently celebrated the birth of a girl child by planting 1,200 'amla' saplings in the village on the initiative of the Baba.
Satpal Singh, the sarpanch, says: "I invited the Baba to the 'kuan pujan' ceremony on the birth of a girl in my family. He accepted the invitation on the condition that I would distribute a plant to every family in the village to celebrate the occasion." he says. "I brought the 'amla' saplings from Rajasthan and every family in the village planted the sapling in their verandah or fields."
The sarpanch of Saral village, Dharam Singh, says their village has been reaping the benefits of the Baba's initiative. "You will find lush green trees at every open place in the village, be it roadside, stadium or village school. It has become the habit of the village residents to plant saplings on every small occasion. We have started a trend to ask newly wed couples to plant a sapling after the ceremony. And every family plants a sapling when an elderly person passes away," he says.
Triveni Baba says besides sapling plantation to save environment from degradation, he also spreads the message of saving water and the girl child. "The 'triveni' of girl child, trees and water is facing threat due to the greed of society. The cause needs to be raised in tandem as they are complementary to one another," he surmises.