Good news
Hurt in body, soothing anguished minds
By Sushil Manav
Struck by paralysis in 1997, Gurvinder Singh of Sirsa has made it his mission to help road accident victims and has set up an ashram for mentally challenged women.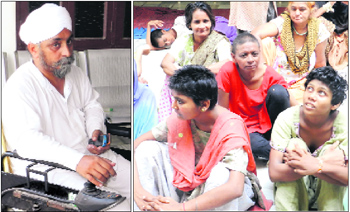 Gurvinder Singh (L), and mentally challenged inmates at Bhai Kanhaiya Ashram, Sirsa.

A road accident that left the lower half of his body paralysed changed his outlook towards life completely. Like any other businessman, Sirsa's Gurvinder Singh, a building contractor, had a dream to make as much money as possible to secure the future of his family. But life had other plans. While travelling from Rania to Sirsa, a truck crashed into his scooter and dashed all his dreams. Any other person would have spent the rest of his life on bed or the wheelchair cursing his destiny, but Gurvinder resolved that he would not be put down.
Today, he runs Bhai Kanhaiya Ashram, a home for mentally challenged women. Over 40 women have been getting food, shelter and medical treatment free of cost at the ashram. The organisation also runs three ambulances that help road accident victims and provides help to patients.
Twist of fate
The transformation in Gurvinder's life occurred when he was shifted to Dayanand Medical College, Ludhiana, after the accident in 1997. He had suffered a fracture in the spine, multiple injuries and had to remain in the hospital for several months.
"While in the hospital, I noticed that members of an NGO used to come every morning and evening to serve milk and bread to patients. I always thought that if I survived, I will start this service in Sirsa," Gurvinder says.
His treatment continued for years. He lived, but the lower part of his body was paralysed. Gurvinder often thought of doing something to help the sick, but was unable to give a concrete shape to his thoughts.
"I was sitting at my friend's shop when we noticed a man lying on the road. He was alive, but was not moving. I asked my friend to help me shift the man to hospital. I had a scooter with an attached trolley. We put the destitute man in it and took him to the General Hospital, Sirsa. When I was taking him to the emergency ward of the hospital, he could not speak, but I could see the expression of gratitude in his eyes. It was on that day that I reminded myself of the commitment I had made to myself when I was in Ludhiana," he recalls.
From January 1, 2005, he started providing milk to patients admitted at the General Hospital. He, along with some volunteers, would collect milk from benevolent people and distribute it among the patients. On September 28, 2006, the milk service was extended to the hearing and speech-impaired children studying at RKG Shravan Vaani Nishakta Kalyan Kendra, Sirsa.
However, due to the paucity of funds, he had to discontinue the service at the hospital after running it successfully for over eight years.
In 2006, his NGO organised its first blood donation camp and since then, 18 such camps have been held.
It was in 2008 that he purchased an ambulance for his Bhai Kanhaiya Ambulance Sewa. Now, four ambulances provide services free of cost to road accident victims, pregnant women and victims of medical emergencies. So far, it has helped 978 road accident victims. The organisation has also bought three mobile water tanks to serve people cold water during summer.
Reaching out to all
He set up his ashram on 200 yards donated by a farmer Gursharan Singh Kalra. Later, the NGO purchased 400 yards adjoining the ashram and Sanjeev Jain, a philanthropist, donated 400 yards more to the NGO. The ashram was inaugurated in 2012 by Dr Inderjit Kaur, chairperson of All India Pingalwara Society, Amritsar.
The ashram houses 39 mentally challenged women and three children. About 30 women have left the ashram after recovering from their illness.
Among the inmates is a sexagenarian woman, who speaks fluent English and claims to have taught in Bishop Cotton School, Shimla. "When they are brought in, they have no idea of their past, their families and are even clueless about their names. But once they start getting food, medication and proper care, they start recovering and are able to recollect their past," he says.
In most cases, their family members come when informed about their recovery and take them away.
Scarcity of funds is the biggest issue that faces Gurvinder. "Though we have appointed a permanent staff nurse and some attendants, we need the services of a permanent psychiatrist as every time there is an emergency, we have to rush to the hospital. Further, with the increasing number of inmates, the space is falling short," he says.