M A I N N E W S
Manmohan strongly disapproves of Modi's brand of politics
Tribune News Service
on-board the pm's special flight
October 1
Prime Minister Manmohan Singh has expressed strong disapproval of Narendra Modi's brand of politics hoping that secular forces in the country would combine to "face the onslaught of people like Modi" and believed that it would happen.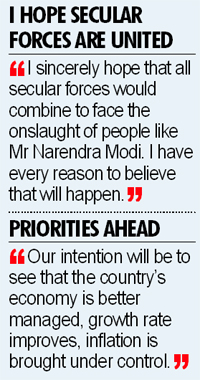 Replying to a question whether he considered the BJP's Prime Ministerial nominee for the coming general elections as a threat to the country's secular polity, he said, "I sincerely hope that all secular forces would combine to face the onslaught of people like Mr Narendra Modi. I have every reason to believe that will happen. You wait for sometime before people realise what they are up against."
Asked what his priorities would be in the remaining months of his second tenure as Prime Minister he said, "Our intention will be to see the country's economy is better managed, growth rate improves, inflation is brought under control and the country's external borders are safe and secure. These are immediate concerns." He added, "Also, we now have several people-oriented programmes and we have to ensure that they are properly implemented. The National Food Security Act has been enacted and it will be our effort to see that it benefits reach people as early as possible."
Manmohan Singh seemed hopeful that the UPA would get a third term in office based on the "good work and solid achievements of the UPA" but admitted that it was too early to make an assessment. The Prime Minister said, "It is for people to make an assessment. I have every reason to believe that though we may have done something wrong, we have also done many good things and the people of India, generous and tolerant that they are, will take into account the good work, the solid achievements of the UPA into account before they cast their votes."
On the Telangana issue, the Prime Minister said the matter was receiving the government attention "in right earnest and is very much in our minds." When he returns he will have the Home Minister brief him on the progress made so far.