CM: Slashing of petrol prices a gimmick, major hike in offing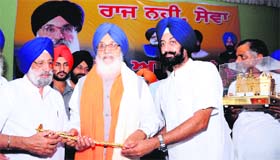 Fatehgarh Churian (Gurdaspur), October 1
Chief Minister Parkash Singh Badal has termed yesterday's decision by oil companies to reduce petrol prices as a "political gimmick" and warned the people about a "massive increase" in the next few weeks.

Chief Minister Parkash Singh Badal being felicitated by former Speaker Nirmal Singh Kahlon and his son Ravi Kiran Kahlon at a Sangat Darshan programme in Fatehgarh Churian (Gurdaspur) on Tuesday. A Tribune photograph


Sanjha Morcha meeting on poll strategy soon, says Manpreet
Chandigarh, October 1
Former Finance Minister and president of the People's Party of Punjab (PPP) Manpreet Singh Badal today said he would contest the Lok Sabha elections.


Storage tariff hike halts imports at ICP

Amritsar, October 1
With the Land Port Authority of India (LPAI) implementing the increased storage tariff at the Integrated Check Post (ICP) in Attari from today, the All-India Cement Importers Association has asked its members to stop imports from Pakistan to lodge their protest on the issue.


The Integrated Check Post in Attari
To fight dissent, Congress leaders go into a huddle
Chandigarh, October 1
Worried at the growing differences within the party, senior leaders of the Punjab Pradesh Congress Committee (PPCC) went into a huddle at their monthly meeting here today to find ways to tackle dissent.
Over 35,000 apply for regularising colonies
Chandigarh, October 1
The Punjab Government today said that so far more than 35,000 applications had been received for regularising illegal colonies and plots in these colonies.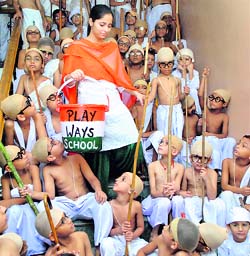 GANDHIGIRI: Children dress up as Mahatma Gandhi during a function on the eve of Gandhi Jayanti in Patiala on Tuesday. Tribune photo: Rajesh Sachar
Pak national dies in Amritsar jail
Amritsar, October 1
A deaf and dumb Pakistani national lodged at the Amritsar Central jail died of an illness this morning. The jail authorities said he had been suffering from tuberculosis and was under treatment.
Kidnapped child freed in two hours in Guruharsahai
Ferozepur, October 1
Panic gripped Guruharsahai town, 25 km from here, today when a three-year-old son of a businessman was kidnapped by a woman from his school.
Moga millers fail to deliver rice worth Rs 120 crore
Moga, October 1
Various mill of the district are yet to deliver 44,597 tonnes of rice to the Food Corporation of India (FCI) against the paddy procured last year even as fresh paddy has started arriving in the market.
Bhagwant Mann spares none in his new CD
Chandigarh, October 1
Four years after he joined politics, Bhagwant Mann is back with his stinging satire and earthy humour. His latest CD is an attack on the political, social and cultural system.
Hospital parking staff overcharge visitors
Patiala, October 1
Arbitrary parking charges from visitors to Rajindra Hospital have upset the Consumers' and Telephone Subscribers' Forum. The forum has filed a formal complaint with the Medical Superintendent of the hospital to immediately look into the matter.
Unemployed youth take to beekeeping in Sangrur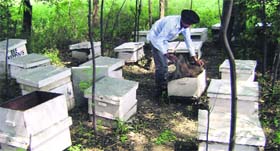 Sangrur, October 1
Rising unemployment and initiatives of the Horticulture Department to promote beekeeping have driven youth in Sangrur to take up the profession.




Beekeeper Sukhwinder Singh with his bee colonies (boxes) in Sohian village near Sangrur.

Eight more dengue cases reported
Fatehgarh Sahib, October 1
Eight more cases of dengue have been detected in Mandi Gobindgarh in Fatehgarh Sahib district, taking the total number of cases to 41.
Punjab has failed to generate enough revenue: Expert
Patiala, October 1
Despite making substantial adjustment in its finances, Punjab has failed to generate enough revenue to meet its committed expenditure, including payment of salaries and pensions.
Bajwa betrayed farmers: Majithia
Ludhiana, October 1
Punjab Revenue and Public Relations Minister Bikram Singh Majithia today accused Punjab Pradesh Congress Committee (PPCC) chief Partap Singh Bajwa of betraying the debt-ridden farming community of the state.


Expedite filling posts in labour wing: HC
Chandigarh, October 1
The Punjab and Haryana High Court has minced no words to say that the continued absence of Assistant Labour Commissioners, Labour-cum-Conciliation Officers and other such officers was resulting in adverse repercussions on workmen, before asking the State of Punjab to fill these posts expeditiously.
SC bars Jalandhar, Pathankot colleges from MBBS admission
Jalandhar/Patiala, October 1
In a setback to medical aspirants, the Supreme Court has barred two Punjab colleges from admitting any student in the current academic session.

BSF constable among 2 held with 19-kg heroin
Amritsar, October 1
The Tarn Taran police, in a joint operation with the State Special Operations Cell (SSOC), here today arrested two persons with 19 kg of heroin. The contraband is estimated to be around Rs 95 crore in the international market.
Policeman held for extortion
Patiala, October 1
The Rajpura police has arrested Punjab Police havildar Swaran Singh and his two accomplice, Darshana and Rani, for allegedly blackmailing and extorting money from a factory worker.
Cop among 3 held for extortion
Patiala, October 1
The Rajpura police has arrested Punjab police havaldar Swaran Singh and his two accomplice, Darshana and Rani, for allegedly blackmailing and extorting money from a factory worker.