MLA raises banner of revolt against Bajwa
Amritsar, September 29
Amidst speculation that he may switch loyalty to the ruling Shiromani Akali Dal (SAD), two-time Congress MLA from the Rajasansi assembly constituency in Amritsar, Sukhbinder Singh Sarkaria, today shot off a missive to AICC chairperson Sonia Gandhi, accusing Punjab Pradesh Congress Committee (PPCC) president Partap Singh Bajwa of failing to win the trust of party leaders.
Sukhbir in Bangalore to attract investment
Bangalore, September 29
Punjab Deputy Chief Minister Sukhbir Singh Badal landed in Bangalore this evening in a bid to attract investment in Punjab by Bangalore-based entrepreneurs in information technology, bio-technology, light engineering, infrastructure and agro and food processing.




PPP: To save state from ruin, stop borrowing
Sangrur, September 29
Demanding a white paper on the state's economic situation, former Finance Minister and president of the People's Party of Punjab (PPP) Manpreet Badal today asked Chief Minister Parkash Singh Badal to tell the people the truth about government debt, liabilities and income.

Despite ban, commercial use of tractor-trailers rampant in Patiala
Patiala, September 29

The use of tractor-trailers for commercial purposes is going on unabated in Patiala despite a ban on the same in the state. The authorities have failed to check violations in this regard putting lives of commuters at risk.



A tractor-trailer being used for commercial purpose despite a ban at Lakkar Mandi in Patiala on Sunday. Tribune photo: Rajesh Sachar

His prized possession, a 19th century parasol
Jalandhar, September 29
A local advocate is in the possession of a 19th century silver parasol ('chattri') that resembles the one being put under the hammer by Bonhams auctioneers in London on October 8.
Fresh signage to help people form new perspective
Sirhind, September 29
Residents of Sirhind today visited Aam Khas Bagh in droves to rediscover the largest open space of their shared memories. The bagh, despite being an important landmark, has never been appreciated for its cultural significance.
Month gone, no water supply in Muktsar villages
Muktsar, September 29
It has been more than a month since the flood-like situation in parts of Muktsar district. The supply of potable water to a number of villages is yet to be restored. Residents are being forced to drink underground water, which is unfit for consumption.
Gurdaspur SMO suspended for 'misbehaving' with woman
Gurdaspur, September 29
The services of Gurdaspur Senior Medical Officer (SMO) Ashwani Kumar Sondhi, posted at the local Civil Hospital, have been placed under suspension. Senior officials alleged that he had "misbehaved" with a woman employee of a private healthcare organisation.
20,900 attend cancer camp on last day
Chandigarh, September 29
At least 20,900 persons attended cancer screening camps in different parts of the state on the concluding day today. Official sources put the figure at 3,300 in Jalandhar; 2,000 in Amritsar; 1,400 in Sangrur; 920 in Bathinda; 900 in Pathankot; 800 in Mohali; 720 in Ludhiana; and 400 in Ferozepur.
Punjab forgets to allot funds to dist jails for daily chores
Patiala, September 29
Call it a slip-up or a calculated move, the Punjab Government has virtually made zero fund allocation against the expenses of the inmates in district jails of the state. The budget, allocated under 'office expenditure' section, is used for purchasing essential items, including cooking material and toiletries. In several jails, officials have been forced to borrow material from central jails.
Govt not sincere about merger with govt schools: Aided school teachers
Fatehgarh Sahib, September 29
The Government Aided Schools' Progressive Front, Punjab, yesterday told the organisations advocating for the merger of teachers of government-aided schools with government schools that the state authorities were not sincere towards the issue. It stated that the government was just "playing with the sentiments and future" of these teachers.
Woman dies of dengue
Fatehgarh Sahib, September 29
In the first case of death caused by dengue in the district this year, a woman succumbed to the vector-borne disease at a private hospital. Surinder Kaur, a resident of the Krishna Nagar area of Mandi Gobindgarh, died yesterday at the DMC Hospital in Ludhiana. Surinder's son Gurpreet Singh said his mother had complained of pain in joints on September 21 and had taken medicines prescribed by a doctor of a private hospital.
BBMB staff protest decrease in pay scale
Nangal, September 29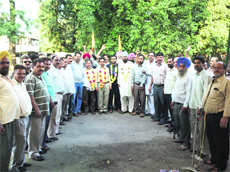 The class III and class IV employees of the Bhakhra Beas Management Board (BBMB) have started a chain hunger strike against the withdrawal of higher scales. The BBMB is all set to celebrate the golden jubilee of the Bhakra Dam on October 22.





Employees of BBMB on a hunger strike at Nangal on Sunday. A Tribune photograph

Link roads await repair for over 5 yrs in Punjab
Ropar, September 29
Even as Punjab Deputy Chief Minister Sukhbir Singh Badal and PWD Minister Sharanjit Singh Dhillon harp on improving the road network of the state, link roads in various places have been awaiting repair for a long time.
Monsoon withdraws from Punjab
Chandigarh, September 29
Unlike last year when there was a huge deficiency, the monsoon rains in Punjab were normal this year, but in neighbouring Haryana the rains were down by 23 per cent.
Districts along foothills see alarming rise in herbivores
Chandigarh, September 29
The Wildlife Department in the state is at its wits end while finding ways to control the alarming rise in the population of the wild boar (sus scrofa), sambhar (rusa unicolor) and neel gai (boselaphus tragocamelus) along the length of the lower Shivaliks in Ropar, Hoshiarpur, Gurdaspur and Pathankot districts.
Permanent PCRs to be stationed in Bathinda
Bathinda, September 29
The police has identified 25 spots in the city where fights and lawlessness are a routine. The spots have been made permanent points where PCR vehicles along with two policemen will be stationed round the clock.
Ex-serviceman held in Amritsar for espionage
Amritsar, September 29
The anti-narcotics cell of the Amritsar rural police today arrested a Pakistani spy and his three accomplices while they were returning from Rania village, located along the India-Pakistan border.