Shanta prepares ground for BJP chief's visit
Chandigarh, September 21
BJP's Punjab affairs in charge Shanta Kumar here today held separate meetings with senior BJP leaders to gather feedback for the party president, Rajnath Singh, who will reach Chandigarh tomorrow.
Panel seeks suggestions from public to tackle waterlogging in Muktsar


Muktsar, September 21
After facing flak for its faulty drainage system and suffering losses due to the recent floods in the district, the state government has sought suggestions from the affected farmers to find out a permanent solution to the waterlogging problem.

The panel will suggest alternative measures like fisheries that can be promoted in waterlogged areas. A Tribune file photograph

Druggist booked for fleecing patients
Faridkot, September 21
The Faridkot police today booked the proprietor of five chemist shops at Guru Gobind Singh Medical College and Hospital for allegedly selling cancer drugs at exorbitant rates and issuing fake bills to customers to help them avail relief under the CM Cancer Relief Fund.
Cong for probe into bungling of funds meant for riot victims
Chandigarh, September 21
PPCC chief Partap Singh Bajwa has sought a CBI probe into alleged misappropriation of funds meant for Sikh migrants of 1984 riots. He said the role of certain ruling party politicians in the scam should be examined.
Rural scheme to cover Punjab: MP
Chandigarh, September 21
Punjab will be included under the Pradhan Mantri Adarsh Gram Yojana for integrated development of Schedule Caste-dominated villages for accelerating empowerment of disadvantaged sections.



Mahilpur college students boycott classes, back suspended principal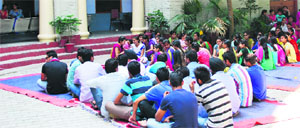 Mahilpur, September 21
Around 125 students staged a sit-in outside the office of the Principal of Sri Guru Gobind Singh (SGGS) Khalsa College, Mahilpur, to lodge their protest against the suspension of Principal for the fifth day today.

Students protest outside the Principal's office at Sri Guru Gobind Singh Khalsa College at Mahilpur on Saturday. A Tribune photograph

Beant Singh's killer Rajoana shifted to PGI after chest pain
Patiala, September 21
Balwant Singh Rajoana, a convict on death row for the assassination of former Punjab Chief Minister Beant Singh, has been hospitalised after he complained of chest pain. Lodged at the Patiala Central Jail, Rajoana was shifted to the local Rajindra Hospital in the morning from where doctors referred him to the PGI, Chandigarh, for advanced coronary tests.





Balwant Singh Rajoana in Patiala on Saturday. PTI

Tainted Tech Dept officer in line for promotion
Bathinda, September 21
Contrary to the state government's claim of showing the door to tainted officials, one such official in the Punjab Technical Education Department is all set to make it to the next grade.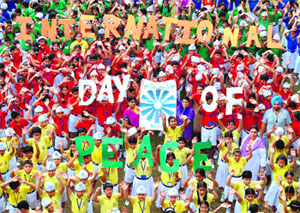 junior peaceniks:

Schoolchildren give a colourful presentation on the International Day of Peace in Patiala on Saturday. Tribune photo: Rajesh Sachar
BKU flays crackdown on activists
Moga, September 21
Sukhdev Singh Kokri, general secretary of the BKU (Ugrahan), said yesterday's crackdown on their peaceful democratic protests showed government's inability to handle issues plaguing the state.
3 missing Navodaya students still untraced
Barnala, September 21
The Tapa police has sent teams to various places, including Anandpur Sahib, Kurali and Patiala, to locate three Class VIII students of Jawahar Navodaya Vidyalaya, Dhillwan village (Tapa), who had gone missing under mysterious circumstances from their school hostel yesterday morning.



Cop booked for taking bribe of Rs 16.5 lakh
Moga, September 21
The Moga police has booked a PAP constable and one of his associates for allegedly taking a bribe of Rs 16.5 lakh from a resident of Takhtupura village in order to secure jobs for his two sons in the state mandi board.