Gujarat Government braces itself for meeting with Badal on Sikh farmers
Ahmedabad, September 8
The Gujarat Government is bracing itself for a meeting with Punjab Chief Minister Parkash Singh Badal on the issue of eviction of Sikh farmers from the border district of Kutch.
Govt's hospital upgradation plan yet to deliver results
Chandigarh, September 8
The Punjab Government's ambitious project of providing the state-of-the-art facilities and adequate manpower, including specialists, in the state's 100 identified hospitals has failed to yield any result. Three months ago, 523 transfers were made as a major step towards this direction.
Cong looking for strong candidate for Bathinda LS seat
Bathinda, September 8
After projecting People's Party of Punjab chief Manpreet Badal as joint candidate of the Congress and Sanjha Morcha for the Bathinda Lok Sabha seat, the Pradesh Congress is now having second thoughts.
NCM raises turban issue with envoys
Chandigarh, September 8
Responding to a representation given by SGPC president Avtar Singh Makkar, the National Commission for Minorities (NCM) said the turban issue had been taken up with ambassadors of various European countries to India.
This technocrat holds 5 additional charges
Chandigarh, September 8
It pays to be close to the powers that be. It seems the bureaucrats alone do not have the privilege of holding on to multiple charges. A technocrat in the Punjab Mandi Board is holding five additional charges in two government departments.
Consumer forum fines PGI Rs 10 lakh for negligence


Patiala, September 8
In a major decision, the State Consumer Disputes Redressal Commission in Chandigarh has fined PGI, Chandigarh, Rs 10 lakh for adopting a negligent attitude in treating Sirhind resident Jaswinder Kumar that later led to his death. Kumar (36), a trader, died on April 2, 2013. The commission has also directed PGI authorities to pay litigation cost of Rs 30,000 to the family of the deceased.

Akali wrangling delays ZP chief's poll
Gurdaspur, September 8
Conducting elections to the chairmanship and vice-chairmanship of the Gurdaspur zila parishad (ZP) has become a tough job for the district administration. If the officials go ahead, they may face the ire of senior SAD leaders who want to claim the coveted posts for their respective loyalists. And if the issue is put on hold, as is being done now, the appointments may well be brushed under the carpet for the next few months.
Will not ditch Amritsar: Sidhu
Chandigarh, September 8
Will Navjot Sidhu contest the next Lok Sabha elections from Amritsar, from where he has been elected thrice in a row, or will he look for another constituency?
'Govt building castles in air'
Amritsar, September 8
Navjot Singh Sidhu, Member of Parliament, today fired a fresh salvo at the SAD-BJP Government, saying that it had failed to implement its plans to spend hundreds of crores on Amritsar's development.
Moga old-age home site turns into garbage dump
Moga, September 8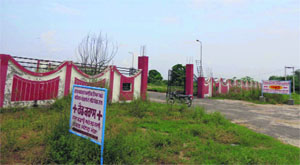 When former MLA Jugraj Singh Gill donated his five acres of land to Moga Red Cross in Jhaner village a few years ago, he was promised that an old-age home and a drug de-addiction centre would be developed. Over five years later, there is no sign of the old-age home. A de-addiction centre was set up, but it runs with fits and starts due to lack of funds.
The land that was donated to the Red Cross in Moga. A Tribune photograph

Jakhar: New agro policy ignores existing units
Chandigarh, September 8
Congress Legislature Party Leader Sunil Jakhar today lamented that the Punjab Government had offered a slew of incentives to new agro food processing industry, but it had turned apathetic towards the existing units which were reeling under losses.
Traders seek scanners to stop drug smuggling
Amritsar, September 8
Concerned over the heroin seized from a truck that passed through the ICP in Attari, the trading community demanded the government install ultramodern scanners at the ICP. They said such incidents could hit India- Pakistan trade in the future. The traders also demanded that movement through the check post should take place in containers.
Need to develop infrastructure in SAARC nations: Dhillon
Chandigarh, September 8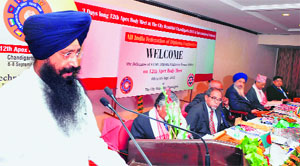 Developing infrastructure in SAARC countries was the need of the hour, said Sharanjit Singh Dhillon, Minister for Public Works Department, Punjab, while addressing the delegates of the 12th Apex Body meet of SAARC Diploma Engineers Forum here today.
Sharanjit Dhillon, PWD Minister, speaking at the SAARC Engineers' meet in Chandigarh on Sunday. Tribune photo: Pradeep Tewari

State to breed gambusia fish to tackle dengue
Ludhiana, September 8
To check the menace of vector borne diseases such as malaria and dengue, the State Health Department has signed a Memorandum of Understanding (MoU) with the Department of Fisheries, Punjab. Under the MoU, the Health Deparment will spend 23 lakh rupees on breeding gambusia fish in perennial ponds across the state. The Department of Fisheries will prepare hatcheries for the fish that feeds on mosquito larvae.
Sangrur district witnesses jump in institutional deliveries
Sangrur, September 8
The local civil hospital has witnessed a record increase in the number of deliveries in a month. In August, 489 deliveries were conducted at the hospital. Senior Medical Officer (SMO) Dr Balwant Singh said it was a record of sorts.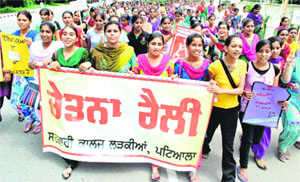 Fighting for a cause:

NSS volunteers hold an awareness rally on World Literacy Day in Patiala on Sunday. Tribune photo: Rajesh Sachar
Docs oppose change in OPD timings
Patiala, September 8 PCMS doctors opposed the move to change OPD timings at government hospitals, adding it would increase their burden manifold. The existing OPD timings are 8 am to 2 pm in summers and 9 am to 3 pm in winters. The government is now planning to start evening OPD too.
Post-heavy rain, bug attacks paddy
Faridkot, September 8
After heavy rain flooded their fields and excessive use of nitrogen made the growth of paddy crop more vegetative in the last two weeks, farmers are a worried lot these days. Sultry weather conditions have fanned their fears about the attack of 'leaf folder', a bug.
810 biogas plants installed in Patiala
Patiala, September 8 The Punjab Energy Development Agency (PEDA) has installed 810 biogas plants and given a subsidy of Rs 65 lakh on the same in Patiala district. It has given a subsidy of Rs 17.50 lakh on solar water heating systems with a capacity of 38,500 litres.
Border farmers decry meagre compensation
Ferozepur, September 8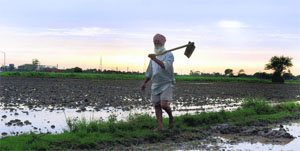 Farmers, who have land holdings across the barbed wire fencing along the India-Pakistan border in Mamdot block, are an aggrieved lot as they are yet to receive compensation of Rs 3,000 per acre for their land acquired by the government. While talking to The Tribune, Karan Singh Dhaliwal, a farmer whose agricultural land is situated across the fence in DT Mal enclave, said the delay in their payment had added to farmers' woes.
HC offers relief to riot-hit company
Chandigarh, September 8
A riot victim's firm, hit by the disintegration of USSR, is on revival path. Reduced to ashes in the anti-Sikh riots of 1984, Jasoka India Ltd shifted its shoes and stockings manufacturing business from Faridabad to Punjab. But, trouble for the company did not end there. The business, primarily thriving on exports of stockings to the USSR, suffered a set back with its disintegration.
7 shot at in Harike clash
Tarn Taran, September 8
Rivalry between two groups at Harike village turned bloody late last evening when a group allegedly opened fire at their opponents. At least seven persons were shot at. These are Gursewak Singh, Nasib Singh, Inderjit Singh, Harbans Singh, Lakhwant Singh, Manga Singh and Shamesher Singh. Another three, Sukhwinder Singh, his brother Rajbir Singh and Harjit Singh, were also injured. A case has been registered against 10 persons.
Drive against illegal power connections
Politicians to blame, say farmer bodies
Amritsar, September 8
Jamhuri Kisan Sabha and Border Area Sangharsh Committee today flayed the Punjab State Power Corporation Limited (PSPCL) for conducting a massive crackdown against the farmers drawing power from unapproved lines in the border villages of Tarn Taran yesterday.
70 held in drive against drugs in Fazilka
Fazilka, September 8
In a major crackdown against drug peddlers and addicts, the police has arrested 70 persons over the last one week after seizing poppy powder, opium and drugs from them.