'Adamant' Badal upsets Congress
Chandigarh, September 1
By insisting on holding Sangat Darshan programmes, Chief Minister Parkash Singh Badal is encroaching upon the powers of Block Development and Panchayat Officers (BDPOs) while his son Sukhbir Singh Badal is behaving like a de-facto Chief Minister, said Sukhpal Singh Khaira, Punjab Pradesh Congress Committee (PPCC) spokesperson.


Sukhbir set to be re-elected SAD chief
Chandigarh, September 1
The Shiromani Akali Dal (SAD) session will be held at Teja Singh Samundari Hall, Amritsar, on September 3 to elect party president. At least 445 delegates from Punjab, Haryana, Himachal Pradesh, Uttarakhand, Uttar Pradesh, Delhi and the Union Territory of Chandigarh are expected to take part in the session.
BJP to launch door-to-door drive on Sept 15
Sangrur, September 1
In the wake of forthcoming Lok Sabha elections, the Punjab BJP will be launching a month-long door-to-door (Ghar-Ghar Chalo) campaign from September 15.
BJP high command in dilemma over corporation appointments
Chandigarh, September 1
The BJP high command is reportedly in a dilemma over clearing the names of at least four leaders, who were defeated in the last assembly elections, for appointment as chairpersons of various boards and corporations.
Harsimrat urges Punjabis to protest against UPA policies
Chandigarh, September 1
Bathinda Member of Parliament Harsimrat Kaur Badal today urged Punjabis to launch an agitation against the anti-nation policies of the Congress-led UPA Government in the national capital.
60-year-old drowns in overflowing drain
Fazilka, September 1
A 60-year-old man of Sabuana village in the district was swept away in the strong flow of a drain here yesterday. Munshi Ram was accompanying his buffaloes to the drain situated outside the village when the incident occurred. His body was located by the villagers a few hours later in the evening.
Centre approves 2 bridges for Fazilka
Chandigarh, September 1
Union Rural Development Minister Jairam Ramesh has communicated to Sunil Jakhar, Leader of Opposition in the Punjab Assembly, that two new bridges would be built in the border villages over the Sutlej in Fazilka.
2 electrocuted in Samrala, were heading for cart race
Kot Gangu Rai (Samrala), September 1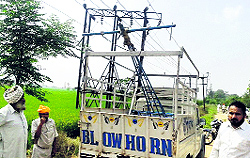 The ongoing bullock cart races at Kot Gangu Rai village were today suspended after the alleged electrocution of two participants. The deceased have been identified as Gurdeep Singh (34) and Dharminder Pal Sharma (50). The victims, belonging to Meemsa village in Sangrur district, had brought their bullock cart in a Mahindra Jeep.


The vehicle touching high-tension wires that electrocuted two persons at Kot village in Samrala on Sunday. A Tribune photograph

Opposing shifting of meters, villagers detain power staff
Tarn Taran, September 1
Residents, mainly women, in Jarmastpur village, allegedly detained some officials of the power corporation who had come to the village to shift meters outside the premises.
Bringing their home to border, virtually
Attari (Amritsar), September 1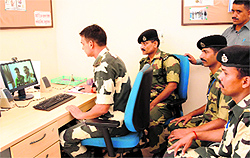 Shiva Ramu BA, a BSF constable posted at the India-Pakistan border here, is ecstatic as he can now often see his family members living at Hassan district in Karnataka. Not that he will get more leaves, but because he can interact with his family through video-conferencing facility put up at the Integrated Check Post (ICP) here.


A BSF official interacts with his family in Meerut through video-conferencing at Attari on Sunday. Photo: Vishal Kumar

Sangrur park dedicated to Sher-e-Punjab hangs fire
Sangrur, September 1
The park built in memory of Sher-e-Punjab Maharaja Ranjit Singh on Sangrur-Barnala road in Badrukhan village has been hanging fire since the village panchayat has run out of funds.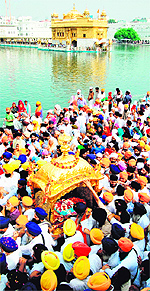 Devotees take out a procession on the occasion of 409th installation anniversary of Guru Granth Sahib at the Golden Temple in Amritsar on Sunday. Photo: Vishal Kumar

Demands not met, teachers hold protest
Sangrur, September 1
Members of the district unit of Teacher Eligibility Test (TET) Pass Unemployed Teachers Union, Punjab, today took out a protest march in the city.
Pharmacists sell 'ladoos' in protest
Sangrur, September1
Pharmacists with shops near the Sunam Civil Hospital yesterday sold "ladoos" and "jalebis" in protest against vacant posts of doctors at the hospital.
Plywood industry not yet under e-trip ambit
Patiala, September 1
The plywood manufacturers have been exempted from having to furnish information on intra-state trade transactions through the e-trip system for now. The Punjab Cabinet will take a final decision on this matter soon.
Jatha leaves for Hazur Sahib
Fatehgarh Sahib, September 1
A 101-member jatha of Baba Banda Singh Bahadaur Internationa Foundation, led by its national president Krishan Kumar Bawa, today left for Takhat Sri Hazur Sahib in Nanded in Maharashtra to participate in the Milap Diwas.

Gang of bull thieves busted, 3 arrested
Bathinda, September 1
The Mansa police claims to have busted a gang of bull thieves with the arrest of three persons — Rishi Singh of Bhaini Bagha, Pyara Singh and Kuldip Singh, both of Gehle village.
Gang of criminals busted, four held
Abohar, September 1
The Rajasthan police today arrested four members of a gang of criminals on the National Highway 15. Three of them belonged to Bathinda and one was from Gidderbaha.