Sidhu's one-liner insult to voters: Cong MLA
Amritsar, August 28
National SC/ST Commission Vice-Chairman and Amritsar West MLA Raj Kumar Verka today hit back at BJP MP Navjot Singh Sidhu for "insulting Amritsar voters".
SAD suggests way out to Modi Government
New Delhi, August 28
The Shiromani Akali Dal (SAD) has suggested a formula to the Gujarat Government to prevent farmers from Punjab and Haryana from being evicted from Gujarat. Balwant Singh Ramoowalia, SAD's Delhi in charge, had been asked by Punjab Chief Parkash Singh Badal to meet Gujarat Chief Minister Narendra Modi on the matter.
Daler Mehndi joins Congress
New Delhi, August 28
Punjabi pop singer Daler Mehndi and four leaders from various political parties have joined the Congress, party sources said.
Consult local MPs on roads, Cong to CM
Ludhiana, August 28
Union Minister for Rural Development Jairam Ramesh had emphasised upon the CM Parkash Singh Badal that officials executing various central schemes such as Pradhan Mantri Gram Saddak Yojana (PMGSY) should be asked to adhere to guidelines, said Union Information and Broadcasting Minister Manish Tewari.


Mining ban delays ROB by four months
Mukerian, August 28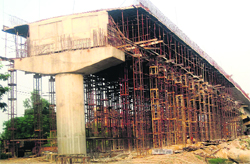 The construction of the 816.10 metre-long railway over bridge (ROB) over the level crossing on the Mukerain-Gurdaspur road has been delayed by over four months due to shortage of construction material.



The railway over-bridge on the Mukerian-Gurdaspur road whose construction has been delayed due to non-availability of sand and gravel. A Tribune photogaph
Nod to rapid transport system in Ludhiana, Amritsar
Chandiagrh, August 28
The major cities of Amritsar and Ludhiana are all set to acquire the internationally recognised bus rapid transport system (BRTS) with Deputy Chief Minister Sukhbir Singh Badal giving his nod to replicate this system in Punjab, after he studied the BRTS in Turkey.
Govt sitting on post-matric scholarships
Chandigarh, August 28
Nearly half way into the academic session, the Punjab Government is yet to receive a central grant of about Rs 366 crore for post-matriculation scholarships.
'Missing' girl keeps cops on tenterhooks
Pathankot, August 28
She would chat for hours with her online friends on Facebook. But the social networking site proved to be her nemesis with the Pathankot Police tracing the "missing" girl to Amritsar after going through her online records.
Engage expert group to probe cancer deaths, pleads govt
Chandigarh, August 28

The Punjab Government today requested Union Health and Family Welfare Minister Ghulam Nabi Azad to help the state ascertain the reasons behind the high incidence of cancer in the state, particularly in Muktsar, Bathinda and Mansa districts of the Malwa belt.

A hand pump with a red cross warns residents of Fathegarh Neon near Bassi Pathana. A Tribune photo
Recruitment scam: Documents of 70 PTIs examined
Mohali, August 28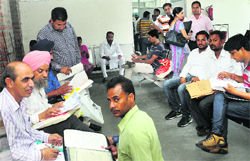 Three teams today examined the authenticity of the documents submitted by the appointees to the post of the physical training instructor (PTI) at the office of the DPI here in connection with the alleged recruitment scam.



Teachers gather outside the office of the DPI in Mohali on Wednesday. Tribune photo: Vicky Gharu
Dhindsa invites staff union leaders for talks
Sangrur, August 28
To hold detailed discussion over the long-pending demands of the Punjab State Ministerial Services Union (PSMSU), Punjab Finance Minister Parminder Singh Dhindsa today invited union leaders for a meeting at Chandigarh on September 16.
Punjabi University not to transfer staff from one college to another
Patiala, August 28
The Punjabi University Syndicate, in a meeting held under Vice-Chancellor Dr Jaspal Singh here today, has decided not to transfer any teaching or non-teaching employee from one college to another in the newly established constituent colleges of the university.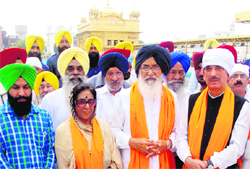 At Almighty's doorstep: From left: Minister of State For Health Santosh Chaudhary, Chief Minister Parkash Singh Badal and Union Health and Family Welfare Minister Ghulam Nabi Azad at the Golden Temple in Amritsar on Wednesday. Photo: Vishal kumar
SGPC seeks report from conservationists, puts off 'kar sewa'
Amritsar, August 28
Apparently treading with caution after certain quarters raised concern about the heritage character of the Golden Temple, the SGPC has postponed the "kar sewa" on the interiors of the shrine which was to begin on August 18.
Tension over shrine in Tarn Taran area
Tarn Taran, August 28
Tension gripped Bhikhwind town, 35 km from here, when Chairman of the Bhikhiwind Block Samiti and his supporters allegedly defiled a shrine today.
SGPC lodges FIR against Asaram's spokesperson
Amritsar: The SGPC today lodged an FIR against controversial godman Asaram's spokesperson Neelam Dubey for allegedly making derogatory remarks against Guru Nanak Dev during an interview to a TV channel.


HC for scrapping of exam in case of mass copying
Chandigarh, August 28
The Punjab and Haryana High Court has favoured the scrapping of examinations and re-initiation of the entire selection process where mass copying has taken place.
SC turns down plea for reducing sentence
New Delhi, August 28
The Supreme Court has rejected the plea of an Amritsar resident for reducing his sentence from 30 years to 14 years.


Sub-Inspector arrested for running extortion racket
Patiala, August 28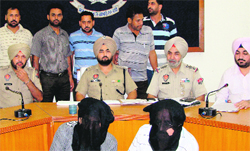 The district police has arrested a Sub-Inspector (SI) of its own department for running an extortion racket along with two women and two other accomplices. The police, however, failed to arrest the women, identified as 22-year-old Tejinder Kaur alias Suman alias Seema, a resident of Rajpura, and her roommate 24-year-old Navjot Kaur alias Harman.

Accused SI Fakeer Chand and his accomplice in police custody. A Tribune photo
Two girl students killed, 5 others injured in accident
Sangrur, August 28
Two girl students were killed and five others, including two girls, were injured in a road accident near Bhaini Khurd village, about 5-km from Malerkotla, on the Malerkotla-Dhuri road in the district.
Last of robbers' gang nabbed
Patiala, August 28
The Banur police today claimed to have arrested the last member of a notorious robbers' gang, which had fired on the police on August 19, in Sangrur. A .32 bore revolver and four live cartridges were recovered from the accused identified as Ramandeep.
Four booked for raping woman
Sangrur, August 28
The police has registered a case against four persons for allegedly raping a 30-year-old married woman.