Badal: Union Govt must issue white paper on sliding rupee
Ludhiana, August 26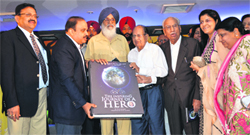 In a rebuff to Union Minister Manish Tewari for demanding a white paper on the state's dipping economy, Chief Minister Parkash Singh Badal said here today that it was the Union Government that needed to issue a white paper on the sliding rupee.


Chief Minister Parkash Singh Badal at a book release function in Ludhiana on Monday. Photo: Inderjit Verma

Floods displace 8,000 in Muktsar district
Muktsar, August 26
At least 8,000 persons have been displaced in the district due to floods since August 14. Though there is no loss of human life, there are reports of loss to livestock in certain areas. Sources in the district administration said nearly 3,700 persons had been displaced in Muktsar sub-division, 2,700 in Malout and 1,650 in Gidderbaha.
Will oppose Canada's move to ban Sikh symbols: SGPC
Amritsar, August 26
With Canada's Quebec province likely to move a resolution, banning Sikh religious symbols in the state, the SGPC and the DSGMC are gearing up to counter the move at all possible levels so as to protect the religious rights of the community in Canada.



Time to celebrate

Police personnel in a jubilant mood after their passing-out parade at the Punjab Armed Police office in Jalandhar on Monday. As many as 597 recruits were inducted in the police after the completion of their training period. Tribune photo: Malkiat Singh




Congress to hold rally to mark Beant Singh's death anniversary
Jalandhar, August 26
After a long gap of 16 years, the Punjab Congress will hold a state-level "rashtriya ekta" rally on August 31 to commemorate the 18th death anniversary of former Chief Minister Beant Singh at his memorial in Sector 42, Chandigarh.

Centre should emulate atta-dal scheme: Harsimrat


Chandigarh/Delhi, August 26
Bathinda Member of Parliament Harsimrat Kaur Badal today appealed to the Congress-led UPA Government to stop the "politics of hunger" and control food inflation.




MCs denied due VAT share: Ex-councillors
Sangrur, August 26
Despite a three-fold increase in the value-added tax (VAT) collections in the past seven years from about Rs 5,000 crore to Rs 15,000 crore in Punjab, the state government allegedly has not been issuing the VAT share proportionately to municipal councils. Due to this, several civic bodies have been facing financial problems.

Direct benefit transfer in 5 more state cities from Sept 1
Bathinda, August 26
Residents of five more cities of Punjab will get LPG subsidy under the direct benefit transfer (DBT) scheme from September 1. These cities are Jalandhar, Ludhiana, Faridkot, Barnala and Fatehgarh Sahib. At present, only 18 cities are covered nationwide under the scheme with Shaheed Bhagat Singh Nagar the sole city from Punjab among these.

Govt moots law to check indebtedness
Chandigarh, August 26
To save farmers and farm labourers from exploitation at the hands of money-lenders, Chief Minister Parkash Singh Badal today decided to constitute a Cabinet sub-committee for paving the way for enactment of the Punjab Indebtedness Act.



Painting for a cause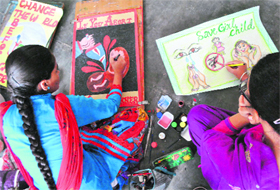 Girls give final touches to their paintings during the talent competition at Government College for Girls in Patiala on Monday. Tribune photo: Rajesh Sachar
Admissions to 23 ITIs halted
Chandigarh, August 26
The Technical Education Department has stopped the admission process at 23 private Industrial Training Institutes (ITIs) affiliated with the National Council for Vocational Training (NCVT). A case for cancellation of their affiliation has been forwarded to the Directorate General of Employment and Training.
Major projects hanging fire in Ferozepur
Ferozepur, August 26
This historic border district that used to be the most prosperous part of the united Punjab today presents a picture of neglect. Successive state governments have allegedly meted out a stepmotherly treatment, which has contributed to its lack of development.
Repair village roads by May 2014, directs Patiala planning panel chief
Patiala, August 26
Eyeing the rural vote bank ahead of the parliamentary elections scheduled next year, District Planning Committee chairman Deepinder Singh Dhillon today instructed officials of Punjab Mandi Board to speed up construction and repair of link roads in villages of Patiala. Dhillon said the repair work should be complete by May 2014.
NHAI to strengthen Jalandhar to Rewari national highway
Moga, August 26
The Union Ministry of Surface Transport has granted in-principle approval to upgrade the Jalandhar-Moga-Barnala National Highway 71 for strengthening the alternative route to New Delhi. The stretch passes through Jind, Rohtak, Rewari and several other towns of Haryana.
UGC grant scam: 3-day police remand for main accused
Rajpura, August 26
The role of the Patiala police is under the scanner for its "attempts to shield" some of the accused, related to a former MLA, who have been named by the arrested former principal of Patel Memorial College, Rajpura.
Medical practitioners burn Punjab Govt's effigy
Fatehgarh Sahib, August 26
Members of the Punjab Private Medical Practitioners' Association burnt the effigy of the state government here today for its failure to fulfil their long-pending demands. Raising slogans against the Punjab Government and state Health Minister Madan Mohan Mittal, the protesters organised a protest rally and later burnt the effigy in front of the Administrative Complex.
SGPC to send books to Canada on Sikhs' role in World Wars
Fatehgarh Sahib, August 26
Shiromani Gurdwara Parbandhak Committee (SGPC) president Avtar Singh Makkar today said the SGPC was in the process of sending a book, 'Role of Sikhs in Europe during World War-I 1914-1918', to create awareness among people living there about sacrifices made by the community. He was speaking with regard to the turban issue in Quebec state of Canada.
Mining goes unchecked in Bathinda village
Bathinda, August 26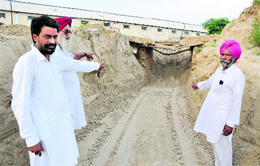 Illegal mining has been going on unabated in the Industrial Growth Centre here for the past some time. Captain Mal Singh and Amar Singh, residents of Mati Dass Nagar, complained that the illegal mining was being carried out on the land belonging to Jassi Pau Wali village. The miners acted in a clandestine manner.


Residents point at the site where illegal mining of earth has been going on in Bathinda. A Tribune photograph

Insurance company penalised
Bathinda, August 26
An insurance firm has been directed to pay an insurance claim of Rs 48,000 along with Rs 3,000 as fine to a farmer who had got his cattle insured from the firm and one of the animals died within one month of the insurance.
HC refuses to interfere in Punjab's ex-gratia policy
Chandigarh, August 26
More than two decades after Punjab Government's ex-gratia policy for terrorism victims was challenged on grounds of being discriminatory, the Punjab and Haryana High Court has refused to interfere in the matter.
Farmer commits suicide
Sangrur, August 26
A farmer of Kohrian village (near Dirba), Bhura Singh, allegedly committed suicide by consuming some poisonous substance at his village this morning. The 55-year-old farmer is survived by his wife, a 17-year-old son and two married daughters.