Congress challenges Majithia to a debate
Jalandhar, August 19
The Pradesh Congress today dared minister Bikram Majithia to an open debate on the plight of industry in the state. Addressing mediapersons here, Punjab Pradesh Congress Committee (PPCC) spokesman Sukhpal Khaira alleged that Majithia had procured an "all is well" certificate from rich corporates like Hero Cycles and Khanna Paper Mills owing to his political clout.
Rupee fall hits imports from Pak
Amritsar, August 19
With the rupee touching an all-time low of Rs 63 against the US dollar, imports from Pakistan via the Attari-Wagah land route are bound to slip further.


Trucks parked at the International Check Post at Attari. A file photograph

State exhausts overdrawal limit
Chandigarh, August 19
Punjab's fiscal health is depleting rapidly because of unbridled expenditure and poor resource mobilisation. Punjab has exhausted its overdrawal limit and is now going in for heavy overdraft.
Rakhar Punya Fair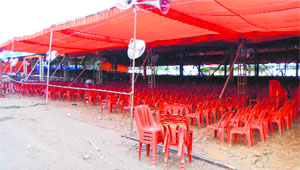 SAD's focus on show of strength, Cong unity
Amritsar, August 19
The ruling SAD as well as the Opposition Congress are gearing up for a show of strength during their political conferences at the Rakhar Punya fair in Baba Bakala on Wednesday.


The ruling Akali Dal's rally venue for Rakhar Punya fair in Baba Bakala. Tribune photo

State govt lacks vision: Navjot
Amritsar, August 19
Chief Parliamentary Secretary Dr Navjot Kaur Sidhu today questioned the "vision" of the state government when it comes to providing quality life to the residents of the holy city.
Beas water takes toll on crops in Amritsar, Tarn Taran districts
Amritsar/Tarn Taran, August 19
The increase in the water level of the Beas has taken a toll on paddy and other crops in various Amritsar villages, thereby causing huge losses to the farming community.
Traffic hit as bridge damaged in Abohar
Abohar, August 19
Hundreds of trucks carrying supplies from Madhya Pradesh, Gujarat and Rajasthan have been stranded as heavy vehicular traffic had to be suspended on the Sriganganagar-Abohar highway due to cracks in a makeshift bridge.
Politics over floods unabated
Chandigarh, August 19
Minister Bikram Singh Majithia today criticised Pradesh Congress president Partap Singh Bajwa statements on poor flood measures in the border belt when the same had been appreciated by the party's Majha zone head OP Soni.
3-member central team inspects mining sites
Chandigarh, August 19
A three-member central team today reached Punjab to assess if illegal mining was going on in the state. Union Minister for Information and Broadcasting and Member of Parliament from Ludhiana Manish Tiwari had lodged a complaint regarding the matter.
Buzz on 'kaala kaccha' gang refuses to die down
Chandigarh, August 19
More than two months after the buzz on "kaala kaccha" gang started, particularly in rural areas, the Punjab Police has been unable to trace the source of "rumours".
Moga millers fail to deliver 40,000 tonnes of rice to FCI
Moga, August 19
The central and state agencies have tightened the noose around rice millers in the district who are yet to deliver 40,000 tonnes of rice (pending for the 2012-13 fiscal) to the central pool through the Food Corporation of India (FCI).
Three-fold hike in motor vehicles tax
Transport business now unviable: Bus operators
Mohali, August 19
With the substantial rise in motor vehicles tax in the state, bus operators who earn their living by transporting staff of private firms are planning to switch to some other business.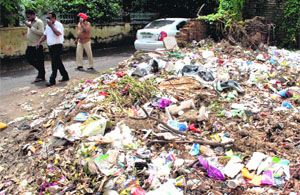 Poor civic amenities irk residents
Patiala, August 19
Residents of the city are irked over the indifferent attitude of the district administration towards numerous civic problems being faced by them.




A heap of biomedical waste near a hospital in Patiala on Monday. A Tribune photo

Affiliation to private colleges, deemed universities
Govt urged to form regulatory body
Ludhiana, August 19
Students of Punjab Agricultural University (PAU) today demanded a state-level regulatory body to give affiliation to private colleges and deemed universities to offer agricultural courses in the state. Students alleged that the deemed universities and private colleges were offering research, teaching and extension education courses in agriculture without having proper infrastructure.
Ministerial staff to meet tomorrow
Fatehgarh Sahib, August 19
Members of the Punjab State Ministerial Staff Union will hold a state-level meeting near the residence of Chief Minister Parkash Singh Badal in Chandigarh on August 21 in support of their demands.
Labourers urge govt to fulfil poll promises
Sangrur, August 19
A large number of labourers and farmers held a rally in support of their demands here today. Members of the CPI ML (Liberation), Mazdoor Mukti Morcha (MMM), Lal Jhanda Bhatha Mazdoor Union (AICCTU) and Punjab Kisan Union took part in the rally.



Man kills wife over gold
Mansa, August 19
Manjeet Kaur (22) of Mohar Singh Wala village near Bhikhi town defied her family and married her neighbour.
Inter-state gang of thieves busted
Patiala, August 19
With the arrest of five persons, including three women, the district police today claimed to have busted an inter-state gang of burglars active in the states of Punjab, Himachal Pradesh, Uttar Pradesh, Madhya Pradesh and Jammu and Kashmir from the past some years.