Funds sanctioned but sewerage project yet to begin in Jagadhri
Yamunanagar, August 19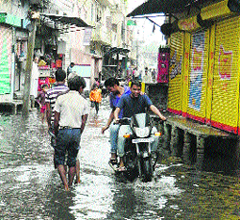 Even as residents of Jagadhri continue to face waterlogging in the rainy season with most localities getting inundated, the Drainage Department has been sitting tight on a project to revamp drainage and sewerage even as the government has already sanctioned Rs 86 lakh for the purpose. The authorities concerned have failed to initiate the project which is expected to benefit a population of more than 50,000 .Sources said the government had released a grant of Rs 86 lakh in May for relaying and strengthening the system.

An inundated lane in Jagadhri after rain. A file photo
Downpour leaves Rohtak waterlogged
Rohtak, August 19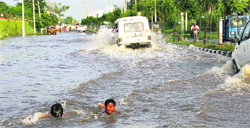 A downpour left several low-lying areas of the city, including the national highway, waterlogged and flooded, resulting in inconvenience to commuters.



The waterlogged National Highway 10 near the JLN Canal after a downpour in Rohtak on Monday. Photo: Manoj Dhaka
Rs 650 cr spent on development in Kaithal
Kaithal, August 19
Randeep Singh Surjewala, Public Works and Industries Minister, said today that the state government had spent Rs 650 crore on the construction of buildings, bridges and roads in Kaithal district during the past eight years.
Students tie rakhis to Sonepat jail inmates
Sonepat, August 19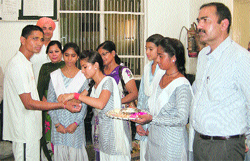 It was a very touching moment for inmates of the District Jail here when students from the local Government Girls Senior Secondary School, Murthal Chowk, tied "rakhis" on their hands today.



Students of Government Girls Senior Secondary School, Murthal Chowk, tie rakhis to jail inmates at Sonepat District Jail on Monday. Photo: BS Malik
Eviction of Sikh farmers from Gujarat
Bhattal asks Punjab CM not to allow Modi into state
Karnal, August 19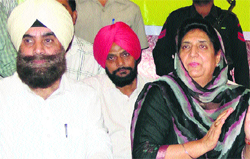 Former Punjab Chief Minister Rajinder Kaur Bhattal today lashed out at Gujarat Chief Minister Narendra Modi for not protecting the interests of Sikh farmers in Gujarat, who had been evicted from their land. She asked Punjab Chief Minister Parkash Singh Badal not to allow Modi to enter the state till justice was done to Sikh farmers in Gujarat.

Former Chief Minister Rajinder Kaur Bhattal (right) addresses a press conference in Karnal on Monday. Tribune photo: Ravi Kumar
Won't uproot Pehowa farmers, says Chattha
Chandigarh, August 19
Finance Minister Harmohinder Singh Chattha has said the interests of the farmers whose land is on lease in the Pehowa constituency will always be protected.
Resident doctors' strike enters Day 3
Rohtak, August 19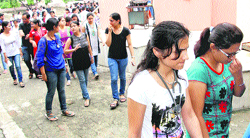 Resident doctors of the PGIMS continued their strike for the third day today, causing inconvenience to patients. The authorities warned resident doctors of a notice if they did not hold talks to resolve the issue.



Senior resident doctors on strike in Rohtak on
Monday evening. Tribune photo
Irate residents block traffic
Faridabad, August 19
Residents of Nawada village and surrounding areas in the district today blocked traffic on the Tigaon-Ballabhgarh road in protest against the authorities for delay in compensation to a farmer whose buffalo died due to electrocution three days ago.
Karnal residents protest toll
Karnal, August 19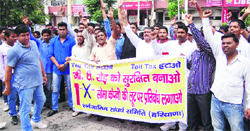 Residents of the city raised their voice against multiple-toll barriers on the GT road under the banner of the Sarvjati Sangharsh Samiti today. They took out a protest march against charging of toll tax on unfinished flyovers and potholed roads.

Sarvjati Sangharsh Samiti members protest against toll in Karnal on Monday. Tribune photo: Ravi Kumar
Panchayats offer land for medical college
Karnal, August 19
Disturbed over work on the Kalpana Chawla Medical College project going on at a snail's pace, villagers of Kutel and Anjanthali have offered 100 acres of the panchayat land to the Haryana Government for the expeditious execution of the project and to avoid shifting of the Police Line, which is a major cause for delay.
Peanuts for ancient sites' maintenance
Yamaunanagar, August 19
A steep decline in budgetary allocations for the upkeep of ancient sites of great historical and religious importance has lead to rise in apprehensions of those involved in conserving the monuments that reduced grants will result in neglect of the structures.
GJU teachers enraged over appointment rules
Hisar, August 19
Teachers of the Guru Jambheshwar University of Science and Technology (GJUST), Hisar, are enraged over the selective use of old and new rules for the appointment of Deans and chairpersons.
KU teachers submit memo to Hooda
Kurukshetra, August 19
The Kurukshetra University Teachers Association (KUTA) has demanded five advance increments at the entry level for teachers having Doctorate of Philosophy (PhD) degree.
Over 350 examined at eye camp
Rewari, August 19
Over 350 men and women from Rewari city and various other surrounding villages were examined by doctors of Ganga Devi Pandey Charitable Eye Hospital, Mahendragarh, during a free eye camp held at Gomti High School, Adarsh Nagar, here yesterday.
'Illegal transfer of village land'
HC rejects IAS officer's pre-arrest bail
Chandigarh, August 19
The Punjab and Haryana High Court today dismissed the anticipatory bail application filed by Haryana IAS officer SC Goyal. He was apprehending arrest on the allegations of 'illegal transfer of village land'.
Youth gets life term for mother's murder
Bhiwani, August 19
A district court today sentenced a youth to life imprisonment for killing his mother at Pandwan village in the district. It also fined him Rs 10,000.
SC increases land compensation
New Delhi, August 19
The Supreme Court (SC) today raised by 23.33 per cent the compensation for seven bighas acquired by the Haryana Government in 1992 for the construction of a sector road under the Bahadurgarh scheme. A Bench comprising Justices Anil R Dave and Dipak Misra delivered the verdict on appeals filed by a number of landowners affected.
Woman gets life term for killing husband
Sirsa, August 19
District and Sessions Judge Kuldeep Jain has sentenced a woman to life imprisonment for killing her husband.
Murder witness shot dead in Faridabad
Faridabad, August 19
A man travelling with his security guard was shot dead in broad daylight in the heart of the city today. Residents of his village Faridpur in the district took his body to the office of the Faridabad Police Commissioner AS Chawla and sat on dharna, demanding the immediate arrest of the killers.
Youth booked for abduction
Rewari, August 19
A young girl (24) of Mohalla Sanghi Ka Bas here, who was working as a teacher in a local private school, was enticed allegedly by a city youth Hemant Saini, a student of Government Polytechnic College, Lisana village, near here,in collusion with his three associates, on August 17.