Patiala teachers threaten to discontinue mid-day meal
Patiala, August 9
The Education Department has failed to release pending payments of over Rs 2 crore to schools under the Mid-day Meal Scheme in Patiala district. Since teachers in all schools have spent around Rs 30,000 to Rs 60,000 from their own pockets, they are finding it difficult to run the scheme any longer.
MLA Jain had used a forged passport
Chandigarh, August 9
Businessman-turned-politician Joginder Pal Jain, who won the Moga assembly byelection on the SAD ticket after deserting the Congress, had used a "forged passport dishonestly and fraudulently with a view to cheat the immigration authorities." He was released on probation by a Delhi Court after he pleaded guilty.
MS Gill writes to PM on Gujarat Sikhs
New Delhi, August 9
Rajya Sabha Member of Parliament from Punjab Manohar Singh Gill has written to Prime Minister Manmohan Singh, seeking justice for Sikh farmers facing eviction from the Kutch region of Gujarat.
Manpreet hits back, tells Badal to mind own business
Moga, August 9
Reacting to Chief Minister Parkash Singh Badal's statement that he was playing in the hands of the Congress by betraying the Akali Dal, People's Party of Punjab (PPP) chief Manpreet Badal today said he (Badal) should "stop thinking about him and concentrate on the state's progress".
Stop misuse of ambulances, Union Minister tells state
Chandigarh, August 9
The Centre today asked the Punjab Government to clarify its position on the reports regarding the alleged misuse of ambulance vans and medicines in the state. Union Minister of State for Health and Family Welfare Santosh Chowdhary, in a letter to Punjab Health Minister Madan Mohan Mittal, has pointed out "vehicles provided to the state by the Centre under '108 Ambulance Emergency Van' service were allegedly used to carry liquor and money for distribution to voters during elections".
Badal's Eid bonanza for Malerkotla town
Malerkotla, August 9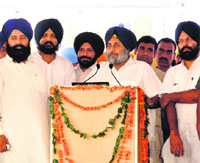 Participating in the Eid-ul-Fitr celebrations here today, Chief Minister Parkash Singh Badal showered generous grants worth Rs 25 crore on Malerkotla. Greeting the Muslim community on the occasion, Badal announced a grant of Rs 5 crore for laying drains in Malerkotla and Rs 10 crore each for Malerkotla-1 and Malerkotla-II blocks for various development works.





Deputy CM Sukhbir Badal in Muktsar on Friday. A Tribune photo


Divided Cong to hold separate rallies at Baba Bakala fair
Amritsar, August 9
Learning no lessons from its successive defeats, the Congress in Majha remains a divided house. Cracks have once again surfaced in the party with rival Congress factions gearing up to hold separate rallies at the Rakhar Punya fair at Baba Bakala on August 21.



Fatehgarh Sahib Bus Accident
10 days on, govt relief yet to reach driver, conductor's kin
Amritsar, August 9
Ten days after a Punjab Roadways bus plunged into the Bhakra canal in Sirhind, the families of the driver and conductor of the ill-fated vehicle are yet to receive the compensation of Rs 1 lakh each, as announced by the state government.

Cabinet slashes composition fee for illegal colonies
Chandiagrh, August 9
The state Cabinet today approved the revised policy for regularising illegal colonies, reducing the composition fee. The Cabinet, which met under the chairmanship of Chief Minister Parkash Singh Badal, decided that 0.5 per cent of the collector rate (as on April 1, 2013) would be charged as composition fee for regularising colonies set up before 2007, with a minimum cap of Rs 25,000 per acre and the maximum Rs 1 lakh per acre.

Rural job scheme cards for disabled, elderly in Khamano
Fatehgarh Sahib, August 9
Most of the MGNREGA job cards of over 363 people in Kheri Naudh Singh village in Khamano block belong to the elderly, those with mental disabilities, and employed persons. These cards were prepared in 2008.

Health insurance scheme for 30 lakh families soon: Sukhbir
Moga, August 9
Deputy Chief Minister Sukhbir Singh Badal today said the state government would soon launch a health insurance scheme that would cover 30 lakh poor families of Punjab. "The plan will facilitate the beneficiaries treatment in a government or private hospital of their choice in the state," he said.

Army to run dope test on aspirants
Ludhiana, August 9
The Army has decided to test aspirants suspected of doping to crack the physical fitness tests at the recruitment drives. Col MS Mahar, Director, Recruitment, said that the test could be taken at any stage of the recruitment process.

Martyrdom day: Rs 7 lakh for Dhadhogal village


Sangrur, August 9
Punjab Chief Minister Parkash Singh Badal today paid rich tributes to Shaheed Bhagat Singh Dhadhogal on his martyrdom day at Dhadhogal village (near Dhuri). He had died in the Praja Mandal Movement.

Majha-origin IFS officer back in US for record 3rd time
Chandigarh, August 9


Indian Foreign Service (IFS) officer Taranjit Singh Sandhu has joined a select band of career diplomats with the distinction of getting posted in Washington for the third time. Belonging to the 1988 batch of the IFS, Taranjit Sandhu from Amritsar will be the new Deputy to India's Ambassador to the United States Nirupama Rao.




Taranjit Singh Sandhu
Govt denies increment to senior-most PCS officer
Jalandhar, August 9
Even as the Punjab Public Service Commission (PPSC) had exonerated the senior-most PCS officer Praneet Bhardwaj twice in a 10-year-old case, the Cabinet today reportedly decided to stop his annual pay increment, thus denying him a chance to seek promotion.
Safai karamcharis on strike from Aug 12
Jalandhar, August 9
In what may lead to unhygienic conditions in Punjab, members of various safai karamchari unions have decided to boycott cleaning and lifting of garbage from August 12.
Govt draws HC ire for denying allowance to differently abled
Chandigarh, August 9
The State of Punjab has received more than just a rap on its knuckles for compelling a "handicap person" knock the doors of the Punjab and Haryana High Court. Taking up a petition, Justice Tejinder Singh Dhindsa has imposed "litigation costs" of Rs 10,000. The amount is to be paid by the office of the DPI (Secondary Education).



Petrol station worker shot dead at Makhu
Ferozepur, August 9
Sub-Inspector Jagdev Singh, posted as Station House Office (SHO) at Mallanwala in Ferozepur district, was critically injured this evening when he was fired at from point blank range by Satnam Singh, a resident of Vanjhoke village in Makhu. Satnam Singh had shot dead a petrol station employee earlier in the day.