Modi must show statesmanship, says DSGMC
New Delhi, August 1
The National Commission of Minorities and the Delhi Sikh Gurdwara Management Committee (DSGMC) have sought justice for Sikh farmers facing eviction from Kutch in Gujarat. At a press conference here, president of the DSGMC Manjit Singh GK, asked Gujarat CM Narendra Modi to ask his officers not to pursue the case against the Sikh farmers in the Supreme Court.
High Court tells PUDA not to use groundwater for construction
Chandigarh, August 1
The Punjab and Haryana High Court today directed the Punjab Local Government Department and PUDA to enforce measures to stop use of underground water for construction purposes.
AI resumes Amritsar to Birmingham flight
Amritsar, August 1
Air India today re-launched its Amritsar-New Delhi-Birmingham flight, thus providing the much-needed boost to international connectivity at the local Sri Guru Ram Das Ji International Airport.
Badal hijacked central varsity project: Bajwa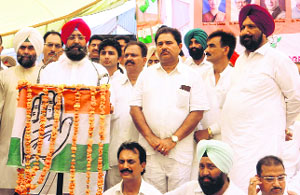 Sujanpur, August 1
Punjab Pradesh Congress Committee (PPCC) chief Partap Singh Bajwa today said it was high time the Punjab and Haryana High Court took suo motu cognisance of reports appearing in various forums, including the print and electronic media, about illegal mining in and around Sujanpur and Pathankot.



PPCC chief Partap Singh Bajwa at the Congress' mass contact programme in Sujanpur on Thursday. A Tribune photograph

Fatehgarh Sahib Bus Accident
Annoyed at police behaviour, divers halt rescue operations

Fatehgarh Sahib, August 1
Private divers, led by good samaritan Ashu Malik, refused to carry out search operations today. Ashu and his team had played a key role in extricating the Punjab Roadways bus that plunged into the Bhakra canal in Sirhind yesterday.



A team of divers led by Ashu Malik (extreme left) that had stopped the rescue operation, in Fatehgarh Sahib on Thursday. A Tribune photograph

Case against driver; DC warns NH project head
Fatehgarh Sahib, August 1
Taking a serious note of reports on the broken railing at the bridge on the Bhakra canal in Sirhind, Deputy Commissioner DC) Arun Sekhri today wrote a warning letter to the general manager (technical) and project director, National Highway-1.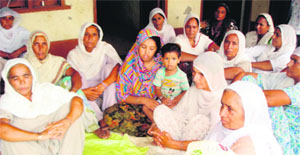 Driver's native village in shock
Tarn Taran, August 1
With no information yet about the fate of Surinder Singh, who was at the wheels of the bus that fell into the Bhakra canal yesterday, residents of Vaan Tara Singh village fear the worst.

The driver's relatives at his house in Vaan Tara Singh village, Tarn Taran. Tribune photo

Conductor's kin hoping against hope
Batala, August 1
A phone call at 11.41 am shattered Pawan Kumar's world, a resident of the Shakurpura locality here. He was told that his son, Raman Kumar, conductor of the Punjab Roadways bus that plunged into the Bhakra canal near Sirhind yesterday, was missing.


NDRF men at work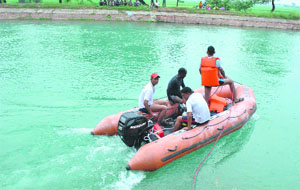 A 26-member National Disaster Rescue Force (NDRF) team has been deputed for the rescue operation. The men in action at Khanori Bhakhra Head near Patran, 75 km from Patiala, on Thursday. Tribune photo: Rajesh Sachar
Frame road safety policy, state told
Chandigarh, August 1
The Punjab and Haryana High Court today directed Punjab, Haryana and Chandigarh to come up with road safety policies for applying brakes to increasing road mishaps and traffic mismanagement.
Tewari to approach Transport Minister
Ludhiana, August 1
Expressing shock and grief over the tragic bus accident near Sirhind, Union Information and Broadcasting Minister Manish Tewari today questioned the inordinate delay in the completion of the six-laning of the Panipat-Jalandhar highway, causing accidents everyday. He said he would take up the matter with the Union Surface Transport Minister too.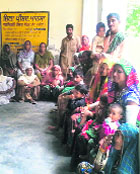 RMOs' strike hits health services
Jalandhar, August 1
With rural medical officers (RMOs) posted in 1,186 dispensaries across the state proceeding on an indefinite strike from today, health services in the rural areas have paralysed.






Patients wait at a Mansa dispensary. Tribune photo

Floodwater enters power plant, supply may be hit
Jalandhar, August 1
The Ranjit Sagar Shahpur Kandi power plant has been temporarily shut down after floodwater carrying silt from Thein Nullah entered its premises.
Central funding for 5 ITIs
Chandigarh, August 1
The Centre on Thursday selected five Industrial Training Institutes (ITIs) of Punjab for additional funding of Rs 1.5 crore each, keeping in view their performance on various parameter. Anil Joshi, Minister for Technical Education and Industrial Training, said: "It is a matter of great pride for the Technical Education Department that five ITIs have been selected for additional grants".
Suspended hospital doctor back on duty
Patiala, August 1
The Punjab Government has revoked the suspension of Dr KK Locham and reinstated him as the Head of the Paediatrics Department at Government Rajindra Hospital.
Hit-and-run case
Villagers protest police 'inaction', block road
Sangrur, August 1
Over 150 protesters today blocked the Sangrur-Ludhiana road at Benra village, demanding strict action against "erring" policemen of Sadar police station, Dhuri. They had laid the body of Kamla Devi on the road.
Proposed Anandpur Sahib colony to endanger wildlife
Anandpur Sahib, August 1
The green hills of Anandpur Sahib may soon be robbed of their natural beauty. An Abohar-based coloniser bought over 1,100 kanal of barren land in the hills of Dhanera village last year. He is proposing to turn it into a colony in five years. He is selling shares of the land to willing buyers, promising to hand them the registration deed of the plot once the colony is developed after five years. At present, the land can only be used for agricultural purposes.
BBMB generates record power
Ropar, August 1
The Bhakra Beas Management Board (BBMB) stations have generated 1,587 million units (MUs) of power in July this year, surpassing the previous record of 1,542 MUs in July, 1988. The power generation was 38 per cent more than the target of the Central Electricity Authority of India for July this fiscal. Moreover, the power produced in April-July, 2013 was 4,570 MUs, highest in the last 15 years.



Fill principal's post in two months: HC
Chandigarh, August 1
In a significant order, the Punjab and Haryana High Court has directed the State of Punjab to fill up the vacant posts of school principal within two months of vacancy.
High Court denies bail to sarpanch accused of murder
Chandigarh, August 1
The Punjab and Haryana High Court has rejected the bail plea of a murder accused who had emerged victorious after contesting the panchayat elections from jail. The development is also significant as MLA Balbir Sidhu too has been accused of maneuvering the probe in the same case. In all, the High Court rejected the regular bail pleas of two accused — Kulwant Singh and Dilbar Singh.