Counselling for PG medical courses marred by protests
Faridkot, July 30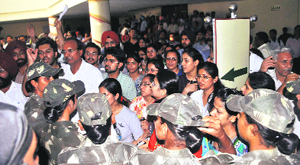 A day after the Punjab and Haryana High Court allowed Rural Medical Officers to compete with medical graduates (MBBS/BDS) for admission to post-graduate medical courses, the latter demanded that Baba Farid University of Health Sciences should postpone counselling as they intended to challenge the court order in the Supreme Court.
Policewomen have a word with protesting medical graduates during counselling at Baba Farid University of Health Sciences, Faridkot, on Tuesday. A Tribune photo

No threat, BBMB not to release more water yet

Chandigarh, July 30
As the water level in the Gobind Sagar reservoir at the Bhakra Dam has not yet reached the level of 1,650 feet, there will be no additional release of water from the dam as of now. A decision in this regard was taken at a review meeting of the technical committee of the partner states, convened by the Bhakra Beas Management Board (BBMB) here today. The BBMB authorities have been told to stick to the normal release of water from the dam.
Bajwa has not dared to counter-challenge Harsimrat: SAD
Chandigarh July 30
The SAD today hit back at the Congress, asking why Pradesh Congress chief Partap Singh Bajwa had "chickened" out from contesting against party Member of Parliament Harsimrat Kaur. In a statement, adviser to the Chief Minister on national affairs Harcharan Bains "ridiculed" the PCC president for "conceding" that Congress vice-president Rahul Gandhi was the only "safe" candidate against Harsimrat.

Engage experts, not babas, for kar sewa, says Bibi Kiranjot
Amritsar, July 30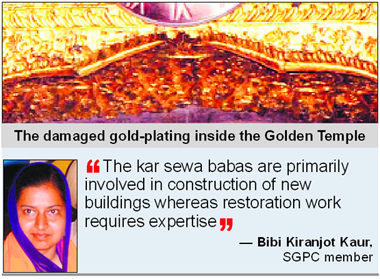 Bibi Kiranjot Kaur, SGPC member and a former SGPC general secretary, has opposed the move to hand over the 'kar sewa' for renovating the Golden Temple interiors to Baba Kashmir Singh Bhuriwale, contending that the decision would "ruin heritage". The 'kar sewa' is scheduled to be launched on August 18. Talking to The Tribune here today, Bibi Kiranjot Kaur said: "When you think about restoration or preservation of an architectural marvel, you should engage professional experts with the necessary experience in the field. Baba Bhuriwale doesn't have any background in restoring or conserving artwork."
Kauni could be in further trouble
Archit Watts/TNS
Muktsar, July 30 A three-time Shiromani Gurdwara Parbandhak Committee (SGPC) member, Navtej Singh Kauni, who is already in the dock for attending "naam charcha" at Dera Sacha Sauda in Bhullar village on May 16, could be in fresh trouble.
Bajwa: Explain displacement of Kutch Sikhs
Bunga Sahib (Ropar), July 30
Punjab Pradesh Congress Committee (PPCC) president Partap Singh Bajwa today sought an explanation from Chief Minister Parkash Singh Badal on the displacement of Sikhs from Kutch in Gujarat, a state ruled by the ruling Shiromani Akali Dal's alliance partner the BJP.
Sidhwan expressway may be delayed further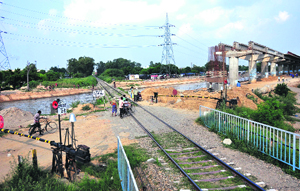 Ludhiana, July 30
The Sidhwan canal expressway project might get delayed further as the Northern Railways is dilly-dallying over the removal of rail barriers at two locations. At both these points — on the Dhuri and Ferozepur links — rail over-bridges had to be built but the work is stuck midway. The contractor rued the construction was being delayed due to "poor response" from the railway authorities.
Heading nowhere: An incomplete railway over-bridge en route the Sidhwan Canal Expressway Project near Ludhiana. Tribune photo: Himanshu Mahajan

Facing nationality crisis, a family has nowhere to go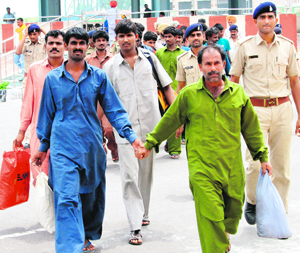 Amritsar, July 30
The failure of a family-of-five, belonging to some foreign country, to establish their identity has become an impediment in their freedom. Released by the authorities three years ago, the family had been staying put behind bars as they could not reveal which country they belonged to. They had been jailed for nine months after being caught by the Chabal police of Tarn Taran district without valid travel documents on July 8, 2009.
March to freedom: The released Pakistani prisoners while crossing over to their home country at the Attari-Wagah border on Tuesday. A Tribune photograph

PCS officer's plea on retirement quashed
Chandigarh, July 30
Apprehending the worse, a Punjab Civil Services (Executive Branch) Officer moved the Punjab and Haryana High Court challenging the state government's "decision" to retire her compulsorily from service, even though orders to this effect were never passed. This is, perhaps, the first time in recallable past that a member of the "elite" state civil services has moved the High Court for relief against a decision that was never taken by the government.
Recruitment of rural teachers
Notice to govt on plea for extending last date
Chandigarh, July 30
The Punjab and Haryana High Court today put the Punjab Government on notice on a petition for extending the last date for receiving applications from candidates passing teachers eligibility test (TET) for recruitment as rural associate teachers. Justice Tejinder Singh Dhindsa issued notice to the Punjab Government and Director, Secondary Education, on the petition filed by Parwinder Kaur and four other candidates. They had qualified the eligibility test conducted by the government on June 9, the result of which was declared on June 19.
Illegal colonies
Resolution soon: state BJP chief


Sangrur, July 30
State BJP chief Kamal Sharma said a four-member committee appointed by the state government to look into the issue of regularisation of illegal colonies, would submit its report before August 25 as SAD-BJP alliance was of the view that the matter should be reviewed in the larger interests of the people.
Anti-Punjabi bias won't be tolerated, says Bittu
Chandigarh, July 30
Lok Sabha member Ravneet Singh Bittu said today that discrimination against the Punjabi language in Punjab's capital would not be tolerated. He said that action should be taken against UT officials for refusing to give jobs to youths who had passed matriculation with Punjabi as the main subject in the Chandigarh Transport Undertaking (CTU).
IAS officers can't claim arbitration fee: Centre
Chandigarh, July 30
"IAS Officers cannot claim or fix any fee for arbitration cases, without sanction of competent authority," the Union Ministry of Road Transport and Highways has clarified.
'Suicide' by inmate
Role of Patiala jail officials being probed
Patiala, July 30
The role of officials of the Central Jail, Patiala, has come under the scanner following the mysterious death of an inmate at the jail hospital on July 26. The inmate, facing charges under NDPS Act, was found hanging at the hospital with a handcuff chain which was allegedly used to tie him up with the bed.
Illegal mining
Two policemen suspended
Amritsar, July 30
A day after The Tribune carried a news report on illegal mining, Ajnala Station House officer (SHO) Gurmeet Singh and Head Constable Harjeet Singh were placed under suspension for dereliction of duty. The Inspector, Mining, Ravinder Kumar is likely to face action too.
Brahm Bhog feeds 700 persons everyday
Ludhiana, July 30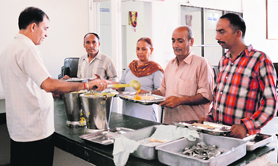 A charitable trust has been running Brahm Bhog, a dhaba popularly known as "ek rupaye wala dhaba", that serves free lunch to at least 700 persons everyday. Located near the Vardhman factory on the Chandigarh road, dhaba manager Girdari Lal is shy of disclosing the cost of the meal. He refuses to comment on the row among netas on the cost of a meal in the country.
Serving the needy: An official of Brahm Bhog dhaba serves food in Ludhiana. Photo: Inderjeet Verma
South Asian Punjabi Conference opens
Patiala: The two-day South Asian Punjabi Conference, being organised by the World Punjabi Centre of Punjabi University, got underway at Kala Bhawan on the university campus today. Rural Development and Panchayats Minister Surjit Singh Rakhra inaugurated the event.


Illegal mining
No licence for liquor vends along highways for now: HC
Chandigarh, July 30
The Punjab and Haryana High Court today made it clear that fresh licences for running liquor vends in the proximity of highways and roadsides should not be issued, at least till the pendency of a PIL on the issue.
Two get 7-yr RI for murder
Patiala, July 30
District Sessions Judge RS Attri on Tuesday sentenced Honey and Johney, both residents of the local Khalifa Basti, to rigorous imprisonment for seven years and fined Rs 5,000 each in a murder case. A FIR was registered on June 17, 2012 at the Kotwali police station after truck driver Mohan Singh was found dead. It was later found that he was murdered with an ice poker by the accused. — TNS