LONDON DIARY
Lutyens' legacy up for grabs
A grand mansion in West Sussex showcasing the talent of Sir Edwin Lutyens, the architect who designed New Delhi and its magnificent monuments, is on sale. It is available for somewhat less than what a slice of Lutyens' Delhi would cost
Shyam Bhatia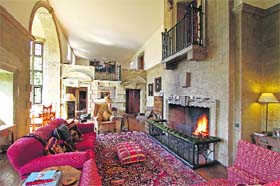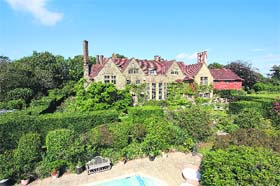 The Thakenham mansion is spread over three acres and has nine large bedrooms, huge fireplaces and a luxurious swimming pool
Admirers of New Delhi's architecture designed by Sir Edwin Lutyens will be astonished to discover that one of the homes he designed in the West Sussex town of Thakenham, 90 minutes by train from London, is on sale for a comparatively modest price of £5.5 million, approximately Rs 50 crore.
Lutyens' New Delhi bungalows, usually reserved for Central Government ministers, rarely (if ever) come up for sale. If these did, these would be valued at hundreds of crores.
So architecture enthusiasts with pots of money could do worse than put in a bid for the 12,500 square foot Thakenham mansion, set in three acres of rolling countryside, with nine large bedrooms, huge fireplaces and a luxurious swimming pool. It also has the arches, windows and long corridors characteristic of the New Delhi masterpieces, including the Rashtrapati Bhavan.
The price demanded for this architectural gem is less than what would be required for a modern, six-bedroom house in an upmarket New Delhi suburb like Vasant Vihar.
Lutyens' Thakenham property, said to be one of his best private houses, was commissioned in 1902 by a wine importer called Ernest Blackburn. The property also has eight bathrooms, a kitchen, a family room, dining room, utility room, huge fireplaces and a double-height drawing room.
Lutyens was born in 1869 and studied at the London Royal College of Art. He embraced the traditional forms of his local Surrey buildings in his early days but his style changed after meeting a landscape gardener called Gertrude Jekyll.
She taught him both the 'simplicity of intention and directness of purpose' which he deployed when designing one of his first private houses in the Surrey town of Godalming. He also designed a number of country houses before being commissioned to advise on how to plan the garden city of New Delhi.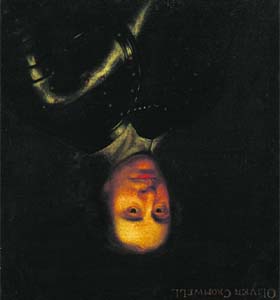 Prince Freddy would deliberately hang Cromwell's portrait upside down in the lavatory of his home at Blo Norton Hall in Norfolk
A painting that once belonged to Prince Frederick Dalip Singh (Prince Freddy), younger son of Maharaja Dalip Singh, is one of the key items due to be shown at the Tate Gallery in London this October.
The painting is of Oliver Cromwell, the English military and political leader, who led the anti-royalist forces during the 17th century Civil War, later confirming the death warrant that led to the execution of King Charles 1.
Prince Freddy, who was a staunch supporter of the British royal family, despite their questionable support to his father and the purloining of the Kohinoor diamond, used to deliberately hang Cromwell's portrait upside down in the lavatory of his home at Blo Norton Hall in Norfolk.
Born in 1868, and surviving on an income of £2,000 a year from the India Office, Freddy lived the comparatively happy and peaceful life of a country gentleman until his death in 1926. He was educated at Eton and Magdalene College, Cambridge, where he read history, later joining the British army where he reached the rank of Major.
The portrait of Cromwell was part of a much larger collection of 90 paintings that Freddy's sisters, Princess Bamba and Princess Sophia, donated to the nearby town of Thetford following his death.
A handful of paintings depicting the Sikh royal family from the court of Lahore were kept by Princess Bamba, who settled in Lahore where she died in 1957. The paintings, photos and other articles in her possession were left to her secretary, Pir Karim Baksh Supra, who subsequently sold these to the Pakistan Government for display on the walls of the fort in Lahore.
NRI members of Britain's House of Lords could be among the peers thrown out of parliament for bringing their august institution into disrepute. New legislation under discussion seeks to permanently expel those peers, who have been found guilty of bringing the House of Lords into disrepute.
The planned legislation follows a UK media campaign that highlighted the cases of three white peers, who were willing to table questions in parliament in exchange for cash. Under the new Bill planned for the next session of parliament, any Lord caught accepting money to table parliamentary questions will be automatically expelled from the upper chamber of the British parliament.
Similarly, strict rules would apply to those Lords jailed for more than a year, or any others found guilty of fraudulent expenses claims. Two NRI Lords were recently found guilty of wrongly claiming expenses. They were suspended but subsequently allowed to return to the upper house. They include Lord Swraj Paul, Lord Amir Bhatia and Bangladeshi-born Baroness Pola Uddin, who was ordered to repay £125,000 after her questionable expenses claims.
Jalandhar-born Lord Paul, a former deputy speaker in the Lords, was suspended from parliament for four months and ordered to repay £41,982. East Africa-born Lord Bhatia, who was educated in India and Tanzania, was suspended for eight months and repaid £27, 446. The investigating committee said about Lord Paul "his actions were utterly unreasonable and demonstrated gross irresponsibility and negligence."
Delhi elections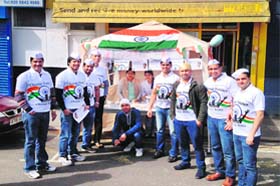 Members of the London branch of the Aam Aadmi Party
THE London branch of the Aam Aadmi Party, which is projecting Arvind Kejriwal as the next Chief Minister of Delhi and a future Prime Minister, says it has so far managed to attract approximately 1,000 NRI supports and between £20,000 and £25,000 in donations.
Mumbai-born Raj Redij-Gill is one of the party's main UK coordinators, and who has taken a year off from his job in e-commerce and marketing to campaign for the party, says Aam Aadmi Party is trying to generate interest among the NRIs by campaigning at key events like the recent Indian film festival in London and the test match at the Oval in Birmingham.
Redij-Gill says one of the key issues for the party is fighting corruption in electricity and water bills. This is one of the themes that party candidates will focus on during the Delhi elections this coming October. The Aam Aadmi Party is fielding 70 candidates for all 70 Delhi constituencies.
A UK-based NRI has returned home to freedom after being held for a year in a Dubai prison where he is alleged to have been tortured by the local police.
Suneet Jeerh, together with his friends Grant Cameron and Karl Williams, all in their mid-twenties, were released earlier this month as part of a traditional amnesty announced by the Prime Minister and ruler of Dubai, Sheikh Mohammed bin Rashid, to mark the beginning of Ramadan.
They were on holiday in Dubai last year when they were arrested after the police claimed they found synthetic cannabis, known as "spice" in their car. All three denied the drugs charges.
In a draft witness statement distributed by the human rights charity Reprieve, Williams was quoted as saying, "I remember that the police put a towel on my face so I could not see. They kept telling me I was going to die. I was so scared."
Earlier this year Jeerh's sister, Davena Kumar, said her brother had also been tortured. She said, "They dragged my brother from his apartment, kicking and punching him. They handcuffed him, punched and electrocuted him".
"He is innocent, he is not guilty. All those charges will be dropped. I originally found out about the torture from a friend and I just started screaming. I couldn't believe any human could do that."
While they were held in custody, British Prime Minister David Cameron expressed concern over the torture allegations, saying, "The UK Government takes all allegations of mistreatment very seriously."