OPED

Document
India's search for energy security
Ligia Noronha
A large part of India's population has a low energy access. Some 400 million Indians live without electricity, and 700 million still use traditional biomass for cooking. This has environmental and health implications.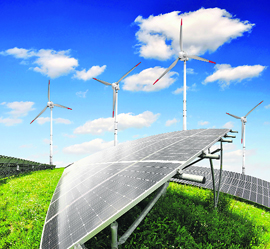 The problem with wind power is that it is seasonal and intermittent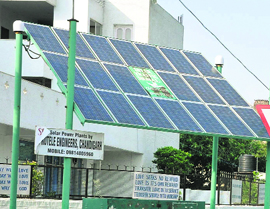 A view of a solar panel installed in Chandigarh. Renewable energy's contribution to the electricity mix in India in 2009 was 34% of which 78% was hydro and the rest included wind (90%) and solar and other renewable energy (10%).

The key energy security issues of India are linked to the need for energy resources for addressing growth imperatives and energy poverty. India's energy securing strategies have had elements of both regional and nationalist approaches such as seeking pan-Asian cooperation, investments in transnational gas pipelines, energy consumer-producer dialogues, and more nationalist strategies, involving bilateral deals, trade arrangements, and overseas investments in energy resources by state and private energy companies. Whether this mix continues, or there is a tilt to one or the other will depend very much on how India perceives the global environment that it faces, and the space that it has to make choices to secure and deliver energy.
Some key aspects of the Indian economy of relevance to its search of energy and resource security are:
nLarge energy and resource needs to deliver growth: To eradicate poverty and meet its human development needs, the Planning Commission estimates that India needs to grow at the rate of 8–10 % annually to 2031/32 from 2003/04 as base. India's ability to achieve this growth rate requires commercial energy to grow at the rate 5.2–6.1 % annually. According to the projections of the Planning Commission, total commercial energy supply will have to increase 5 times in 2031/32 over the 2003/4 level. Coal will continue to be the most important source of energy followed by oil. Minerals and metals such as limestone and copper and iron ore are required to meet its urbanization needs.
nA growing and demanding middle class. India's middle class is key to its emerging economy status. It is estimated that this group, 126 million in 2007–08, comprise 11.4 % of the total Indian households, but makes up 25% of total income and saves more than 55% of its income. As India urbanizes, the demands for energy and raw materials will grow to meet its needs of mobility, connectivity and comfort.
The energy mix is primarily fossil fuel based, and largely dominated by coal, followed by oil and natural gas. Currently imports are 70% of oil requirements, 17% of natural gas and 12% of coal; this is projected to rise to rise in 2031 to 90% to 93%, 0% to 49% and 11% to 45% respectively. In case of non-fuel minerals, expectations are that demand for these will increase 5 fold between 2009 and 2030 for minerals and metals such as aluminum, copper and zinc. Its needs for copper concentrates are expected to further stress a tight global market. In case of other critical metals – molybdenum, rare earths, tungsten, and cobalt have strategic importance to Indian economy, as they are used as inputs into high technology or strategic sectors, with no or inadequate substitution opportunities available for these materials
Fossil fuel dependence
Coal accounts for 53% of the total commercial energy supply in the country. Although it in principle has large coal reserves, the bulk of these are not extractable at current technology. It is estimated that only about 20% of coal reserves can actually be extracted, suggesting the need for large coal import dependence in the future. India is the third largest consumer of coal after China and USA.
Oil accounts for 33 %of commercial energy consumption followed by natural gas at 8%. A large share (70 %) of oil is imported mostly from West Asia. India's oil import dependency is projected to rise to 90 % by 2031. This rising import dependency and rising oil prices are a cause of great concern for India given that the oil payments impose a huge burden on the exchequer. Apart from the economic burden, there is also concern with the geopolitical situation in countries of West Asia which causes considerable worry about stability of supplies. Supply from politically unstable parts of the worlds also leads to significant price volatility as predicted supply shortages (whether real or perceived) usually result in industry purchasers stocking their inventories, resulting in high prices, followed by declining prices as buyers leave the market and run down their inventories. This is compounded by concern with regard to oil transit routes, especially the 'sea life lines'.
Supplementing fossil fuels
Renewable energy's contribution to the electricity mix in India in 2009 was 34% of which 78% was hydro and the rest included wind (90 %) and solar and other renewable energy (10 %). Of the various sources, wind energy capacity alone accounts for nearly 11 GW mostly in the southern part of the country.
The problem with wind power is that it is seasonal and intermittent, and there is lack of predictability and inability to schedule the power that is to be fed into the grid. Despite all this, contribution of wind to grid power has been significant (70% of RE and about 20% of total electricity mix in 2010). Solar is the new focus of attention.
The recent Jawaharlal Nehru Solar Mission with target of 20 GW by 2022 is a key institutional innovation for expanding solar energy in the country. India has put in place several interesting policy innovations to create markets for green energy and institutionalize energy efficiency in the country:
15 states have Renewable Energy Purchase Obligations on DISCOMS. These require electricity distribution entities to purchase between 1%–10% of energy from RE sources
A platform is being created for trading in Renewable Energy Certificates
Energy Saving Certificates are in place in 8 energy intensive industries who now have specific energy consumption targets to promote energy efficiency, as part of the Perform, Achieve and Trade (PAT) scheme notified on 30.3.12.
A nodal agency is set up (NTPC Vidyut Vyapar Nigam) to create and catalyze a market for sale and purchase of 33 kV and above Grid connected Solar Power under Phase-I (cum. 1000 MW)
Innovative financing is promoted by IREDA, Green Banks, etc
Rs. 50 billion is given as grants in aid to States to support the development of RE markets by the XIII Finance Commission
India has about 150 GW potential of hydropower potential even though its contribution to the total commercial energy mix remains small. In 2009, 39 GW of the 148 GW installed capacity of electricity came from hydropower. The reasons for such under-utilisation of capacity relates to poor and inadequate institutional arrangements to address environmental and social costs, approval issues, inadequate pre-project investigation, longer gestation periods, geological and hydrological risks (in construction and operation), lack of demand (in some of the home states) and in a few cases, inter-state (water availability) issues. Inter-state disputes can become a cause for holding up of hydro projects that involve common river systems between states leading to under-utilisation of hydro potential in the country. The disputes relate to sharing of waters, inter-basin diversion of water loom large in India.
Nuclear energy has been of strategic importance to India for many decades, and it has been developed indigenously given the technology denial regime in place for India. At present, the installed capacity of nuclear reactors under operation is 4560 MW. The nuclear question in India is complex: there are some aspects of it which make it a more suitable energy choice for India, but from the risk angle it is a very problematic choice as discussed earlier.
India has modest domestic reserves of uranium and faced constraints on the international trade of uranium due to the denial regime. Given limited resources, India has planned to develop a closed fuel cycle, which makes use of the full potential of the available nuclear fuel resources and also makes it possible to use thorium, which India has in abundance. The three stage nuclear energy programme involves the following: Near-term growth: Will be determined by success in locating additional uranium resources in the country and opening up of civil nuclear commerce as it requires using uranium to produce power and plutonium. Medium-term growth: will come from fast breeder reactors and adoption of closed fuel cycle The plutonium will be used as driver fuel in the second stage along with thorium of which India has one of the world's largest reserves, to produce Uranium 233. Long-term growth: will depend on the development of technologies for deployment of thorium and fusion technology. In this third stage, power will be produced using this artificially produced Uranium 233.
Uranium trade is an important step on the way to achieving nuclear self-sufficiency, as per the vision behind India's three-stage nuclear programme. The nuclear agreement with the USA helped facilitate access to much needed uranium internationally. Post the 2008 waiver by the Nuclear Supplies Group, India signed agreements with Namibia, Argentina, Canada, Kazakhstan, S. Korea and a broad based agreement with Russia. MoUs are also in place with UK & Mongolia. Negotiations are ongoing with Japan and EU; positive indications coming from Australia.
S L. Rao, author of "Global markets, financial crisis and resource security" provides a set of priority actions for the energy sector:
Examine technologies that can use agricultural waste, natural plants like jatropha and other oil-bearing plants and examine how they can be grown without diverting land from food crops.
Initiate immediately a 'Green New Deal' to embark on a renewable energy revolution.
Impose tough emissions targets domestically. However, there must be no international commitment to reduce emissions because of the undue pressures of the developed countries that need to do a lot more in this area.
Must cooperate with China in securing energy resources around the world.
Joint R&D with BRIC countries, Mexico, South Korea on clean coal technologies;
We must go all out for nuclear energy and continue giving top priority in R&D to the ultimate use of thorium as fuel.
Move towards a rational tariff system for electricity that takes account of costs of service. Subsidies should not be at the cost of distributor companies.
Relate domestic tariffs for domestic gas (and coal) to their end use prices as is allowed to major end uses, through appropriate regulation or excess profits tax.
There must at the same time a realistic user charge for fossil fuels and power, and a relationship between the two.
Subsidies remove flexibility from energy and foreign polices and must not be at the cost of the distributor, but paid for by government to the targeted beneficiaries.
Ownership of distribution should have a strong private component to introduce commercial and enterprise cultures in them.
Excerpted from the book "Energy and Resource Security" by Ligia Noronha as part of the TERI-KAS (Konard Adenauer stiftung) dialogue series