Jhajjar awaits better bus service in evenings
Jhajjar, July 28
A district headquarters since over 16 years, Jhajjar is still struggling for better roadway bus services, especially in the evening, while the issue is raised by every political party in the assembly elections to woo voters.
Flood relief row: Cong launches tirade against Abhay Chautala
Bhiwani, July 28
After Ellenabad MLA Abhay Singh Chautala's allegation that farmers have been paid amount as low as Rs 2 as compensation for the loss due to floods in 2011, Congress leaders have launched a tirade against the senior INLD leader.
Conservation of black bucks
Experts complete survey of acquired land in Fatehabadad
Fatehabad, July 28
A team of experts from the Wildlife Institute of India, Dehradun, has completed its reconnaissance survey for preparing a conservation plan for the black bucks living on the land acquired by Nuclear Power Corporation of India Limited (NPCIL) for its residential colony at Badopal.
Rs 76 crore to be spent on housing in Kaithal, says minister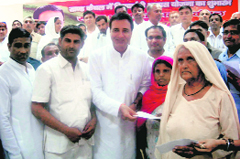 Kaithal, July 28
State Public Works and Industries minister Randeep Singh Surjewala said a provision of Rs. 76.50 crore had been made for the construction of 8,500 concrete houses in Kaithal district under the Priyadarshani Aawas Yojna.


State Public Works and Industries Minister Randeep Singh Surjewala hands over a cheque to a beneficiary under the Priyadarshani Aawas Yojana in Kaithal on Sunday. A Tribune photograph

CM denies regional bias in development
Hansi (Hisar), July 28
Addressing a rally on the occasion of a foundation stone laying ceremony of a road project here today, Chief Minister Bhupinder Singh Hooda took exception to allegations of regional bias in development by the Opposition and some of his own party colleagues.
Situation tense in Gurgaon as members of 2 communities clash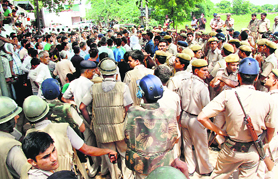 Gurgaon, July 28
Two communities clashed over an alleged slaughter of a cow in Hariyahera village in Gurgaon district. A youth of one community alleged that he had seen three of the other community carrying beef with them. He gathered the members of his community and said the trio had allegedly slaughtered a cow at their home.
Police personnel try to diffuse the tension at Hariyahera village in Gurgaon district on Sunday. A Tribune photograph

INLD seeks probe into allotment of industrial plots
Chandigarh, July 28
The Indian National Lok Dal (INLD) today demanded an inquiry into the allotment of industrial plots in Panchkula to "near and dear ones of Chief Minister Bhupinder Singh Hooda". In a statement issued here, INLD leader and Ellenabad MLA Abhay Singh Chautala said the allotment of plots at the reserve price to "close family members and friends" was a big scam worth crores of rupees.
Rajasthan cop commits suicide in Ambala
Ambala, July 28
A Rajasthan Police constable, who had killed his wife and three children, including his one-month-old son, at his Rajasthan Police Academy (RPA) quarter, committed suicide by jumping before a train in Ambala. Vijay Kumar (30), said to be an alcoholic, had been posted at the Ramganj police station in Jaipur. He slit throats of his family members and boarded a train to Ambala, where he jumped before a train and committed suicide.
Ludhiana-Delhi Shatabdi to halt at Jind
Rohtak, July 28
The Ludhiana-Delhi Shatabdi train will run throughout the week with a stopover at Jind. This was announced by Union Railway Minister Mallikarjun Kharge here today. At present this train runs twice a week.
Four get life term in dowry death case
Sonepat, July 28
Additional District and Sessions Judge Manisha Batra has convicted Naveen, his father Mahavir, mother Santosh and younger brother Mohit, all residents of Moi Hooda village in the district, in the murder case of Naveen's wife Mukesh on October 19, 2011, and sentenced them to life imprisonment. However, the court had acquitted five others in the absence of evidence.
Sirsa-Ludhiana train will run regularly
Sirsa, July 28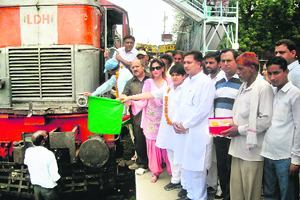 Sirsa MP Ashok Tanwar's wife Avantika Maken Tanwar today flagged off the Sirsa-Hisar-Ludhiana train from Sirsa railway station. The Railways had announced to regularise the train from today. Running between Hisar and Ludhiana earlier, the train was extended up to Sirsa for a trial run two months ago.
Avantika Maken Tanwar flags off the Sirsa-Hisar-Ludhiana train at Sirsa on Sunday. A Tribune photograph

Two killed in road accident
Sonepat, July 28
Two persons were killed and one was injured in a road accident on the GT Road between Bahalgarh and Murthal in the district today. The victims, identified as Ranjan and Aditya, both residents of Delhi, were killed and their friend Vikrant, also a resident of Delhi, was injured when their Santro car was hit by a speeding vehicle.
MCF staffers to meet on August 1
Faridabad, July 28
The safari workers of the Municipal Corporation, Faridabad, (MCF) have decided to orgainse a public meeting on August 1 to demonstrate their strength and put the authorities on notice with regards the launching of their next phase of agitation to press for regularisation of jobs.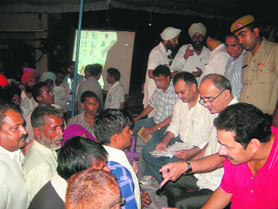 Public darbar: Deputy Commissioner NK Solanki (second from right) redresses public grievances at a night camp at Harnola village in Kaithal on Saturday. Photo: Satish Seth

Woman cop sustains bullet injuries
Fatehabad, July 28
A woman head constable sustained gunshot injuries at her residence at the Fatehabad Police Lines late last night. It is still not clear whether it was an accidental fire, suicide bid or an attempt on her life. The injured head constable, identified as Raj Bala (32), was shifted to a private hospital in Hisar for treatment, said Gaurav Sharma, SHO of the City police station at Fatehabad. Sharma said Raj Bala had cleared the test for her promotion as assistant sub-inspector and presently, she was posted in the Police Lines. Her husband is an ex-serviceman and has a business of construction materials. The family was living in a quarter inside the Police Lines, where Raj Bala sustained the bullet injuries from her revolver. — TNS
Encroachments removed
Sonepat, July 28
A large number of unauthorised constructions by shopkeepers on various roads in the town were today demolished by a team of the district administration led by SDM Virender Lather and DSP Ajit Singh. The demolition drives were carried out on Railway Road, Shubhash Chowk, Geeta Bhawan Chowk and Purkhas Road. However, the drive was halted after a delegation of shopkeepers assured that all kind of encroachments would be removed by them within a week. — OC
3 booked for seeking dowry
Kurukshetra, July 28
The police has registered a case against three persons for allegedly demanding dowry and criminally intimidating a woman. The police said Kavita, daughter of Chander Bhan, resident of Maangna, in a complaint had alleged that she was married to Prem son of Tikka Ram, on March 11, 2007. Since then, her husband and his family members had been demanding dowry. The police has registered a case against three persons in this connection. — OC