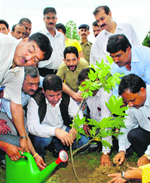 Minister for maintaining green area in municipal councils
Dharamsala, July 28
Minister for Housing and Urban Development Sudhir Sharma yesterday carried out a plantation drive at Kand village near Dharamsala. Speaking on the occasion, the minister said it was a matter of concern that the green cover in urban areas was falling a victim to increased urbanisation. People constructing new housing were leaving decreased green area in their houses.


Sudhir Sharma, Minister for Housing and Urban Development, plants a sapling at Kand village near Dharamsala on Saturday. Photo: Kamaljeet

Protest day dedicated to Malala Yousafzai at Baroh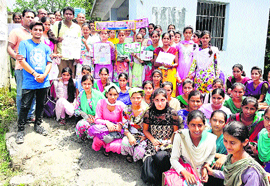 Kangra, July 28
The protesting students and staff of Pandit Anant Ram Sanatan Dharam Degree College, Baroh, yesterday sought the personal intervention of Chief Minister Virbhadra Singh to take over the college to save the future of students. Prof Aman Walia and Prof NN Sood, staff representatives, in a statement here said a request letter to this effect was sent to the Chief Minister yesterday through the Tehsildar.
Students protest at Baroh on Saturday. Photo: Ashok Raina

Authorities fail to get Baba Balaknath road cleared
Kangra, July 28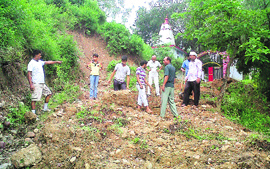 A massive landslide that took place on July 23 has blocked the gate of the ancient Baba Balaknath Temple and the authorities concerned have failed to take notice of the inconvenience being faced by residents. Seeing the apathetic attitude of the authorities, members of Vivekananda Kendra, a spiritually oriented service, resorted to 'shram dhan' to clear a part of the road so that the devotees could reach the temple.
Members of Vivekananda Kendra remove a landslide near the gate of Baba Balaknath Temple in Kangra on Sunday Photo: Ashok Raina

Pensioners urge CM to call meeting to solve problems
Bilaspur, July 28
The district unit of the Himachal Pradesh State Pensioners Welfare Association has urged Chief Minister Virbhadra Singh to summon a meeting of the Joint Consultative Committee (JCC) of pensioners of the state so that all their long-pending problems are reviewed and solved at the earliest according to the election manifesto of the ruling party.
1,000 kanals identified for industrial units in Kangra dist
Kangra, July 28
Minister for Industries Mukesh Agnihotri said yesterday that 1,000 kanals of land had been identified at Indora and Dehra subdivisions of Kangra district for setting up new industrial units. Special steps were being taken to encourage industrial activities, besides possibilities explored for establishing new industries at Nagrota Bagwan.
Sharpshooters set a trap for man-eating leopard
Mandi, July 28
After missing the prized target last night, the three teams of sharpshooters from the wildlife wing today finally zeroed in on the man-eating leopard at Balidhar Thatch to capture the beast dead or alive tonight. It is expected to come tonight to prey on a cow.
BJP's youth wing to enrol one lakh members
Nurpur, July 28
The Bharatiya Janta Yuva Morcha (BJYM), a youth frontal organisation of the BJP, has decided to enrol one lakh new members in the state during its two-month membership drive launched on July 23.
International Minjar Fair kicks off amid celebrations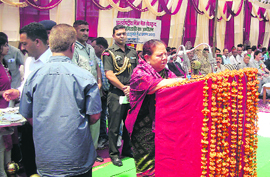 Chamba, July 28
Governor Urmila Singh inaugurated the traditional eight-day International Minjar Fair by unfurling the customary Minjar flag here today. Speaking on the occasion, Urmila said India was known around the world because it had preserved its culture over the years. Despite being a modern nation in all respects, it was culturally a rich nation.
Governor Urmila Singh addresses a gathering after inaugurating the International Minjar Fair in Chamba on Sunday.

AAP to launch satyagrah on July 31
Mandi, July 28
The Aam Aadmi Party (AAP) said it would launch satyagrah on July 31 in support of the victims of the ongoing demolition drive here today. Members of the party said they would continue the strike till the victims were rehabilitated and allotted two biswas of land in the town.
Samiti resents non-utilisation of funds for farmers
Bilaspur, July 28
Members of the Bilaspur Sadar Panchayat Samiti expressed resentment over the fact that an amount of Rs 1.42 crore allocated for the welfare of farmers by the 13th Finance Commission has remained totally unutilised, depriving farmers of this block from several benefits.
One gets 5-yr RI for firing at man
Bilaspur, July 28
Yashwant Singh, alias Pappi, son of Hoshiar Singh of Bhadron village, Bilaspur district, has been awarded a five-year rigorous imprisonment (RI) and a fine of Rs 5,000 for shooting at Satish Kumar and injuring him in the legs.
SJVN medical van service for project-hit people
Hamirpur, July 28
Satluj Jal Vidyut Nigam (SJVN) Limited, executing the Dholasidh Hydro Project in Hamirpur district, has launched the Satluj Sanjeevani Sewa, a mobile medical van service, to provide medical facilities to residents living in the project-affected area.
Bring APL families under Food Security Act: Cong
Shimla, July 28
The Shimla District Congress Unit (Urban) has urged the Centre to bring the APL (above poverty line) families within the ambit of the Food Security Act to cover a larger chunk of population. President of the party Pradeep Bhujja pointed out that in a hill state like Himachal Pradesh, which was deficit in foodgrain, the APL families also needed to be ensured food security. The state government was already providing subsidised ration to the APL families in the state. The party lauded the effort of the UPA government for coming out with a historical legislation to make food security a reality and termed the Opposition's criticism a political compulsion. The party also demanded participation in the implementation of the scheme so that the benefits could reach the target population. — TNS
Rajnath Singh to inaugurate training camp on Aug 2
Shimla, July 28
BJP president Rajnath Singh will inaugurate a three-day training camp being organised by the party to prepare the state cadres for the 2014 Lok Sabha poll in Palampur on August 2. It will be preceded by a meeting of the state party office bearers. All-India organising secretary Ram Lal, vice-president and in-charge of the party affairs in Himachal Pradesh Balbir Punj, general secretary JP Nadda and senior party leaders Ram Asare and Mahesh Sharma will address the workers.Party spokesperson Ganesh Dutt said former Chief Ministers Shanta Kumar and PK Dhumal, state BJP chief Sat Pal Satti and organising secretary Pawan Rana would be present at the meeting. — TNS
Thieves decamp with goods worth Rs 1.25 lakh
Bilaspur, July 28
Thieves broke into an electronic goods showroom owned by Sanjay Kumar of Tadaun village, near Bharadi, and decamped with several costly LEDs, LCDs and branded induction cookers, worth about Rs 1.25 lakh. The thieves had reportedly entered the showroom located at Ladraur, on the Bhota road, in Bilaspur district, last night, by breaking open central and other locks. Sanjay Kumar had left for his village as usual at night when the thieves entered his shop. They took away costly items lying in the shop, including Rs 4,500 cash. The police rushed to the spot and started investigations after registering a case of theft. Meanwhile, police officials have expressed confidence of apprehending the culprits soon. — OC
Mock drill held for managing disaster
Chamba, July 28
A mock drill to test the preparedness of various government departments during natural disasters such as earthquakes, fire and floods was carried out by jawans of Himachal Home Guards here on Friday. A team of Home Guards, led by Kubaj Singh, a leading fireman, gave different demonstrations which were witnessed by DC Kadam Sandeep Vasant and ADC Sandeep Kumar and Assistant Commissioner Deepti Kapoor. The DC said school students working in the field of the National Service Scheme (NSS) and the National Cadet Corps (NCC) would be imparted training to combat natural disasters. — OC
Truck carrying apples falls into gorge
Mandi, July 28
A private truck (HP64-2406) loaded with apple boxes fell into a 50-ft gorge on the Karsog-Shimla road last night. The fruit was being taken to Delhi for sale. Grower Bhupender Kumar, a resident of Sainj Bagra, said he had suffered a huge loss. The owner has accused the truck driver of negligence in a complaint lodged at the Karsog police station. The police has registered an FIR under Sections 279, 337 and 427, IPC, against the driver. — TNS