Expressway firm had ignored plea on mishap-prone sites
Ludhiana, July 31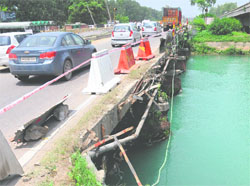 A complaint regarding poor condition of the National Highway 1 made by city-based businessman Joginder Singh in March was "ignored" by SOMA Isolux, the company executing the expressway project.





The bridge from where the bus fell into the Bhakra canal on Wednesday. Tribune photo: Manoj Mahajan

'Dispossessed' by Modi Govt, farmers camping in
New Delhi, July 31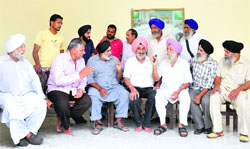 At least 1,000 families who had migrated from Punjab and Haryana to the Kutch region of Gujarat face an uncertain future.






Sikh farmers from Gujarat at Gurdwara Bangla Sahib in Delhi on Wednesday. Tribune photo: Mukesh Aggarwal

Custodial deaths: HC increases relief
Chandigarh, July 31
The Punjab and Haryana High Court has made it clear that convicts and under-trials too have the right to life guaranteed to other citizens of the country under the Constitution, while enhancing compensation from Rs 2 lakh to Rs 3 lakh in case of a convict's custodial death.
'Afghan Sikhs, Hindus face bias'
Patiala, July 31
Afghanistan MP Dr Anarkali Kaur Honaryar said following the unrest in the country since 1991, the number of Sikhs and Hindus there was decreasing. She was speaking at the two-day South Asian Punjabi Conference at Punjabi University here.
8 hurt as PPP, SAD workers clash in Moga
Moga, July 31
At least 8 persons, including a senior youth leader of the People's Party of Punjab (PPP), were injured in a clash between the PPP and SAD workers at Kaila village in the Dharamkot subdivision of Moga district today.
Common man not on SAD's agenda, says PCC chief Bajwa
Chabbewal, July 31

Punjab Pradesh Congress Committee (PPCC) president Partap Singh Bajwa today addressed a rally at Chabbewal in Hoshiarpur district as part of his mass contact programme.





PPCC president Partap Bajwa meets slum-dwellers at Phuglana village on Wednesday. A Tribune photograph



Faculty members of teacher training centres shifted
Chandigarh, July 31
In an academic reshuffle, the State Council of Educational Research and Training (SCERT), has shifted 10 of the 12 faculty members of the Government In-service Teacher Training Centres (GISTCs) to the District Institutes of Elementary Training (DIET).
Composition package for plywood, yarn manufacturers underway
Chandigarh, July 31
Buckling under pressure, the government will only partially implement its e-trip initiative beginning tomorrow. While the big fish among plywood manufacturers and yarn manufacturers have got a temporary reprieve, cotton, mustard, vegetable oil and iron and steel traders will now be under the taxman's lens.
Keshgarh Sahib Jathedar dead
Anandpur Sahib, July 31
Jathedar of Takht Sri Keshgarh Sahib Giani Tarlochan Singh died of a heart attack at his residence late last night here. He was 58 years old. His cremation will be held at Charanganga cremation ground in Anandpur Sahib at 10 am tomorrow.
This gritty 'princess' refused to give up
Chandigarh, July 31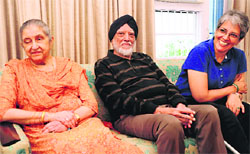 As a 19-year-old, she chose love over riches and married the man of her dreams against the wishes of her father, Maharaja Harinder Singh Brar Bans Bahadur of the erstwhile state of Faridkot.



Amrit Kaur (left) with her husband and daughter at her residence in Chandigarh on Wednesday. Tribune photo: Parvesh Chauhan

Faridkot Maharaja's property case
How forgery was proved
Faridkot, July 31
How a highly educated person who got gold medal for essay writing in English language at Atkinson College, Lahore, in 1932 can write holograph as harrograph in his will.
Compoundable fee to be cut
Chandigarh, July 31
After giving relief to industrialists protesting against the new e-trip regime, the SAD today decided to give relief to both colonisers as well as plot owners by reviewing the policy for regularising illegal colonies in the state.
'False' case: Road blocked in Malerkotla
Sangrur: A group of people blocked a road in Malerkotla yesterday. The protesters alleged the Malerkotla police had registered a "false" case against Sarfraz, a local resident, claiming they had seized intoxicating pills from his possession.
Udham Singh memorial in Sunam soon
Sunam (Sangrur), July 31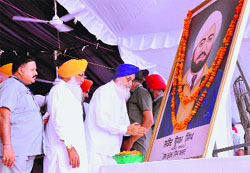 Chief Minister Parkash Singh Badal today sought votes for his party secretary eneral Sukhdev Singh Dhindsa from the Sangrur Lok Sabha constituency. Paying tributes to Shaheed Udham Singh on his 74th martyrdom day at a function here today, Badal appealed to the people to vote for the SAD-BJP alliance in the ensuing Lok Sabha elections to help the BJP-led NDA to capture power at the Centre.

Chief Minister Parkash Singh Badal and Rajya Sabha member Sukhdev Singh Dhindsa pay tributes to Udham Singh at a function in Sunam on Wednesday. A Tribune photo

English overshadowing Indian languages, rue writers
Patiala, July 31
The two-day South Asian Punjabi Conference at Punjabi University concluded here today with writers discussing problems faced by the community throughout the world and concerns over decrease in the usage of the language.
Traders seek dismissal of state Industry Minister
Sunam (Sangrur), July 31
Local traders and businessmen today observed a bandh for two hours at the old grain market area in the city demanding dismissal of Punjab Industry Minister Anil Joshi.
Two get life term for murder
Patiala, July 31
The Patiala district court has awarded life imprisonment to two persons in separate murder cases. In the first case, Patiala Sessions Judge RS Attri convicted a former Thapar Polytechnic University student, Amarinder Singh (22), a resident of Baba Shankar