Heavy rain washes away road, bridges
Dalhousie, July 31
A heavy downpour, accompanied by gale, washed away a bridge across the Sur Nullah on the Himgiri road, in a remote Salooni tehsil of the district, on Monday night.
Peter d'Souza leaves IIAS
Shimla, July 31
"It has been a most fulfilling and rewarding experience to head an institution with a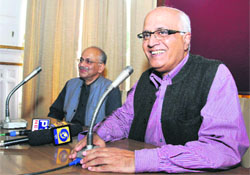 unique mandate to generate new ideas. I have been able to achieve the goals I had set to develop it into a global knowledge centre and initiate measures for the conservation of the magnificent, but neglected heritage edifice," Peter Ronald d'Souza, the outgoing Director of the Indian Institute of Advanced Study (IIAS), said with a sense of accomplishment just before relinquishing charge here today.
Peter Ronald d'Souza, outgoing Director, IIAS, with Prof Chetan Singh, acting Director, in Shimla on Wednesday. Photo: Amit Kanwar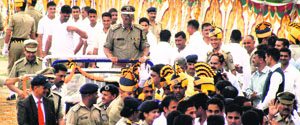 DGP Kamal Kumar retires
Shimla, July 31
Having initiated a number of steps to ensure protection of women in the state and special thrust on industrial policing during his tenure, Director General of Police B Kamal Kumar today retired after putting in over three decades of service.
DGP of Himachal Pradesh B Kamal Kumar (in Jeep) during his retirement ceremony at the Police Ground, Bharari, in Shimla on Wednesday. Photo: Amit Kanwar

ABVP holds protest against RUSA
Nurpur, July 31
Up in arms against the Rashtriya Ucchtar Shiksha Abhiyan (RUSA) in government colleges, members of the local unit of the ABVP, led by state ABVP secretary Naveen Sharma, held a demonstration on the premises of Arya Government College here today. They took out a rally to educate college students about its repercussions. They also raised slogans and demanded the revokement of RUSA from colleges.
Harinder Singh elected APMC chairman
Sundernagar, July 31
Former president of the Sundernagar Municipal Council, Harinder Singh, was elected chairman of the Agricultural Produce Marketing Committee (APMC), Mandi on Monday.
Kasauli research institute to certify yellow fever vaccines
Solan, July 31
The Central Research Institute (CRI), Kasauli, will certify yellow fever vaccines which the Ministry of Health and Family Welfare has imported to meet the nationwide shortage after failing to begin its own production which w,as halted for more than a year and a half.
KK Katoch is Palampur farm varsity VC
Dharamsala, July 31
Krishan Kumar Katoch, who was working as Director, Extension Education, CSK Himachal Pradesh Agriculture University, Palampur, has now been selected Vice-Chancellor of the institute.

Truth has ultimately surfaced, says martyr's father
Palampur, July 31
Dr NK Kalia, father of martyr Capt Saurabh Kalia, after watching the video clip released by the Pakistan army on TV channels today, said truth had ultimately surfaced.
Dr NK Kalia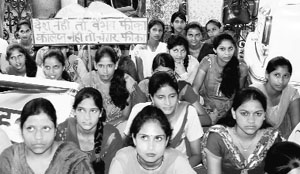 Stir over Baroh college gathers pace
Dharamsala, July 31
The movement for the takeover of Baroh college by the government is gathering steam. The staff of the college, along with a few other groups such as the ABVP and local NGOs, today organised a rally at Dharamsala and submitted a memorandum to the Kangra Deputy Commissioner.
Students, staff and villagers hold a rally in Dharamsala on Wednesday. Photo: Kamaljeet

HC bids farewell to Justice Misra
Shimla, July 31
The Himachal Pradesh High Court (HC) bid farewell to Justice RB Misra, who demitted office today on superannuation.
Clash between BJP, Cong men averted
Bilaspur, July 31
BJP activists raised slogans as some Congress activists opposed the installation of the name plate of Anurag Thakur, BJP MP, on the inauguration of Mahila Mandal Bhawan at Brahmali under Ghumarwin subdivision, about 70 km from here yesterday.