SGPC: Punish those behind gurdwara graffiti in US
Amritsar, August 2
A year after the Oak Creek Gurdwara shootout at Wisconsin in the US, the incident of spray-painting of the word 'terrorist' on the walls of Jurupa Valley gurdwara in the US has evoked widespread condemnation from the community.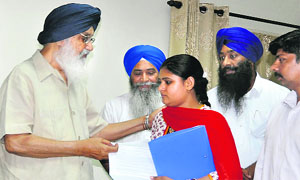 CM ducks queries on probe into encounters
Kartarpur (Jalandhar), August 2
Alike his deputy Sukhbir Badal, Chief Minister Parkash Singh Badal also appears non-committal on constituting a special investigating team (SIT) to probe the alleged fake encounters in Punjab during the militancy period.
Chief Minister Parkash Singh Badal hands over an appointment letter to Sarabjit Singh's daughter Swapandeep Kaur in Jalandhar on Friday. Tribune photo: Malkiat Singh

Majithia dares Bajwa to name one project he got from Centre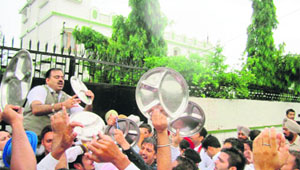 Gurdaspur, August 2
Revenue Minister Bikram Singh Majithia today stormed into Punjab Pradesh Congress Committee (PPCC) president Partap Singh Bajwa's citadel Qadian and dared him to name even a single project that he had got cleared from the Centre despite his being an MP of the ruling UPA Government.


BJP and Yuva Morcha activists protest outside Partap Bajwa's residence at Qadian in Gurdaspur on Friday. A Tribune photo

Fatehgarh Sahib Bus Accident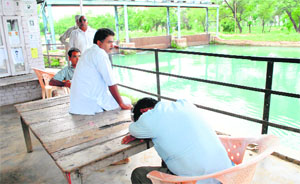 Endless wait for victims' relatives
Patran/Samana, August 2
Naresh Kumar, 32, has been regularly visiting the nearby Bhakra canal since January last year, waiting to get information on his paternal uncle suspected to have fallen into the canal at Samana.

Family members of the victims, who were aboard the bus that plunged into the Bhakra canal, wait as the rescue operation goes on at the Khanori Bhakra Head on Friday. Tribune photo: Rajesh Sachar

Divers resume search operation
Fatehgarh Sahib, August 2
The expert team of divers, led by Ashu Malik, today resumed the work to locate the bodies of the passengers of the bus that had plunged into a canal two days ago.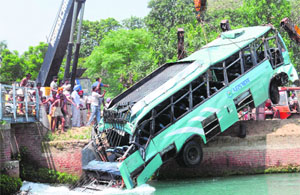 Punjab Roadways buses plying without insurance
Amritsar, August 2
All Punjab Roadways buses have been plying without the mandatory insurance, thus leaving it to the motor accident tribunal to decide the cases of mishap claims.


The bus that met with the accident had covered less than 2 lakh km, which is in safety limit. Tribune file photo

Need to install crash barriers, say experts
Ludhiana, August 2
The registration of a case against the bus driver has not gone down well with road safety experts. They have also demanded installation of crash barriers on all bridges in the state.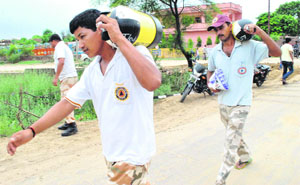 Sirhind bus mishap exposes chinks in security network
Ludhiana, August 2
The tragic bus mishap in which about 40 passengers had drowned has put a question mark on the efficiency of the police in manning locations of diplomatic importance.


A NDRF team in action at the Khanori Bhakra Head near Patran on Friday. Tribune photo: Rajesh Sachar

E-trip: Dealers get a month to upgrade systems
Patiala, August 2
The Punjab Excise and Taxation Department today provided temporary relief to industrialists, issuing fresh guidelines on the e-trip initiative.
Protesting BJYM members, police clash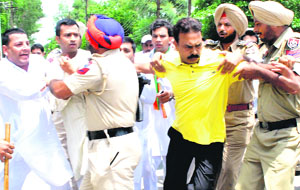 Patiala, August 2
A protest by members of the Bhartiya Janta Yuva Morcha (BJYM) today turned ugly when its members misbehaved with the policemen on duty outside the New Moti Bagh Palace, the residence of Patiala MP Preneet Kaur. The protesters handed over drafts worth Rs 5 to the representative of the MP.

BJYM members and policemen clash outside the residence of local MP Preneet Kaur in Patiala on Friday. Tribune photo: Rajesh Sachar

ISTC holds convocation ceremony
Chandigarh, August 2
One should not rest on the past glory and laurels but should keep learning and updating the latest knowledge. Stating this at the 48th convocation of the Indo-Swiss Training Center (ISTC) here today, Dr Girish Sahni, Director, Institute of Microbial Technology, urged the students to develop a sense of patriotism and do something for the country. He also stressed the importance of discipline, dedication and hard work.
Nagar panchayat chief removed
Ropar, August 2
Chamkaur Sahib nagar panchayat president Amandeep Singh Mangat has been removed from his post by Punjab Local Bodies secretary Ashok Kumar Gupta. Mangat had been facing allegations of tampering with the record pertaining to proceedings of a house meeting.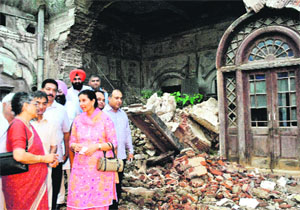 Preneet Kaur for restoration of Qila Mubarak
Patiala, August 2
The two-member team of the National Culture Fund (NCF), set up by the Ministry of Human Resource Development, Department of Culture, today visited Patiala's historical Qila Mubarak to oversee the condition of the structure and prepare a detailed report about the steps to be taken to restore the heritage building.

Union Minister of State for External Affairs Preneet Kaur inspects Qila Mubarak in Patiala on Friday. Tribune photo: Rajesh Sachar

Komagata Maru ship incident
Sikhs to commemorate centenary year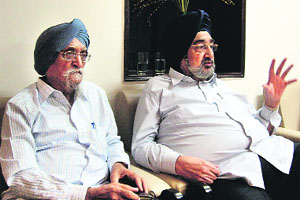 Patiala, August 2
In order to pay tributes to the Indian passengers of the Komagata Maru ship, who were killed by the British police at the Port of Budge Budge of Kolkata on September 29, 1914, the Sikh community in West Bengal is all set to commemorate the centenary year of the incident. They have already met West Bengal Chief Minister Mamata Banerjee in this regard.

Joginder Singh Johal, a Sikh activist from West Bengal, in Patiala. Tribune photo: Rajesh Sachar

332 attend NCC camp
Chandigarh, August 2
A 10-day annual training camp of the naval wing NCC cadets started at the NCC Academy, Ropar, today. A total of 332 naval wing NCC cadets, including 75 girls from various schools of Chandigarh, are taking part in the camp. —TNS



HC seeks info on applications for mining clearance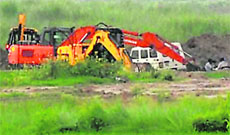 Chandigarh, August 2
The Punjab and Haryana High Court today asked Punjab principal secretary, industries and commerce department, to furnish a status report on applications received and cleared for environment clearance for mining operations.



UNDER SCANNER
5-yr-old girl raped
Sangrur, August 2
A five-year-old girl was allegedly raped by a 16-year-old boy in Lehragaga. The police today got the girl medically examined at the Moonak government hospital.