7-year jail for man in dowry case
Ambala, August 2
Vimlesh Tanwar, special judge, fast track court, Ambala, has sentenced seven years of imprisonment to Paramjeet, a resident of Ambala City, in a dowry death case today. The court has also imposed a fine of Rs 5,000 on the accused.



Accused acquitted
Panchkula, August 2
High profile kidnapper, Ravinder Gill, was acquitted in the infamous diamond jewellery robbery that took place at gunpoint outside the outlet of Dominoz Pizza in Sector 9, Panchkula, in 2011. Since the police could not prove his involvement, the accused, who has already been convicted in Jiya and Arnav kidnappings, was acquitted by the court.

Ravinder Gill. A file photo


ruchika case
Closure report challenged
Chandigarh, August 2
After fighting the oppressive system while seeking justice in Ruchika Girhotra molestation case, "crusader" Anand Parkash has now moved the Punjab and Haryana High Court again. He has thrown a challenge to acceptance of the CBI's closure report in two cases against Haryana's former DGP SPS Rathore.
Frame policy against encroachments: HC to UT
Chandigarh, August 2
The Punjab and Haryana High Court today asked the Chandigarh Administration to frame a policy against encroachments in the Sector 26 Grain Market. The Division Bench of Justice Surya Kant and Justice Ajay Tewari also directed the UT Deputy Commissioner Mohammed Shayin to proceed against illegal encroachments in accordance with law.


High drama as Deshraj appears in court
Chandigarh, August 2
A retired Lieutenant Colonel created a high drama in the CBI court of Vimal Kumar today when SP (city) Deshraj Singh, who was arrested in bribe case last year, appeared in the court today. Balbir Singh, the retired colonel, told the CBI Judge that the SP was innocent and the CBI had wrongly booked him. He had also moved an application in this regard against the CBI and sent it by post, which was dismissed by the court today.
Man gets 7-year jail for robbery
Panchkula, August 2
A local court today awarded seven years rigorous imprisonment to a robber, who had robbed gold jewellery worth over 35 lakhs from jewellers in Sector 20 Panchkula. The accused, Jagdeep, was convicted yesterday while two of his accomplices were acquitted following no circumstantial evidence against them.
2 acquitted in case of sexual assault
Chandigarh, August 2
Court of District and Sessions Judge, SK Aggarwal, today acquitted two persons in a sodomy and assault case after the complainants in the case turned hostile in court. The court acquitted Rakesh Verma and Harbhans Lal in the case of sexual assault.
PGI courier case
Doc gives signature sample
Chandigarh, August 2
A senior PGIMER doctor from the Department of Pharmacology who is alleged to have received a courier of another doctor from his department gave sample of his signatures before a local court here today.


Youth arrested on charges of extortion, blackmail
Chandigarh, August 2
The Cyber Crime Cell of the UT police today arrested Sandeep Kumar, a resident of Abohar, for extorting money from a 24-year-old resident of Panchkula and blackmailing her after uploading her objectionable pictures on social networking sites and videos on you tube.
Girl commits suicide
Mohali, August 2
A girl allegedly committed suicide in a house in Phase XI here last night. According to information, the girl was alone in the house when she took the extreme step. Her mother and brother came to know of the incident later.
pinjore murders
Suspect may have fled to Nepal: DCP
Panchkula, August 2
The Panchkula police is suspecting that the accused in Charnia village murder case might have fled to his native country. Yesterday, decomposed bodies of a woman and her seven-year-old daughter were found in the box of a bed at their residence in Charnia village near Pinjore.
Six cases of theft reported from city
Chandigarh, August 2
Six cases of theft were reported in the city in the last 24 hours. Ranbir Singh of Sector 8C reported that someone had stolen 4 wheels of his Verna car parked in front of his residence on August 1.


Manav Mangal School gymnasts bring laurels
Panchkula, August 2
Gymnasts of Manav Mangal School, Sector 11, Panchkula, grabbed the titles by wining all the four categories (boys Under-14, girls Under-14, boys Under-17 and girls Under-17) in the District School Games concluded at Bhavan Vidayalaya School, Panchkula.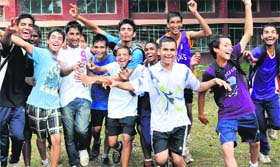 Sweet success: Members of the Moti Ram School netball team in a jubilant mood after winning the Moti Ram Arya Trophy at Sector 27 in Chandigarh on Friday. Tribune Photo: Manoj Mahajan
Cricket trials today
Panchkula, August 2
The Panchkula District Cricket Association, affiliated to the Haryana Cricket Association, will conduct trials tomorrow at 3.30 pm at JR Institute of Cricket Technology, Barwala, to select the Panchkula District Cricket team for the Pataudi Trophy.
Football tournament
Chandigarh, August 2
The St John's Old Boys Association (SJOBA) is organising its annual Six-a-Side Football Tournament. Six teams are participating in a round-robin format, with the top four teams going on to play an IPL-style format qualifier and eliminator to choose the finalists.