Kapurthala realtor shoots wife, 2 children, turns gun on himself
Kapurthala, August 7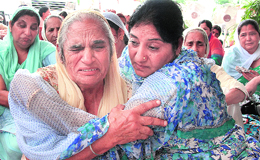 A middle-aged property dealer allegedly gunned down his wife and two children while they were asleep in the early hours today before shooting himself to death. Avtar Singh (44) called up his cousin Karamjit Singh Thind at 5:45 am and told him that he had shot his wife Rupinder Kaur (39), his physically and mentally challenged son Gaurav Parteek (14) and daughter Amanat Kaur (8).
All lost: Grieving mother of the realtor being consoled by a relative in Kapurthala on Wednesday. Tribune photo: Malkiat Singh

'Insult' to Turban at airport
UPA Government must intervene, says angry CM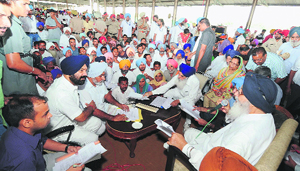 Giddderbaha, August 7
Describing the turban as an integral part of Sikh identity, Chief Minister Parkash Singh Badal today said the Centre must mount pressure on foreign nations to ban the removal of the turban at international airports for security checks.


Chief Minister PS Badal at Sangat Darshan in Gidderbaha on Wednesday. A Tribune photo

'Humiliated' Cong MLA writes to CM
Muktsar, August 7
Feeling humiliated after not having been given a chance to speak at Chief Minister Parkash Singh Badal's Sangat Darshan yesterday, Congress MLA from Gidderbaha Amarinder Singh Raja Warring today shot off a letter to Badal, reminding him to fulfill his promise of holding Sangat Darshan at his (Warring's) house.
Another Congress ex-MLA all set to join Akali Dal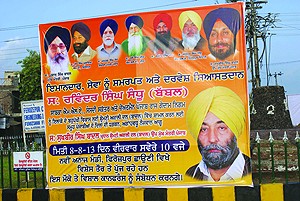 Ferozepur, August 7
After having served the Congress for almost four decades in various positions, former MLA Ravinder Singh Sandhu alias Babbal would finally bid adieu to his parent party and join the SAD at a function here tomorrow. Deputy Chief Minister and SAD president Sukhbir Singh Badal would be present on the occasion.


A hoarding announcing the induction of former Congress MLA Ravinder Singh Babbal erected in Ferozepur. A Tribune photo


Sukhbir ducks queries on cable mafia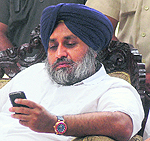 Mohali/Ropar/Fatehgarh Sahib, August 7
Deputy Chief Minister Sukhbir Badal preferred to ignore queries on an alleged nexus between the ruling SAD and the cable mafia in Punjab. To a demand for a CBI inquiry into the nexus by People's Party of Punjab chief Manpreet Badal, he said "he did not know who Manpreet was". On the steep rise in sand prices, he said the Congress-led UPA Government was to "blame for deliberately creating a crisis of mining products in Punjab to defame the state government ahead of the parliamentary elections".


Deputy Chief Minister sprains foot


Sukhbir Badal got a feel of the poor health facilities in Punjab when he slipped down while getting down from his helicopter at the Police Lines in Ropar. He suffered a sprain in his foot. The doctors on the spot looked for a crepe bandage in an ambulance stationed there, but to no avail. It was only after the doctors from the Police Lines dispensary rushed with a bandage, following which Sukhbir headed towards the oath-taking ceremony venue.
Mining ban by tribunal unlikely to affect state
Chandigarh, August 7
The ban on sand mining imposed by the National Green Tribunal is unlikely to have any impact in Punjab. The Punjab Government has already allowed in-stream mining of riverbeds after obtaining the green nod.
Power corp official charge-sheeted
Jalandhar, August 7
Even as Deputy CM Sukhbir Singh Badal has expressed his support for the "honest" Uttar Pradesh-cadre IAS officer Durga Shakti Nagpal, telling her she is welcome to return to her parent cadre of Punjab, power corporation official Nirmal Singh has been transferred and charge-sheeted for daring to inspect the premises of a hotel owned by an Akali leader in Amritsar to ensure there was no power theft.
Govt plans financial city in Mohali
Chandigarh, August 7
The Punjab Government has revived its plan to set up a state-of-the-art central business district (CBD) in Mohali. This time round, the government is planning to have a financial city here as an anchor, which in turn will attract investors to set up a convention centre, hotel and a theme park.
PSU alleges bias against Punjabi, holds protest
Patiala, August 7
Students and teaching staff of Punjabi University, Patiala, today held a candlelight march at the campus to oppose Delhi University's decision to ban the Punjabi language in its affiliated colleges from this academic session. The protesters demanded a rollback of the decision.
Start recruitment in aided schools: Teachers to govt
Fatehgarh Sahib, August 7
A delegation of the Government Aided Schools Bachao Front, Punjab, led by its president Malkiat Singh, chairman Sandeep Sarin, general secretary Anju Kaura submitted a memorandum to Deputy Chief Minister Sukhbir Badal here today. They demanded that teachers of government-aided schools should not be merged with those of government schools. They said instead of this, the state authorities should lift the ban on the recruitment in these schools imposed by Capt Amarinder Singh-led Congress government.
SLIET HoD suspended
Sangrur, August 7
The Head of Department (HoD), Electronics and Communication, at the Sant Longowal Institute of Engineering and Technology (SLIET) has been placed under suspension by the director of the institute. SLIET director Dr Sunil Pandey confirmed the suspension of Prof Sanjay Marwaha. However, he did not divulge the reason behind the move. Sources in the institute said the charge of the department had now been given to the associate head of the department. — TNS
DIET teachers protest mass transfers
Mohali, August 7
Members of DIET Teaching Staff Association, Punjab, today held a dharna in front of the DPI office here to protest against the transfer of 61 lecturers of District Institute of Education and Training (DIET) to various Adarsh and model schools. They said if the transfers were not taken back within a week, they would start a "fast unto death" in the constituency of Chief Minister Parkash Singh Badal from August 15. They said there was already a shortage of teaching staff in the institutes. — TNS

Court rescues woman kept in shackles
Faridkot, August 7
Two warrant officers today rescued a 28-year-old woman confined to a dark and dingy room at her in-laws' house in Faridkot's Wandar Doad village. Her feet were in chains. Crying out in pain, the woman had been punished for daring to register a complaint against her in-laws for demanding dowry.
Jasbir Kaur (in pic) had dared to file a complaint against her in-laws for demanding dowry

No 'B' class facilities for acid attack convicts, HC told
Chandigarh, August 7
The Punjab Government has withdrawn "B" class facilities from prisoners convicted for acid attacks, murder and "causing death by negligence." As the matter came up for resumed hearing today, Punjab Additional Advocate-General produced a communication dated August 6 from the Home Department (Jails Division) to the Additional Director-General of Police, Prisons.
Custodial death
Panel awards Rs 2 lakh relief to victim's heir
Chandigarh, August 7
Holding jail officials responsible for the death of a Nigerian national while undergoing trial under the NDPS Act, the State Human Rights Commission has awarded a compensation of Rs 2 lakh to his heirs.


Minor kills brother over trifle in Batala
Batala, August 7
A death due to "accidental firing" that had put the local police in a quandary has turned out to be a murder. A 14-year-old boy of Leel Kalan village had allegedly shot dead his 17-year-old brother after an altercation while playing at their house. Police sources said they had been suspecting a murder since the beginning, but the mother of the two and their neighbours contended the accused had accidentally fired from a gun.