Taiwan donates Rs 30 lakh to Prime Minister's Relief Fund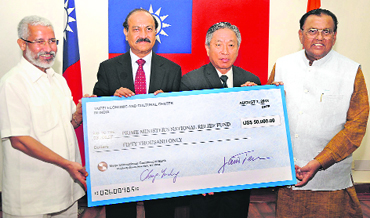 New Delhi, Aug 7
Identifying itself with the natural disaster that struck Uttarakhand, the Republic of China (Taiwan) today contributed $ 50,000 (approx Rs 30 lakh) towards the Prime Minister's National Relief Fund and hoped the amount would assist in rebuilding the destroyed areas and help the affected people.
Ambassador Tien Chung-Kwang (2nd R), Representative of the Taipei Economic and Cultural Center in India presents a cheque for $50,000 to Editor-in-Chief of The Tribune Raj Chengappa (3rd R) as contribution towards the Prime Minister's Relief Fund for Uttarakhand flood victims. Tribune photo: Manas Ranjan Bhui

Chiranjeevi caught in Telangana crossfire
Hyderabad, August 7
Once a megastar who ruled the Telugu film industry, the Union Tourism Minister Chiranjeevi is now being targeted by the very people who adored him for decades. Chiranjeevi, who hails from coastal Andhra Pradesh, finds himself caught in the Telangana crossfire. The anti-bifurcation activists are blaming leaders like Chiranjeevi for failing to prevent division of the state.
Training for forest officials upgraded
Chandigarh, August 7
To meet the challenges emerging due to social and economic factors being faced by the forestry sector, the eligibility criteria and training modalities for forest personnel have been upgraded and standardised across all central and state forest establishments.
Portal to monitor trial court cases launched
New Delhi, August 7
Chief Justice of India P Sathasivam today inaugurated a national portal that would enable the Supreme Court and the high courts to monitor the progress of nearly three crore cases pending in trial courts at taluk and district levels.
Bird hit delays AI flight at Jaipur
Jaipur/Ranchi, August 7
An Air India flight from Mumbai to Delhi via Jaipur was delayed by about 20 minutes today after a bird hit it during landing at Sanganer Airport here, without causing any damage to the aircraft.
India summons Lankan envoy over jailed fishermen
New Delhi, August 7
Under unrelenting pressure from political parties in Tamil Nadu, the government today lodged a strong protest with Sri Lanka over the custody of more than 100 Indian fishermen in the island nation.
Railway launches pension scheme for CONCOR employees
New Delhi, August 7
Railways have launched a pension scheme for the employees of the Container Corporation of India (CONCOR) aiming to provide much-needed support to them post retirement. The 'Employees Superannuation Pension Scheme' for CONCOR employees was launched at a function yesterday at the Tughlakabad Inland Container Depot by Minister of State for Railways, Adhir Ranjan Chowdhury. With this, CONCOR becomes the first PSU under the Railways, and one of the few organisations among CPSEs, to have introduced an Employees' Pension Scheme. — PTI
13 FIRs in Coalgate, minister tells House
New Delhi, August 7
The CBI has registered a total of 13 FIRs till now in the "Coalgate" scandal which has hit the Congress-led UPA government hard with estimates of over Rs 1.76 lakh crore worth of loss to the national exchequer. This information was given to Parliament by Minister of State for Coal Pratik Prakashbapu Patil, who said the CBI had registered 13 FIRs in respect of 13 coal blocks. The companies against whom the FIRs have been lodged include Jointly Steel & Power Ltd and Gagan Sponge. — TNS
Czech woman murdered in Goa
Panaji, August 7
A Czech teenage boy was today arrested for killing his girlfriend in a guest house at Baga beach village in Goa, the police said. Paval Neuhasl, 19, was arrested for murdering 24-year-old Narkela Horka, a Czech too, last night, Deputy Superintendent of Police NC Raikar told PTI. The murder drama unfolded last night when Mapusa police found the boyfriend in an unconscious state with minor wounds near Thivim Railway Station, 30 km from Baga. The boy was taken into custody and interrogated. Later, he confessed to killing the girl. — PTI
Music director gets bail
Indore: A local court on Wednesday freed noted music director Shrawan on bail in a five-year old cheque bouncing case. The music director's advocate Anshuman Shrivastava told reporters that judicial magistrate Ajay Pendam had released his client on a bail of Rs 20,000. — PTI