Diversification: State to seek funds from finance panel
Chandigarh, August 5
Busy in preparing a memorandum to be submitted to the 14th Finance Commission to seek funds from the central pool, the state government this time would focus on diversification in the agricultural sector.
Majha protests: Police finds it hard to fight rumours
Amritsar, August 5
Rumours of a robbers' gang on the prowl are gaining alarming proportions in the Majha region, bringing the police and the public face to face, as is evident from the Kathunangal clashes in the past two days.
Disposal of bio-medical waste
Pollution board introduces online monitoring system
Patiala, August 5
Despite instructions from the Punjab Pollution Control Board (PPCB), health care facilities (HCF) operating in parts of Punjab have failed to adhere to the prescribed norms and have been disposing of their bio-medical waste in the open.


Cong leader Ajit Singh Shant joins Akali Dal
Chandigarh, August 5
Former independent MLA from Nihalsinghwala and Congress leader Ajit Singh Shant today joined the SAD, saying that he was "suffocated" in the Congress and that the party was "alienated" from workers at the grass-roots level.
Bittu Congress Parliamentary Party whip


Chandigarh, August 5
Young Congress Member of Parliament (MP) from Anandpur Sahib, Ravneet Singh Bittu, has been appointed Congress Parliamentary Party whip in view of his performance in the Lok Sabha. This decision was conveyed to him by party president Sonia Gandhi and vice-president Rahul Gandhi. Bittu was handed over the letter regarding his appointment by Union Minister of Parliamentary Affairs Kamal Nath.


Sukhbir administers oath to 9,000 panchayat members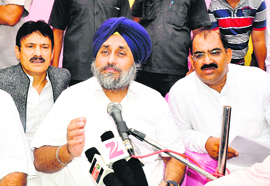 Kahnuwan, August 5
Deputy Chief Minister Sukhbir Singh Badal today blamed the Congress for the plight of thousands of Sikh farmers in Gujarat facing eviction, claiming it was a fallout of a policy decision taken by the 1973 Congress government in Gujarat. Sukhbir was here to administer oath to 9,000 newly elected panches and sarpanches.
Deputy CM Sukhbir Badal talks to mediapersons at Pathankot on Monday. A Tribune photograph

CMCH director's feat gets US recognition
Ludhiana, August 5
Dr Abraham G. Thomas, Director of Christian Medical College and Hospital (CMCH) here, has done the state and the country proud. A professor of plastic surgery, Dr Thomas has been recognised by the American College of Surgeons in its timeline of 100 years of unique achievements in the history of surgical firsts which contributed to the development of surgery in the world.
State's circuit houses to don new look
Chandigarh, August 5
The government is all set to give its circuit houses a new look. These will be turned into swanky guest houses. And in case you are not too happy with the functioning of these circuit houses, you can stay in plush hotels being built next to these circuit houses.
Acid attack on cows
Bid to hold march in Malerkotla foiled
Sangrur, August 5
The district police today foiled an attempt of activists of the Gau Raksha Sewa Dal and other organisations to hold a protest march in Malerkotla town, about 35-km from here. The activists had planned the march in protest against the acid attack on some cows in the town a few days ago.
Not paid for 5 months, schoolteachers protest
Patiala, August 5
Members of the Punjab Aided Schoolteachers and Other Employees Union today went on a hunger strike outside the Deputy Commissioner's office here and also held a protest rally following delay in release of their salaries for the past five months and merger of the aided schools with government schools.
Ravi damages crops in Gurdaspur villages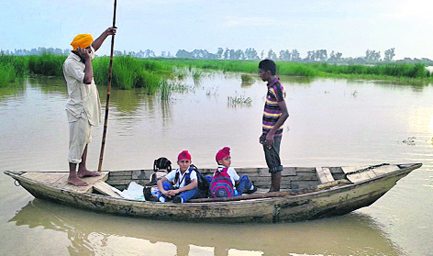 Makkoran Pattan (Gurdaspur), August 5
Six decades after Independence, 5,000 villagers living in a cluster of 12 villages near the Bamiyal sector are trapped between the devil and the deep blue sea.
Villagers move to safer places in Sultanpur Lodhi on Monday. A Tribune photo

Earmark land for garbage dumps, CM to panchayats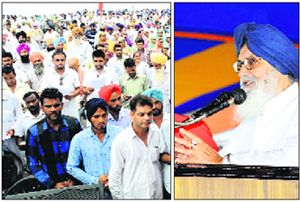 Sangrur, August 5
Addressing a gathering of sarpanches and panches of the district, Chief Minister Parkash Singh Badal said that former Punjab Chief Minister Beant Singh and Rajya Sabha MPs Sukhdev Singh Dhindsa and Balwinder Singh Bhundar had started their political careers as sarpanch. He said he too had started his political career as sarpanch.
Chief Minister PS Badal (right) administers oath to newly elected panchayat members in Sangrur on Monday. A Tribune photo

Protest after rape victim dies
Patiala, August 5
Residents of two villages in Bhadson area today held separate dharnas against the police in a case of rape. While Alhaura residents demanded the arrest of all the accused named in the FIR, Bharhi Panecha residents sought cancellation of the FIR.
PCS officers back Nagpal
Chandigarh August 5
A meeting of the PCS (executive branch) was held here today to discuss the suspension of Uttar Pradesh- cadre IAS officer Durga Shakti Nagpal. The officer was first allotted the Punjab cadre. She completed her field training in Punjab and served as Assistant Commissioner (under training) at Mohali.
Minister nabs staff dumping expired drugs
Ropar, August 5
Punjab Health Minister Madan Mohan Mittal last night caught employees of the Kiratpur hospital when they were trying to dump expired medicines. Ropar Civil Surgeon Rajnish Sood said when Health Minister Madan Mohan Mittal was going towards Chandigarh from Anandpur Sahib, he asked a passing ambulance to stop as he intended to know what type of a patient was referred from the hospital.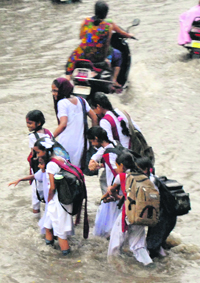 In deep waters: Schoolchildren wade through a waterlogged road in Patiala on Monday. Tribune photo: Rajesh Sachar

PSHRC seeks report on plight of mortuary
Patiala, August 5
Taking note of a news item published in The Tribune under the headline "Rajindra Hospital mortuary in shambles", the Punjab State Human Rights Commission (PSHRC) has sought a detailed report from the Director, Research and Medical Education, Punjab, in this regard. A four-member bench of the commission comprising chairperson Justice Jagdish Bhalla and members Justice Baldev Singh, LR Roojam and PS Grewal has asked the director to submit the report by October 11 this year. The Tribune had reported that the mortuary was in a dilapidated state for want of funds and the neglect on the part of authorities concerned. — TNS
Will expose those patronising drug mafia: Ex-DGP
Amritsar, August 5
Former Director General of Police (DGP), Jails, Shashi Kant today slammed the political leadership for "ruining the future of the youth by not cracking down on the drug mafia" in the state. Addressing a seminar organised by NGO Sikhs for Human Rights, he said drug abuse in Punjab was alarming and the future of its youth was in peril. Kant, who also served as the state's intelligence chief, said he would reveal the names of senior politicians who were patronising the drug mafia soon. Former Jathedar Gaini Kewal Singh and Dal Khalsa spokesperson Kanwar Pal Singh were also present. — TNS


Sangrur man gets 12-yr RI for attacking Ahluwalia
Patiala, August 5
The court of the District and Sessions Judge, Fatehgarh Sahib, today held 47-year-old Sangrur resident Jora Singh guilty of the murderous attack on the former Vice Chancellor of Sri Guru Granth Sahib World University, Dr Jasbir Singh Ahluwalia on August 1, 2011. The court sentenced Jora Singh to 12 years' rigorous imprisonment and imposed a fine of Rs 2 lakh on him.
SC stays order on minor minerals
New Delhi, August 5
Does the Punjab Government own soil/earth even on private farmland and as such can it claim royalty and cost for its use in construction? This issue will now be decided by the Supreme Court.
Maharaja's nephew to challenge verdict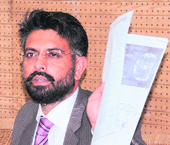 Chandigarh, August 5
A week after a local court pronounced the verdict in a 20-year-old case relating to property dispute in favour of the two daughters of Faridkot Maharaja Harinder Singh Brar, the latter's nephew has decided to challenge the court order. The court had granted Brar's daughters inheritance of assets worth Rs 20,000 crore.
Faridkot Maharaja's nephew Bharatinder's son Amarinder Brar in Chandigarh on Monday.
High Court raps PFC for 'meaningless litigation'
Chandigarh, August 5
The Punjab Financial Corporation (PFC) has received a rap on its knuckles for misplaced priorities. The Punjab and Haryana High Court has minced no words to say the corporation "gives up crores of rupees in settlements, but split hairs when it comes to a few thousand rupees". It even spent more amount on litigation than the money in a dispute.