SC sets aside state HC orders on mining
New Delhi, August 5
The Supreme Court (SC) has set aside two Himachal Pradesh High Court orders closing down mining operations relating to the leases executed after February 27, 2012, without any environmental clearance. The High Court had also restricted to one-year the mining leases executed prior to this date and made it clear that licence renewal would be subject to environmental clearance.
Nod to submergence of cheer pheasant habitat
MoEF sees red over move
Shimla, August 5
The Union Ministry of Environment and Forest (MoEF) has directed the government to initiate action against officials responsible for giving nod to the submergence of the habitat of the endangered cheer pheasant in the Kol Dam water and identify 22 habitats for the highly protected bird within two months.
Training camp for mountain biking ends
Shimla, August 5
The first-ever training camp for mountain biking organised by the Himalayan Adventure Sports and Tourism Promotion Association in Kufri, near here, concluded today.
New ISBT to be constructed at Chamba, says CM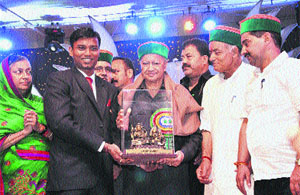 Chamba, August 5
Chief Minister Virbhadra Singh said today that a new Inter-State Bus Terminus (ISBT) would be constructed at Chamba, and directed the administration to provide adequate land for the purpose to fulfill the long-pending demand of people of the district. The Chief Minister was speaking at a prize distribution function of the Minjar Fair here today.

Chief Minister Virbhadra Singh being presented a memento by Deputy Commissioner Kadam Sandeep Vasant in Chamba on Monday.

Speaker seeks funds for Palampur
Palampur, August 5
Brij Bihari Lal Butail, local MLA and Speaker of HP Assembly, along with a delegation of local citizens, called on Chief Minister Virbhadra Singh at his office in Shimla today to present him a cheque of Rs 2.51 lakh for the Chief Minister's Relief Fund.
Stamp papers of Rs 50 not available
Hamirpur, August 5
Residents have expressed concern over the unavailability of stamp papers of Rs 50 and Rs 100 denominations in Hamirpur.
Samiti seeks formation of artificial lake in Bilaspur
Bilaspur, August 5
The Sarva Chandpur Kshetra Vikas Samiti, an organisation devoted to the cause of development of the area, has urged Chief Minister Virbhadra Singh to consider a proposal for constructing a wall underneath the Ali Khud bridge here between Bilaspur town and Chandpur area for the formation of an artificial lake.
Rs 4.60 cr granted for water scheme
Bilaspur, August 5
The government has sanctioned Rs 4.60 crore for the renewal of the Kot-Dehra-Hatwaad drinking water supply scheme to remove water scarcity in the area. This was stated by Chief Parliamentary Secretary (CPS) (Forests and Fisheries) Rajesh Dharmani, while addressing a plant distribution campaign under Haryaali Programme at Kot village, 55 km from here, yesterday.

VC favours farm colleges in Kullu, Sirmaur
Palampur, August 5
Chaudhry Sharvan Kumar (CSK) HP Agriculture University will seek the help of the government and the Indian Council of Agricultural Research (ICAR) to establish two more agriculture colleges in the state. This was stated by Vice-Chancellor Dr KK Katoch at a press conference here today.
Dr KK Katoch, VC, HP Agriculture University.

Demand for MP's resignation flayed
Hamirpur, August 5
The district unit of the Bharatiya Janata Party (BJP) has taken a strong exception to the statement of Congress spokesman Deepak Sharma, demanding the resignation of Himachal Pradesh Cricket Association (HPCA) president Anurag Thakur after the registration of an FIR against the HPCA in a hotel lease case.
Cong hits out at Anurag over hotel
Shimla, August 5
Senior Congress leaders have launched an attack on Anurag Thakur, president, Bharatiya Janata Yuva Morcha, who also heads the Himachal Pradesh Cricket Association (HPCA), for justifying the formation of a company for running a hotel at Dharamsala by asserting that it was in the "interest of cricket".
Double-storey house gutted
Bilaspur, August 5
Property worth more than Rs 1 lakh is said to have been destroyed in a fire which engulfed a double-storey house of Shravan Kumar of Rohal village in Jhandutta development block, 60 km from here, last night.