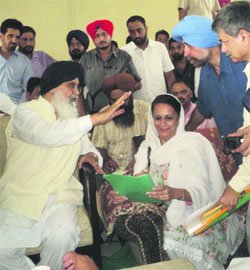 Another Oppn MLA barges into Badal's Sangat Darshan
Gidderbaha, August 8
After Gidderbaha MLA Amarinder Singh Raja Warring, another Congress MLA Karan Kaur Brar went to Chief Minister Parkash Singh Badal's Sangat Darshan at Bhalaiana village today to apprise the latter of problems being faced by residents of her constituency Muktsar.
Chief Minister Parkash Singh Badal listens to the demands of Congress Muktsar MLA Karan Kaur Brar at Bhalaiana village in Gidderbaha on Thursday. A Tribune photograph

An attempt to disrupt welfare initiative: Dy CM
Chandigarh, August 8
The SAD today said frustrated leaders of the Punjab Congress who wanted to "gain cheap publicity" by disrupting the CM's Sangat Darshan should be ready to face the ire of the people. In a statement here, SAD president Sukhbir Singh Badal said the development process in the state could not be disrupted by frustrated leaders of the state Congress.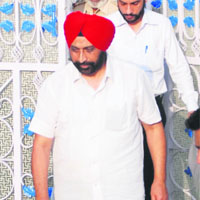 Ropar DTO arrested for cheating, forgery
Bathinda, August 8
The police today arrested former Bathinda DTO (District Transport Officer) BM Singh for cheating and forgery. He was arrested from his Sector 49-A residence in Chandigarh. He is now DTO, Ropar.




He was seen close to the Badals


Accused District Transport Officer BM Singh being taken away by the police after being produced in court in Bathinda on Thursday. Tribune photo: Pawan Sharma

Harsimrat raises turban issue in LS
New Delhi, August 8
Concern was expressed in the Lok Sabha today over the growing incidents of harassment and humiliation of Sikhs as also hate crimes against them in several countries owing to mistaken identity.
Centre owes apology to Sikhs: Sukhbir
Chandigarh, August 8
Punjab Deputy Chief Minister Sukhbir Singh Badal today sought an apology from the Congress-led UPA Government for failing to send out a firm message to all countries that due respect must be shown to Sikhs wearing the turban.
Cabinet meeting today
Chandigarh, August 8
Pressure from its coalition partner (BJP) has forced the SAD to scale down the composition fee to be levied on illegal colonies. The issue is expected to come up at the Cabinet meeting tomorrow. Official sources said the Cabinet is likely to amend the rules for regularising illegal colonies. As against the initial policy of charging all illegal colonies a composition fee at the rate of Rs 2.5 lakh to Rs 15 lakh per acre, the new rules will allow for a composition fee on the collectorate rate of the area.
Former Ferozepur Cong legislator switches loyalty to Akali camp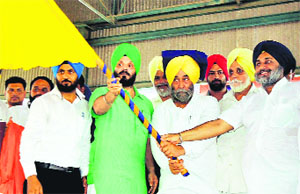 Faridkot/Ferozepur, August 8
Former Congress MLA from Ferozepur Ravinder Singh Sandhu alias Babbal today joined the SAD along with a large number of supporters in the presence of Deputy Chief Minister Sukhbir Singh Badal.




Deputy CM Sukhbir Badal at a rally to induct former Congress MLA Ravinder Singh Sandhu (holding flag with both hands) into the SAD in Ferozepur on Thursday. A Tribune photograph

Sukhbir invite to UP officer a joke: Khaira
Chandigarh, August 8
The Punjab Pradesh Congress Committee (PPCC) has dubbed as a "joke" the invite extended by Deputy Chief Minister Sukhbir Badal to suspended Uttar Pradesh IAS officer Durga Shakti Nagpal to join services in the state.



Murder accused panch not allowed to take oath
Chandigarh, August 8
Just a few hours before a murder accused was to be sworn in as a panch after his victory in the recently concluded panchayat elections, the Punjab and Haryana High Court yesterday stayed the operation of an order allowing him to attend the oath-taking ceremony.
Poor Wages
Punbus staff files complaint with Labour office
Amritsar, August 8
The offices of the Labour Commissioner, Punjab, and the Assistant Labour Commissioner, Amritsar, have taken cognisance of the violation of contract labour Act by the State Transport Department, denying minimum wages to its driver and conductors.
Jalandhar NIT Registrar resigns
Jalandhar, August 8
The Registrar of BR Ambedkar National Institute of Technology (NIT) has put in his papers.
Govt approves three ROBs
Chandigarh, August 8
The Punjab Government has approved the construction of three new road over-bridges (ROBs). Work on these bridges would start in October this year.
Moga Acid Attack
No relief to victim despite HC orders
Moga, August 8
The police has given a clean chit to four alleged co-accused named in the FIR in a case of acid attack on a young woman and her father by her estranged husband on July 11 at Mehna village when they were on their way to the district courts for hearing in three cases of marital dispute.
Hind-Pak Dosti Manch cancels cultural evening
Amritsar, August 8
The Hind-Pak Dosti Manch and other organisations have called off the cultural programme that was to be held here on August 13 to protest the killing of five Indian soldiers at Poonch in firing by Pakistan.
25 taken ill with rabies symptoms in Mansa
Bathinda, August 8
As many as 25 persons, including five children, were administered anti-rabies medicine in Bhame Kalan village of Mansa after they allegedly consumed milk taken from an infected buffalo.
Thousands take part in Army recruitment drive
Ludhiana, August 8
Infused with patriotic fervour, thousands of youngsters thronged the Dholewal Military Complex here today to attend the recruitment drive of the Army. The youths were seen chanting "Bole so Nihal" at the complex. Nearly 11,000 candidates have participated in the drive in the last three days.
Retirement age up, lecturers await extension letters
Ludhiana, August 8
Though, the Punjab Government has increased the retirement age from 58 to 59 years, the Education Department has not handed approval letters of extension to around 10 retirees in various colleges in the state. Ironically, these retirees have neither been given retirement benefits, nor have they been paid salaries despite the fact that they were still working.



Govt must release land not used for public: HC
Chandigarh, August 8
Over two decades after Punjab initiated land acquisition for setting up an Industrial Focal Point in Ludhiana district, the High Court has directed the state to re-determine retaining left out acquired land.
Fighting drug menace
Respond to request for aid, Centre told
Chandigarh, August 8
The Punjab and Haryana High Court has asked the Centre to respond to Punjab's request for financial assistance to fight the menace of drugs in the state. The assertion came after the Division Bench of Chief Justice Sanjay Kishan Kaul and Justice Augustine George Masih was informed that the Punjab Government had made the request some three months ago.