Securing future with tailor-made skills for jobs
With a low fee structure and awards programmes, North American community colleges are a model to adapt. Indian colleges should customise courses in consonance with skills required in the job market and provide new competencies to the displaced workforce.
BS Ghuman
IN an era of knowledge-based economies, vocational education plays a pivotal role in development. In India, however, vocational training is the most neglected field. Only 2 per cent of the Indian youth receives vocational education. India produces 3 million vocationally trained manpower against the requirement of 9 million. For mitigating the gap, community colleges are the most cost-effective institutions. The government has decided to open 200 community colleges in the 2013-14 academic session. India can devise a suitable policy for community colleges, learning from North America, where the mandate of community colleges is providing students with skills aligned to the job market and re-skilling displaced work force, and promoting students' upward mobility to higher education through associate degrees.
The access to higher education in India is only 18 per cent. Employability of students is also very low — 25 per cent for engineers and 10 per cent for college graduates. Employability is rock bottom among school passouts. The poverty of employability is mainly due to education-industry dichotomy. The Ministry of Human Resource Development (MHRD) aims to improve access to higher education and employability by setting up 200 community colleges on pilot basis. Punjab and Haryana have been allotted four community colleges each while Himachal Pradesh, Jammu and Kashmir, New Delhi and Chandigarh have respectively been given two, two, two and one.
These colleges are a step above secondary schools and a step below degree colleges. As per the Planning Commission, the colleges are a good blend of vocational and academic skills. In the long run these institutions help in integrating higher education and skill development.
For setting up community colleges, the Planning Commission has decided to adapt the models of advanced countries, specially the US and Canada.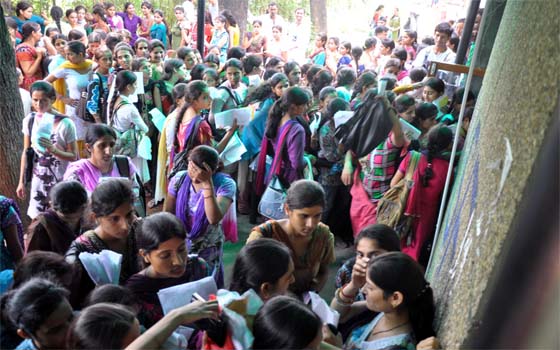 Employability is at a low of 10 per cent for college graduates. This is mainly due to the education-industry dichotomy. Tribune file photo: Anand Sharma
North America model
In US alone, there are more than 1,000 community colleges enrolling around 13 million students constituting 44 per cent of the total students. Each year, the Aspen Institute adjudges excellent community colleges based on parameters like performance, improvement and equity. In 2013, the institute declared Walla Walla Community College and Santa Barbara City College as the winners. Total enrolment of the Walla Walla college was 4,953 students, out of which 48 per cent belonged to minorities. The fee structure of the college is very low. Around 54 per cent of its students holding two-year associate degree, against the national average of 40 per cent, transfer to universities. The placement rate is also high. In 2011, graduates of the college earned $41,548 annually — around 80 per cent higher than that of newly hired in the region. Santa Barbara City College has similar performance indices. In Canada there are around 150 community colleges with 1.5 million students. Around 90 per cent graduates get employment within six months.
Cases of reverse transfers have also been reported in North America. In case of reverse transfer, university graduates seek admissions in community colleges to improve their employability.
A sample of course offered by community colleges include hospitality management, culinary arts, fashion designing, administrative assistant, public safety communication, lifelong learning, information and communication technology, agriculture, broadcasting and journalism, business management, nursing, healthcare assistant, welding, carpentry, plumbing, electrical work, electronics and auto repair.
Recognition and affiliation
India already has 500 community colleges. Lack of recognition is the major handicap. In the absence of recognition, their products fail to get jobs especially in the government sector. Lack of recognition also constrains upward mobility of students to the institutions of higher learning. In North America, a number of states have their own policies in place to recognise associate degrees for admission to universities. Minnesota, Oregon, North Carolina, Illinois, California, and Arizona in the US and the British Columbia province in Canada have designed state-level "transfer curriculum", making provisions for the transfer of credits to universities. Based on this experience, the government should formulate a national policy for recognising and affiliating the community colleges. This would resolve the issue of students' eligibility for jobs and admissions.
Governance model
Though there is no uniformity in governance model of community colleges in North America, a policy prescription patterned on the philosophy of community centric-governance suggests a three-tier system in India. First, the MHRD should steer the policy of community colleges. The UGC should coordinate community colleges; also ensure uniform standards in teaching, and transfer of credits across the country. Second, there should be a state-level governance board having representatives of the community also. These boards should deal with policy matters, including affiliation, recognition, finances and quality control. Third, each community college should have a local advisory board having representatives of all stakeholders, including faculty, industry, and community.
Curriculum development
The North American community colleges have evolved a unique methodology of curriculum development and its delivery. Each course has an advisory committee comprising a member from the faculty, industry and community. The committee meets twice a year for suggesting changes in the curriculum. The Indian community colleges should design and customise their courses in consonance with skills required in the market by involving the stakeholders. In North America, the industry is also involved in teaching in the delivery of curriculum; and training in the form of student internships, apprenticeship and co-op programmes, etc. A partnership between the college and industry in the delivery of curriculum provides an opportunity to students to gain hands-on experience. This practice should be adopted in India.
Community colleges not only prepare students for the job market but also impart education leading to a two-year associate degree. For facilitating the smooth transfer of students to degree awarding institutions in a number of states/provinces in North America, the practice of articulate agreement is in progress. The agreement signing institutions recognise each others' courses. The Indian Community Colleges Association should sign an MoU with the Association of Indian Universities on the pattern of the agreement in order to encourage upward mobility of community college passouts to universities across the country.
Quality of products
Employability of community college passouts depends on their quality. In the US, each year the Aspen Institute motivates the community colleges to participate in the Aspen Prize for Community College Excellence. For this, 120 colleges are shortlisted. The award-winning college is given a fund of around $1 million. In Canada also, excellence is promoted through an awards programme. The mission of being excellent is always a good driving force to improve quality. In the Indian context also, such an excellence awards programme should be constituted.
The Sachar Committee and Mishra Commission have suggested improving the access of minorities to education and jobs. The government can rely on community colleges for making education and jobs all-inclusive by adopting a very low fee structure. In North America, fee is very low in community colleges. In Northern Virginia Community College and Langara Community College in Canada, the fee structure per credit is $135.65 and $112.5, respectively, which is almost half that of the universities.
Re-skilling workforce
The contours of job markets are changing fast. Some jobs become obsolete and hence displace labour. Community colleges are most effective institutions to re-skill the displaced workforce. The Indian community colleges can also play this role. In community colleges, the candidate's existing learning level is assessed before admission through "prior learning assessment and recognition programme", and deficiencies are met through "upgrade programmes". Based on this practice, the displaced workers, including artisans, may get themselves assessed. Later, through short-duration courses, they can mitigate the gap between the skills they possess and the skills the industry requires. In this way the colleges would emerge as reliable vehicles for making displaced labour force employable.
The writer is a former Dean, Faculty of Arts, Panjab University, Chandigarh. He visited Canada from May 19 to June 30, 2013, to study community colleges. He also participated in two forums on community colleges organised by the University of The Fraser Valley and the Association of Canadian Community Colleges.
Features of community colleges proposed by Planning Commission
Will deliver modular credit-based courses in accordance with the national skills qualifications framework (NSQF).
Students will have the option to exit and re-enter.
Programmes will include certificates, diplomas, or two-year associate degrees with a choice to transfer to universities/colleges.
Blend of academic and vocational skills.
Traditional lecture method, use of information, communication technology and hands-on experience through collaboration with industry.
Courses aligned to national occupational standards determined by employer-led sector skill councils.
Core faculty and adjunct faculty, mainly drawn from industry.
Local community on the board of colleges.
Will be located in the neighbourhood of students.
Will operate from campuses of existing colleges, polytechnics, higher secondary schools or industry.
Features of community colleges in North America
Offer a mixture of job market-oriented and academic-oriented programmes comprising certificates, diploma and associate degrees.
Participatory governance model grounded in local community.
Courses include full time as well as part time.
Involvement of stakeholders, specially industry and local community, in curriculum development and delivery.
Flexible admission eligibility criteria including age.
Low fee structure.
Flexibility in completion of the course in the form of multiple entries and exits.
Most students are from minority groups, immigrants and aboriginals.
Emphasis on hands-on experience.
Student internship.
High employability, specially in small and medium enterprises (SMEs).
Handsome pay package.