| | | |
| --- | --- | --- |
| | ARTICLE | |
The worst in Asia?
Indian bureaucrats need to work for people
by Justice Nirmal Singh
The monumental task of ensuring the implementation of government polices is carried out by the bureaucracy. Barring a few honourable and indeed patriotic civil servants, the bureaucrats function without any accountability or concern to their pious duties.
Some commentators such as Paul Appleby and Gurcharan Das have suggested that poor implementation is a problem which is peculiar to India and has allegedly arisen from a uniquely Indian trait of lack of action-mindedness. This view believes that poor project management is and remains the primary weaknesses of the Indian bureaucracy.
Their lies a great dichotomy between our public and private sectors today. While Indian business performance is often considered second to none, that of India's public sector is poor beyond description. Delivering simple yet important things like water, electricity, roads and education is well beyond the capacity of our elite IAS.
A Hong Kong-based corporate consultancy has claimed that the Indian bureaucracy is the worst in Asia, faring behind even China which is rated better than Vietnam, Indonesia and the Philippines. Its report has confirmed what we already know and suffer: India a "bureaucratic nightmare" for businesses.
Of the 12 Asian countries covered in the study by Political & Economic Risk Consultancy Ltd. India was found to have the worst bureaucracy. The report, which was based on over 2,000 surveys of employed residents and expatriates across Asia blamed India's poor infrastructure, widespread corruption and "fickle" regulations for making business a "frustrating and expensive" affair.
Bureaucrats are seldom challenged or held accountable while giving them "terrific powers", the report said. This possibly could be one of the main reasons why average Indians as well as existing and would-be foreign investors perceive India's bureaucrats as negatively as they do.
The report noted that Indian citizens were more critical of the country's bureaucracy than expatriates. "They use the words 'bureaucracy' and 'corruption' almost interchangeably and complain about a 'marriage of convenience' between bureaucrats and politicians."
Emerging nations like India have tremendous growth potential but policy hurdles and barriers are restricting this growth, said Richard Boucher, deputy secretary-general, Organization for Economic Cooperation and Development (OECD). In an interaction on the sidelines of the CII Partnership Summit 2013, he said India requires investment in infrastructure and education for the purpose of inclusiveness. But the biggest trouble facing India today is bureaucracy and corruption.
A paper prepared in 2012 by the Ministry of Personnel. Public Grievances and Pensions states that graft is prevalent at all levels of officialdom. And in a classic case of the tail wagging the dog, this small pool of people (accounting for not more than 5% of the country's workforce) hog the finest privileges any country offers to its bureaucrats - housing in some of the toniest parts, travel goodies, vehicles, long "study" leaves and, of course, clout and immunity.
The district magistrate, in any district, enjoys a status far out of proportion to his output. He lives in a palatial bungalow surrounded by a horde of servants and staff who add to his inaccessibility aura. He meets politicians and the privileged sections of society in his district and spends most of his time in the state capital and Delhi, hovering around a few who can get him a better posting. He is supposed to be accountable to the people, especially the poor. Instead he feels happy if he can "buy" the support of an important sectarian leader which ensures a comfortable stay in the district.
An IAS officer is an administrative assistant to a minister and is bound to consult and act according to the consultative process of decision-making, but quite often the bureaucrat is engaged in unilateral decision-making, even when the rules of business require the file to be signed by the minister.
A few days ago a news item surfaced wherein lied a self-serving cerebral thought of giving study allowance to the children of the IAS and that too of Rs 1,000 a month per child whereas the under-privileged sections of society, namely the SCs and STs, get a paltry sum of Rs. 30 on an average for their children. Such a self-serving idea, showing complete apathy to the condition of the backward sections, should not be allowed to see the light of day as it clearly antagonises the sacrosanct need of delivering the state money to the backward factions of the masses.
Indifference towards the poor is no longer confined to the lower level officials. This is reflected in the way the IAS officers grade their jobs. Although the unofficial gradation of jobs varies from state to state, certain common points can be noted in posts in the industrial and commercial departments and corporations, where they occupy a very high rank. These unofficial posts enable the IAS officers to hobnob with industrialists and businessmen with whom he has class affinity. Next on the list would be posts which carry a lot of patronage and influence like the Departments of Home Establishment, Finance etc. The lowest tank goers to jobs where excellent performance would directly benefit the poor, such as Tribal and Social Welfare Social Administration, Land Reforms, Urban Slums and Rural Development, etc. Post-hunting is all prevalent in the bureaucratic lobby when an IAS officer ensures his job to be at a prestigious department and if there is ever an occasion of an unfavorable transfer, out comes the weapon of earned leave, which for most of their service remains unused.
Even the high-ups in the bureaucratic system ensure their dominance when they make certain of a punishment to an officer for annoying the authorities by posting him in the tribal districts or other backward areas. No one realises that in the process the Adivasis and people of the backward area get punished for being saddled with an officer who has no interest in continuing there or serving the needs of the people.
If the country is to progress, the bureaucrats need to realise their place as public servants and instead of developing self-serving polices, actually need to work cohesively within the administrative set-up to contribute to the growth of our country.

| | | |
| --- | --- | --- |
| | OPED — Culture | |
The curious case of Bollywood biopic
With close to ten more films in the pipeline based on biographical accounts of people — dead or alive — Hindi filmmakers are still wary of using the term 'biopic' for these films
Vandana Shukla
For four years film directors Anurag Kashyap and Shivendra Singh Dungarpur researched and drafted what they thought was a perfect script for a biopic — the life of legendary film actor and director Guru Dutt. Confident of the authenticity of their research material, they did not wish to conceal names of the characters. The very authenticity of their script became its nemesis. Surviving relatives of the characters involved refused to grant them permission. If the names could be changed, they would let the film be made — they were told. By changing the names, the whole purpose of making a biographical film would be defeated. So, the project was shelved. This has been the fate of many biopics planned methodically and scripted to a fault by Bollywood scriptwriters.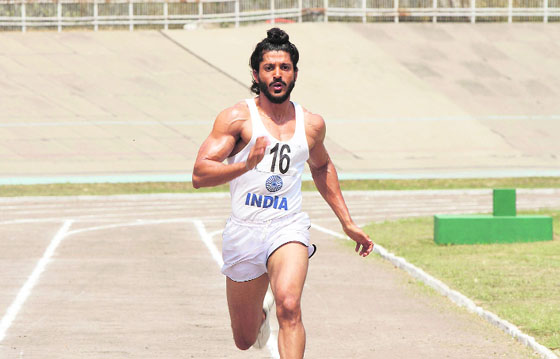 Farhan Akhtar plays Milkha Singh in Bhaag Milkha Bhaag — the only film made in Bollywood on a living legend.
As a genre of cinema, Hindi biopic has not matured and evolved as it should have in its hundred-year-long journey. Surprisingly, in the formative years of cinema, it was the genre of biopic that ruled the roost. Popular tales from history and mythology were used as bait to bring the reluctant audience to cinema theatres. Like other art forms, cinema too found refuge in the lives of great saints to get assured popularity and audience interest, mixing devotion with entertainment. Lives of Sant Tukaram, Narsi Mehta, Chandidas were brought on the celluloid. Post-independence we had a few memorable biopics like Jhansi Ki Rani(Sohrab Modi), V Shantaram's Dr Kotnis Ki Amar Kahani, made in Hindi and English, and based on the real life story of Dr Dwarkanath S. Kotnis who went to China in 1938 as part of a medical mission and offered selfless service under life-threatening circumstances during the Japanese invasion of World War II. The most critically acclaimed biopic of that era is still considered to be Kewal Kashyap's Shaheed (1965), based on the life of Bhagat Singh(Manoj Kumar played the lead role) for its authenticity and ability to establish an emotional chord with the audience.


More lives on reel

Gour Hari Dastaan, Director, Anant Mahadevan


MS Subbulakshmi, Director, Rajiv Menon


Charles Sobhraj, Probable producers, Anurag Kashyap and Pooja Bhatt


Dhyan Chand, Director, Rohit Vaid


Begum Samru, Director, Tigmanshu Dhulia


Dushrath Manjhi, the mountain man, Director, Ketan Mehta


Kishore Kumar, Director, Anurag Basu


Mary Kom, Director, Omang Kumar


Guru Dutt, Director, Bhawna Talwar
Another biopic stuck in legal battle
On March 16, 2013, the Civil Court of Patna passed an ad-interim injunction on a feature film based on Manjhi's life, directed by Ketan Mehta. The court order stated that the film cannot be released for public exhibition until the pendency of the suit. The order was issued in response to a petition of Dhananjay Kapoor and Jamshed Ashraf, who claimed to have exclusive film rights to Manjhi's life story. Manjhi was a poor man from Gahlour village of Gaya dist. in Bihar, who lost his wife because the nearest town with a doctor was 70 km. away. Manjhi did not want others to suffer the same fate as his wife. He carved a 360-foot-long and 25-foot-deep and at places 30-foot-wide tunnel to form a road through a mountain in the Gehlour hills, working for 22 years from 1960 to 1982. His feat reduced the distance between the Atri and Wazirganj blocks of the Gaya district from 55 km to 15 km, bringing him national acclaim. He died on August 17, 2007.
Post-independence, though, the focus remained on the collective, the victory of the masses — a la Moscowite socialism that occupied the film directors' imagination. B R Chopra's Naya Daur, 1957, offered solution to the eternal struggle between the capitalists and the masses with its "saathi haath badhana" invocation to youth for collective action. This was reinforced by films like Dharti Ke Lal, Jaagte Raho, Boot Polish, Mother India, and Neecha Nagar etc.
Real or reel life?
In the twenty first century capitalist India when the individual and his/her ambitions have overshadowed not only the collective but all other social obligations, the authentic narratives of individuals who acquire greater proportions than the institutions they come from, catch public imagination. Even though not acknowledged, Mani Ratnam's Guru ( 2007), a rags-to-riches tale based on the life of Dhirubhai Ambani caught people's imagination. It was not pure fiction, which meant it spelt a possibility in the lives of millions who watched the film, desperately looking for a miracle. Such films offer a can-do-spirit manual of a good self-help book.
The question then is, while film makers use real life material to lend their films the flavour of authenticity, why do they shy away from using the real names? The fierce denial by Ekta Kapoor for the story of The Dirty Picture having any semblance with the life of southern film actress Silk Smitha is a proof enough of this celluloid dilemma. Kapoor received demands of an apology and money from Smitha's surviving brother, thereafter all claims to the film being based on Silk Smitha's life were refuted.


Writing other scripts takes the flight of a brid, writing a biopic is like flying a kite, its restrained, yet, its a flight
Prasoon Joshi,
scriptwriter Bhaag Milkha Bhaag
The reasons for avoiding the word 'biopic' are obvious. While film makers want to exploit the readily available popularity of these characters and their unique narratives, social consciousness about the propriety of the characters--dead or alive, defeats the whole purpose of making a film on a biographical account. "A film on the relationship of Pt. Nehru and Lady Edwina Mountbatten, which has all the ingredients of making a spectacular romantic film was never explored because the producers could not get permission from the Nehru family. Leaders too are human, they too fall in love, this simple fact remains unpalatable to us," says Dungarpur. Most film directors do not want to take risks by provoking a controversy which may have a direct bearing on the box-office collections. Ashutosh Gowarikar's Jodha Akbar(2008) was banned in six states after the Rajput protests, it was with the intervention of the Supreme Court that the things were sorted out.
Too reverential to be real
The other category of Hindi biopics borders on the reverential, thereby stealing its human appeal. No wonder, most of these films made by well- established and reputed directors tanked on the box- office. Some never even saw the light of an auditorium. Based on the lives of popular political leaders like Sardar Patel, Subhash Chandra Bose and Dr B R Ambedkar, the script writers of these films took no risk in exploring a human journey that begins on an ordinary note but somewhere along the line acquires shades of greatness. When a film is made by putting a character on a pedestal, it borders on boredom. Narratives of human journeys are incomplete without the shades of grey. Else, they become eulogies, and therein lies the dilemma of Hindi biopic makers, if they tell the truth they are doomed, if they don't, they are still dumped — for not telling the truth.
Despite these constraints, along with experimental films meant for the niche audience of multiplex cinema, came a couple of unpretentious films based on the true life accounts of ordinary human beings who showed exemplary courage in taking on the system demanding justice. Chak De India in 2007 and Paan Singh Tomar in 2012, a biopic based on the life of seven- time national steeplechase winner, who later became a dacoit, changed the way biopics are treated in Hindi cinema. The film went on to break the limited niche audience appeal to earn both critical acclaim(also won National Award in several categories including the Best Film of the year) as well as box office success. It set a new trend for exploring the unsung heroes from our complex tapestry of endearing human struggles.
Script — the hero
Ironically, the success of Paan Singh Tomar rests on non availability of any background material on the life of the unsung athlete. Another reason why biopics are not attempted in Bollywood is, lack of documentation of the lives of our heroes. The challange was, to let him be what he was — an ordinary man caught in the complex matrix of social and systemic injustice. Sanjay Chauhan, the scriptwriter, says, he knew what he shouldn't do — to create a hero out of him. The search for Tomar's life began from a scratch. "The army was reluctant to divulge information on him because he had become a baagi, and Sports Authority of India does not believe in keeping records. The moment you mention film, people think crores are involved and demand exorbitant money for divulging any information. The people I met, including other baagis and the police officer who had planned the encounter that killed Tomar, vouched for one thing, that Tomar was a good man and he loved his sport." Chauhan, who is writing another biopic says, even before he starts work on a biopic, he asks the production house to take permissions from all concerned. So that a lot of labour does not go waste after the film is produced. While writing the script he ensures that the audience walks the same track, thinking it's their journey, not the journey of a hero.
After the success of Paan Singh Tomar, not the genre but the commercial success of the genre made producers wake up to the sound business prospects of a biopic. About ten biopics of varied shades are in the pipeline. Quite a few are based on the lives of sportspersons.
Prasoon Joshi, scriptwriter, Bhaag Milkha Bhaag, the only film made on a living sports legend, Milkha Singh, which has turned out to be a blockbuster, says, he wouldn't call the film a biopic, instead, a film inspired by a true life. He has several reasons for this — a film is a dramatic interpretation of certain events, to recreate a character with the help of series of scenes he needed to accentuate the battles of Milkha Singh; physical, psychological and emotional, for which he had to use tools of music, dance and dialogues etc. He did not have to deal with the burden of seeking permission, his challenge was different. "I did not meet Milkha Singh more than a couple of times because I thought if I meet him often it will influence my writing. I was not documenting his life, I was recreating a character by eliminating and adding characters and events. I have created a character who romances women, sings, can dance and is a world class athlete. The real Milkha Singh may not be like him. For example I eliminated his brother's character, showed only one surviving sister whereas he has two. I had to ensure that the audience interest is kept alive for over two hours and that needs creative intervention, " he says.
One of the best biopics made in Bollywood, Shekhar Kapoor's The Bandit Queen based on the life of Phoolan Devi received great appreciation outside India, but did not do well for the domestic audience. It almost got nominated for the Oscars, due to innumerable controversies that included litigation, the nomination had to be withdrawn. Two, the raw violence of rape and humiliation of a low-caste woman portrayed realistically was found unpalatable by the Indian audience that is fed on celluloid rape as an event of entertainment. Though, more biopics are attempted now than ever before, the authentic narratives remain buried under the burden of compromised propriety.