Moving towards demilitarising Siachen
The Siachen imbroglio continues to fester. India needs a cost-benefit analysis to determine whether Pakistan would move into occupied positions should India, in the event of demilitarisation of the area, vacate positions of advantage that it now holds
P.R. Chari
Speaking on the last Foundation Day function of the Institute for Defence Studies and Analyses, the Defence Minister, A.K. Antony, ruled out any possibility of de-militarising the Siachen Glacier, and re-stated India's inflexible position that it will only consider pulling back its troops after a joint India-Pakistan authentication is undertaken of the 109-km Actual Ground Position Line. Pakistan has opposed any such "authentication" as a pre-requisite to demilitarization.
The factual position is that India has gained physical possession of the Siachen Glacier. But the Line of Control, earlier called Ceasefire Line, ends at grid reference NJ9842 and beyond that point there is no legal boundary to demarcate the territory between India and Pakistan. Somewhat earlier, General Bikram Singh, India's Chief of the Army Staff, had voiced his opposition to Indian troops being withdrawn from this "strategically important" region. He had said that India "possesses positions of strategic importance and we have expressed our concern to the government. It's now for the government to decide." That was the surest way of ensuring that the jittery government would get paralyzed into inaction.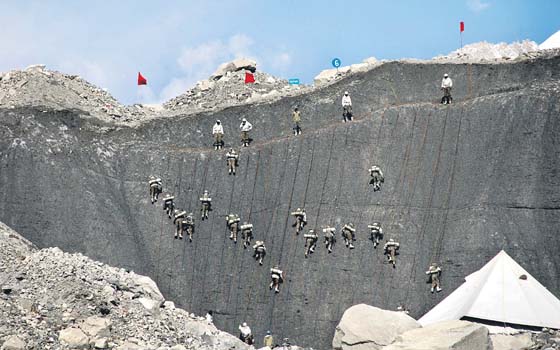 Indian Army personnel train at the Siachen Battle School prior to their induction into the world's highest theater of conflict. Tribune photo: Manoj Mahajan
The history of the three-decade long India-Pakistan confrontation in this "highest theatre of conflict in the world" is only too well known. Briefly, the Ceasefire Line that was demarcated after the Karachi Agreement in 1948 and the Line of Control that resulted after the Simla Agreement in 1972 terminates in its northern extremity at map coordinate NJ9842. Neither of these agreements mention who has possession or title to the land north of NJ9842, apart from vaguely noting that the boundary would proceed "north to the glaciers". Probably, the assumption was that no dispute could possibly arise over such a barren and inhospitable region, and that it would remain a neutral undisputed No-Man's Land.
Historical perspective
Over to Saadat Hasan Manto. The tributes to Manto have flooded the liberal press in India and Pakistan as they celebrate his birth centenary. In truth, Manto belonged to neither India, where he was born on May 11, 1912, nor to Pakistan, where he died on August 18, 1954. He belonged to both countries. His conviction in the essential unity of the subcontinent is an essential aspect of his oeuvre that comes through in his haunting short stories that are truly vignettes of the violent times in which he lived his tragically brief life.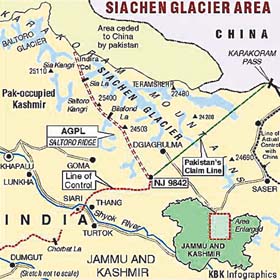 Manto excelled in a natural talent for structure and economy of words, racing ahead in his short stories to reach their final conclusion - denouement or surprise ending. A wry sense of humor led him to conclude his own epitaph with the words, "Under tons of earth he lies, still wondering who among the two is the greater short-story writer. God or he, Saadat Hasan Manto."
The tragedy that gripped both newly born nations in 1947 finds an unforgettable reflection in one of his works, Toba Tek Singh. Readers would recollect the outlines of this inspired short story. It seems India and Pakistan decided to exchange the inmates of their lunatic asylums after they had exchanged the prisoners in their jails. In terms of these arrangements, Bishen Singh, re-named Toba Tek Singh after his village, was to be transferred to India from Lahore. Much tumult and confusion resulted in his mind as he could not understand how one country could become two, and why he should go away after having lived his life as Toba Tek Singh.
The situation of India and Pakistan in Siachen is no different. However, the subsequent narratives of the two countries on the Siachen dispute are strikingly dissimilar. Briefly, India's case is that, Pakistan began encouraging Western countries to send mountaineering expeditions to this ill-defined Saltoro-Kangri-Siachen region. Significantly, official U.S. maps at this time also began showing the boundary beyond NJ9842 as extending north-eastwards to the Karakoram Pass. To counter these developments India initiated its counter-moves with an Army mountaineering expedition being dispatched to this area in 1978. The news and photographs of this expedition were published in 'The Illustrated Weekly of India', to gain wide publicity for the effort. A new word "oropolitics" entered the vocabulary of politics, meaning the use of mountaineering for political objectives.
The operational paradigm
The nightmare scenario conjured up by the Indian Army was that China and Pakistan, already in occupation of some parts of the former princely state of Kashmir, could link up, and surround the Indian territory in Ladakh on three sides. The resulting loss of control over the Shyok Valley would then permit Leh to be threatened. The rest is history. India launched a swift attack in April 1984 to capture the Siachen glacier and gain control over the commanding Saltoro Ridge, and two strategic northern passes - Sia La and Bilafond La. Pakistan's desperate attempts thereafter to dislodge the Indian forces have not succeeded, and a state of no-war-no-peace has continued thereafter in this inhospitable area.
Moving on, a ceasefire was negotiated in end-2003 along the India-Pakistan Line of Control, which was extended thereafter to the Siachen area. No shot has since been fired in anger. But, that has not stopped the steady loss of soldier's lives due to accidents - falling into crevasses or being buried alive under avalanches - and developing pulmonary edema. Last year, some 150 personnel of Pakistan's Northern Light Infantry died in Gyari, south of the Saltoro Ridge due to an avalanche. Shaken by the disaster Pakistan's army chief, General Parvez Kayani had introspected: "We want this issue to be resolved and it should happen. It is a tough mission for us and them, which has its costs." India, too, supports demilitarising the Siachen area but only after pre-conditions are met. There is moreover the huge drain of resources computed at around Rs 1,000 crore annually on the Indian side, and Rs 300 crore for Pakistan, which has significant opportunity costs for both countries.
Still, the Siachen imbroglio continues to fester. The most debilitating question asked in New Delhi is why it should show enthusiasm to reach a solution when it has the advantage of the high ground in Siachen and a larger economy to sustain this confrontation. Whenever, consequently, slight hope arises of sanity allowing some agreement to be reached, the holy cow of national security is invoked. The angst is then promoted that, if present positions are vacated, Pakistan would immediately grab this territory, and that it would be impossible thereafter to wrest the region back without a huge loss of lives. This frightens the politicians no end.
Towards demilitarisation
Perhaps, the time has come for the counter-factual aspects of the Siachen dispute to be set forth. Appreciating the north-west-to-south-east configuration of the series of mountain ranges in this region, how easy would it be for Pakistan to occupy the Siachen region if India vacates it? That, too, undetected by Indian aerial/ satellite reconnaissance to enable ground and air attacks? What would be the economic and human costs for Pakistan to remain in occupation of the Siachen and Saltoro region that are currently being borne by India? Pakistan would also become vulnerable to Indian attacks that could include the air dimension? Taking all these factors into account how would a cost-benefit analysis in this regard by Rawalpindi stack up? Has any such war-gaming exercise been undertaken in Indian military training institutions? Probably not. In any case, the results are unlikely to be shared with anyone outside the military establishment.
So, is there a solution to stop the continuing hemorrhaging of soldier's lives in Siachen? Attention might be drawn here to a book titled Realities of War, written by a journalist Sidney Gibbs and published just after the First World War. After describing the horrors of trench warfare and the appalling loss of lives in that war, Gibbs suggested that peace would have prevailed if half a dozen military and political leaders from each of the two sides had been sent to spend a week in the trenches. A similar solution will definitely work if India and Pakistan wish to solve the Siachen riddle.
Coming back to Toba Tek Singh, his tale ends badly. The fateful day for the transfer of lunatics arrives. Hindu and Sikh inmates are sent off to the Wagah border for being exchanged with the Muslim inmates from India. When his turn comes Toba Tek Singh refuses to move. He stands immobile in no-man's land, but is left undisturbed since he is a harmless old man, while the other transfers continue. Sometime during the night, he collapses. Barbed wire now separates India and Pakistan, but Toba Tek Singh lies in between them, on a bit of earth, that has no name.
That image would be the most fitting epitaph for the many lives lost and that are still to be lost in Siachen.