Guest Column
Vintage admn structure hobbling power distribution
It is an obsolete four-tiered structure, based on the 1895 PWD model, with four administrative levels of the SDO, XEN, SE, and CE. And guess what, the SDO is the only operating level, with the rest meant for monitoring and support.
SK Anand

Implementation of power reforms has been done in Punjab only in letter and not in spirit. Merely effecting changes at the macro level does not mean much, unless it is followed up with all-round efforts, towards redress of prevailing weaknesses and building up of existing strengths. The erstwhile Punjab State Electricity Board (PSEB) all along was one of the top performing boards, with several strengths, albeit a large number of weaknesses too. The good thing has been that post reforms, a competent technical team has been put in place, which has been able to sustain operations and even improve in the area of revenue leakages. All the same, we are losing on our strengths in quite a few of our strong areas, and have not really addressed our core weaknesses. Even in the area of controlling revenue leakages, our gains are likely to taper down, unless we address the structural weaknesses of the organisational set-up.
And nowhere is the situation more critical than with the existing organisational structure of the distribution system. It is an obsolete four-tiered structure, based on the 1895 PWD model, with four administrative levels of the SDO (sub-divisional officer), XEN (executive engineer), SE (superintending engineer), and the CE (chief engineer). And guess what, the SDO is the only operating level, where all core activities — including design and construction, operation and maintenance, redress of complaints, release of connections and collection of bills, etc. — are being handled, and all officers above the SDO are largely for the monitoring/support purposes.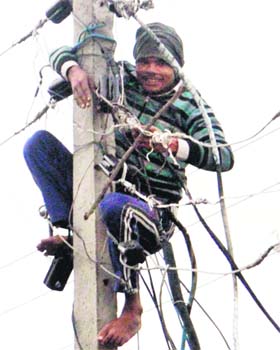 The SDO as an administrative head, in fact is the de facto general manager of the sub-division. It is mostly the lower level functionaries who are involved in handling the technical aspects of the system. Thanks to this set-up, engineering inputs are conspicuous by their near total absence in the local distribution system. This is a major reason our distribution system is by and large poorly designed, poorly constructed, and poorly maintained, adversely affecting the quality of supply.
Strangely enough, this distribution set-up is based on an administrative culture that exists nowhere else in the world, except in the erstwhile British India. Everywhere, there are two-tier set-ups organised on functional basis. The British did not introduce it even in their other colonies. In Kenya — where I have had the privilege to work as an expatriate plant engineer for five years — there was a two-tier set-up in the distribution wing, structured completely on functional basis. A big town like Nairobi, with a population of 1 million had one distribution manager, assisted by the specialised wings, each headed by an operation and maintenance engineer, design and construction engineer, commercial engineer, plant and protection engineer, and a regional control engineer, with teams of supporting specialist engineers and technicians. Engineers got their first administrative job after eight-ten years of field and design experience.
In spite of efforts over the past two decades to addressing this malady, only the grid sub-station maintenance set-up all over the state and commercial wings in a few cities, have been created on a functional basis in a half-hearted manner, as there are lobbies in favour of perpetuating status quo, where the new entrants start enjoying administrative powers from day one, without going through the grind of learning the essentials of distribution engineering.
While on one hand this has adversely affected the local distribution system, it has resulted in deployment of much heavier resources, both in terms of manpower and tools and plant. The nearest analogy to put this would be running 30-40 dispensaries in a city as against one hospital with specialised wings. No wonder that with a strength of more than 50,000 employees in today's PSPCL (Punjab State Power Corporation Limited), which is more than sufficient, we are facing shortages in key areas, just because the sanctioned strength is 75,000 plus, thanks to the obsolete, multi-tiered administrative structure.
We cannot defer this change any longer. Post reforms, we cannot go on adding new systems in the same sub-standard manner, in terms of construction as well as design. We cannot go on with the present quality of supply when we are talking of achieving international standards and are expected to implement the Right to Service Act.
It is time the distribution set-up was restructured on a functional basis, and the missing engineering inputs were ensured. Staff has to be retrained and redeployed; utilisation of tools and plants optimised, and recruitment restricted as per the needs of the modernised set-up. This would require strong support from the Punjab Government, as vested interests across the board will be very protective of the existing power centres, and would oppose it tooth and nail. But there is no reason why we should continue with this obsolete, primitive and non-functional organisational set-up. We can follow any model, right from Singapore to South Korea to Taiwan, or even the British model still being followed in other commonwealth countries. We just cannot achieve the defined standards of supply and implement the Right to Service Act without taking this first step.
The writer is a retired Engineer-in-Chief and former Member (Distribution) of the erstwhile Punjab State Electricity Board.