Faridkot heritage
Battle royale, riches won in courts
The story of Faridkot royals is an intriguing tale of forbidden love, a forged will, the mysterious death of a princess, a prolonged legal battle and a climax in which the rebel daughter inherits her rightful property worth crores.
By Kanchan Vasdev and Balwant Garg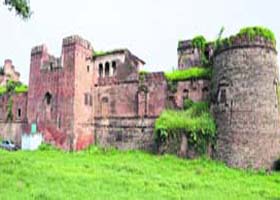 Surajgarh Fort at Mani Majra, Chandigarh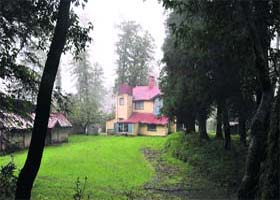 Mashobra House near Shimla.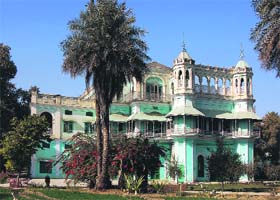 Entry to the Raj Mahal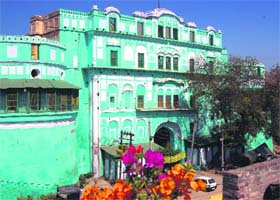 The fort at Faridkot has been banned by the Meharwal Khewaji Trust. Photos: Subhash Parihar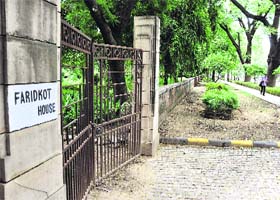 Locked entry to Faridkot House on the Copernicus Marg, New Delhi. Tribune photo Mukesh Aggarwal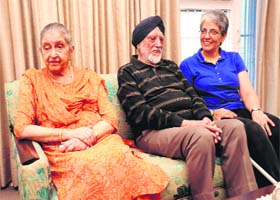 Amrit Kaur with her husband Harpal Singh.
"IT was a yearning for my father's love that kept me going for 21 long years to win the legal battle for inheritance. I could never believe that my father, who was a larger-than-life personality for me, though angry at my marriage against his wish, could disown me from the royal heritage of Faridkot. My fight was a mission; to prove to myself that he loved me as his eldest daughter," recounts 74-year-old Amrit Kaur, erstwhile "princess" of Faridkot who won a property suit worth millions early this week.
The long-drawn legal battle kept her faith in her father's sense of justice. "My eyes welled up the day the judgment was pronounced. I am at peace that my father was not against me as the forged will indicated and it was a handiwork of a coterie of servants and employees," she says.
Unlike the rulers of Patiala and Kapurthala, with their controversial lifestyles, the erstwhile princely state of Faridkot has not figured much in folklore, anecdotes or in books. But the recent judgment has put it in the spotlight.
Amrit Kaur, who married an IPS officer as a 19-year-old, severed the royal connection and spent decades fighting two major battles — marrying a man who was employed with her father and staking her claim to her father's property.
Her younger sister became the chairperson of a public trust that managed the property and was a defendant in the suit.
"My father was very fond of me. He was upset for two years after I got married, but he did come around. He would write to me and invite me to visit him on his birthday every year. When he was on his deathbed, he would not let me leave him even for a moment. He would say, 'mainu chadd ke na jayin' (please do not leave me)," Amrit Kaur recalls. She could not sleep for years after his death in 1989.
It was in 1991 that she decided to fight it out in court.
The Maharaja
Harinder Singh was crowned Maharaja at the age of three in 1918 after the death of his father. The Council of Administration managed the kingdom for over 15 years. He was invested with power on October 17, 1934, and was the last ruler of Faridkot. His wife Narinder Kaur bore him three daughters — Amrit Kaur, Deepinder Kaur and Maheepinder Kaur — and a son, Tikka Harmohinder Singh, who died in a road accident in 1981. Born in 1915, the Maharaja studied at Atkinson College, Lahore, and was an outstanding student. He was passionate about aircraft, motorbikes and expensive cars. He owned four aircraft, including a Gemini M65, which are in the hangar of Faridkot Palace. Among his fleet of 18 cars are a Rolls Royce, Bentley, Jaguar, Daimler and Packard.
His major contribution was in education, says Subhash Parihar, who has written six books on the architecture of old Punjab.
The Maharaja faced the Praja Mandal Movement in 1938, seeking the establishment of a responsible government. He was successful in suppressing it for a while, but in 1946, the movement gained ground and in 1948, the States Ministry of Independent India compounded the State of Faridkot along with Patiala, Nabha, Malerkotla and Kapurthala to form PEPSU.
He died in 1989, leaving behind a dubious will and controversy over his whopping assets.
Loopholes in 'will'
Accusation: Amrit Kaur accused Brijinder Pal Singh Brar, an advocate who was an attesting witness to the controversial will, of influencing the Maharaja to make the dubious will. As he was a beneficiary and close to a senior advocate who was the executor of the will, it raised question about his bona fide.
The judgment
On July 25 this year, the CJM court, Chandigarh, partly dismissed the suit filed by Amrit Kaur and declared the will as null and void, not binding upon her rights. It said she was entitled to joint possession to the extent of half share with her surviving sister Deepinder Kaur, except properties that have been acquired. It said in its 129-page order that five circumstances created suspicion. These were:
Dubious witness: Brijinder Pal was an attesting witness and relative of the executor of the will, so it raised doubts about the will.
Inky tales: Different inks were used by the attesting witness at the time of the attestation of the will and its registration.
Check spell: Wrong use of "harrograph" will for "holograph" will. The Maharaja had won a gold medal in essay writing in English at Atkinson College, Lahore, in 1932. How could he err? It was not a holograph will, the court ruled.
Slow to present: There was delay in the production of the will.
Safekeeping: The will was in 'wrong' custody, so it is fake on the basis of the evidence of the Trust members.
Rich architecture
Faridkot state was 64-km long and 54.7-km wide. Representing a style of architecture that flourished during the 19th century in the states of Punjab, the rulers of Faridkot built forts, palaces with intricate artwork, 'havelis', and administrative and educational buildings, says Subhash Parihar, an art historian and author of the book, Architectural Heritage of a Sikh State: Faridkot. Faridkot state had two towns — Faridkot and Kotkapura. "Kot" indicated that it was a fort or stronghold, and around it, a town would grow.
Primogeniture vs Hindu Succession Act
The rule of primogeniture (the custom by which all of a royal family's property goes to the oldest son) and the Hindu Succession Act, which allows a daughter equal share in the property, were at clash during the legal fight over the Maharaja's property. Demanding her share, Amrit Kaur claimed her brother Tikka Harmohinder Singh died in 1981, during the lifetime of her father.
The Maharaja had submitted a list of his properties, which was accepted by the Union Government, and these properties were deemed ancestral as well as individual properties, subject to the law of inheritance under the law of the land — the Hindu Succession Act.
Hence, such inheritance cannot be governed by primogeniture. Moreover, the rule is feudal and violative, not only of the Constitution, but also of the Hindu Succession Act. It is discriminatory as it excludes females from inheritance.
Even if primogeniture was applicable, Amrit Kaur claimed she was entitled to succeed to the entire estate since she was the eldest surviving child and there were no males who could take priority under primogeniture.
Property 'worth' Rs 130!
The Maharaja's eldest daughter, and son and daughter of his younger brother had staked claim to his estate, and had filed a civil suit in Chandigarh in 1992.
Bharat Inder Singh and Raj Kumari Dev Inder Kaur, children of the Maharaja's younger brother Manjit Inder Singh, had demanded one-third share in the property. They affixed a paltry court fee of Rs 19.50 while assessing the property's value at Rs 130! The market value of the property is pegged at Rs 20,000 crore (some estimates put it at Rs 15.79 crore). Setting aside their claim on July 25 this year, the judge remarked it was ridiculous that they had assessed the value of the property, worth billons of rupees, at Rs 130.
However, Amrit Kaur, the Maharaja's elder daughter who followed her cousins in filing the suit on October 15, 1992, had affixed a court fee of Rs 15,43,550, assessing the total value of the property at Rs 15.79 crore.
The Mehrawal Khewaji Trust had objected to the Rs 15.43 lakh court fee, dubbing it insufficient as the value of the property was much higher. However, the court dismissed this objection, saying the trust had failed to give the correct market value of the properties.
In 'wrong' hands
Over 1,200 acres at Bir Sikhanwala village, Faridkot, under PAU, which took it on lease for a seed farm. The land value has never been assessed officially.
103.4 acres near Faridkot Cantt was acquired in 2007 for a flying academy. The project was scrapped after Ministry of Defence objected to it. PUDA is planning to build a residential colony on it.
Huge chunks of land in Faridkot have been encroached upon in the last 30 years. The court had ordered the revenue department 16 years ago to evict the illegal occupants of a large piece of this land at Bir Sikhanwala village, but nothing has been done.
Land measuring over 31 kanals near Kaimbwala, Chandigarh, in possession of the UT Administration.
Some land at Kaimbwala in possession of the forest department, Chandigarh.
Land measuring over 13 kanals (recorded as 'shamlat deh') at Mauli Jagran village, Chandigarh, under the gram panchayat.
Khasra Nos. 156, 157 and 158 at Ballabgarh revenue estate under the district board, zila parisad and PWD department of Haryana Government.
A part of Khasra No. 158 measuring over a kanal at Ballabgarh stands sold.
Khasra No. 133 at Ballabgarh is under a priest's possession.
The illegal Meharwal Khewaji Trust
As per the Will dated June 1, 1982, ruled void by the court, all the movable and immovable properties belonging to the Maharaja were to be passed on to a trust. His daughters Deepinder Kaur and Maheepinder Kaur were named chairperson and vice-chairperson, respectively, of the trust. Amrit Kaur was left out.
While the dubious Mehrawal Khewaji Trust, Faridkot, has been declared illegal, the Maharaja had set up a trust in England vide a settlement deed dated April 1, 1955, making Grindlays Bank Limited, London, the sole trustee. The bank was to disburse the income (half-yearly) from the investment in the trust among his children. The first portion was to go to his three daughters and the second to his son. After his son's death, the income would go to his living daughters, Amrit Kaur and Deepinder Kaur.
The other trusts
1968: Ruling Family Housing Trust
1987: Rani Kuldeep Kaur Trust
1988: Rani Narinder Kaur Charitable Trust
1989: Tikka Harmohinder Singh Trust
Out of bounds
After the Maharaja's death, the trust denied access to the public to the highly fortified palace and fort in Faridkot. The Faridkot palace is under renovation.
Worth the fight
It's been a peculiar case. We worked hard to collect documents and evidences. The cross-examination and critical analysis of the will made us win the case. Amrit Kaur's daughter, Gurveen H Singh, who is also a lawyer, worked very hard. All this helped us a great deal.
— Manjit Singh Khaira, amrit kaur's lawyer
Will fight the order
The verdict is unbelievable. It is based more on conjectures, less on facts. Amrit Kaur's claim that her father was depressed after his son's death is unfounded. After a month of the tragedy, the Maharaja had resumed all activities. We will fight against this court decree.
— Ranjit Singh Wahniwal, senior advocate, believed to be main executor of the will
Market assessment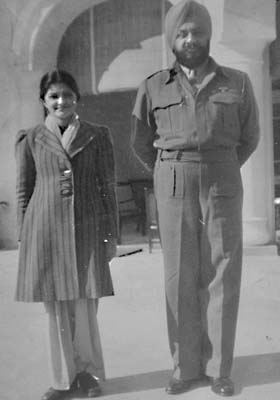 Amrit Kaur with her father Maharaja Harinder Singh.
The market value of the property is being assessed at Rs 20,000 crore, but in a report in 1984, the District Valuation Officer, New Delhi (appointed by the Government of India under Section 16-A of the Wealth Tax Act) valued it as under:
Faridkot House, Copernicus Marg, New Delhi
Rs 6,96,92,359
Faridkot House, Diplomatic Enclave 1-Naya Marg, New Delhi
Rs 99,93,000
Okhla industrial plot
Rs 16,62,585
Mashobra House
Rs 40,55,027
Riviera Apartment, The Mall, Delhi
Rs 9,04,595
Hotel plot, Chandigarh
Rs 1,08,36,266
Raj Mahal, Faridkot
Rs 88,85,672 (as in 1981)
Qila Mubarik, Faridkot
Rs 99,14,321 (as in 1982)
Stables, Faridkot
Rs 30,00,000
Surajgarh Fort, Mani Majra
Rs 2,00,00,000
Family tree
Wife: Rani Narinder Kaur (died before the Maharaja).
Royal siblings
Amrit Kaur: The eldest daughter married an IPS officer and has three children. She was left out of the will in 1982. She sought legal recourse.
Deepinder Kaur: Settled near Kolkata, she was named the chairperson of the trust. She married a royal, Sadey Chand Mehtab, and her son Jaichand is the vice-chairman.
Maheepinder Kaur: A spinster, she died under mysterious circumstances at Mashobra in 2001. She was the vice-chairperson of the trust.
Tikka Harmohinder Singh: The lone son of the Maharaja, he died in 1981. He was a bachelor.
Rulers of Faridkot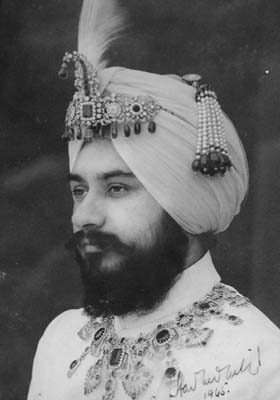 Maharaja Harinder Singh.
1827-49: Raja Pahar Singh
1849-74: Raja Wazir Singh
1874-98: Raja Bikram Singh
1898-1906: Raja Balbir Singh
1906-16: Council of Regency
1916-18: Raja Brij Inder Singh
1918-34: Council of Administration
1934-48: Maharaja Harinder Singh
Timeline
1915: Maharaja Harinder Singh is born.
1933: Amrit Kaur is born.
1934: The Maharaja is invested with power.
1952: Amrit Kaur marries against her father's wishes.
1981: His son, Tikka Harminder Singh, dies of liver disease.
1989: The Maharaja passes away.
1992: Amrit Kaur moves the court.