Underpass to connect Okhla with Kalindi Kunj
New Delhi, August 3
Commuters will be able to reach Okhla from Sarita Vihar over a distance of only a kilometre, after the Northern Railway constructs an underpass at Sarita Vihar. Presently, the length of the road route from Sarita Vihar to Okhla is nine km. The underpass at Sarita Vihar is being constructed by the Northern Railway on behalf of the Delhi Development Authority. This underpass will connect the Okhla industrial area with Kalindi Kunj.
'Broom' launched to cleanse politics: Kejriwal
New Delhi, August 3
Exactly one year after the launch of Aam Aadmi Party was announced, the party today formally launched its election symbol 'Broom' which symbolises cleansing the polity of the country. On the occasion, party leaders Arvind Kejriwal and Manish Sisodia assured the people that they would give a credible political alternative in the coming Delhi Assembly polls.
Six IT impersonators held for robbery
New Delhi, August 3
Six persons were arrested this morning for allegedly robbing a man of Rs 1.5 crore in north Delhi's Kotwali area on July 18 by posing as income-tax officers. The police said the accused had allegedly committed the act after being inspired from a Bollywood movie 'Special 26'. The accused have been identified as Sudhir Bhati (26), Praveen Kumar (32), Deepak Bhati (26), Devender Tiwari (33), Deepak Kumar (35) and Jitender Negi (30).
Girl raped by tutor
New Delhi, August 3
A 17-year-old girl was allegedly raped by her tutor in his rented accommodation in west Delhi's Mundka area on Friday. According to the police, the victim is a class XI student. The accused identified as Joginder Sharma (45) was arrested yesterday. The girl in her complaint to the police alleged that she had gone to Sharma's house for tuition classes when he raped her. After she returned home, she informed her family about the incident. The girl's family approached the police. Her medical examination confirmed the crime. Sharma has been booked under relevant sections of the Indian Penal Code (IPC) and Protection of Children from Sexual Offences Act, 2012 (POCSO) at the Mundka police station. — TNS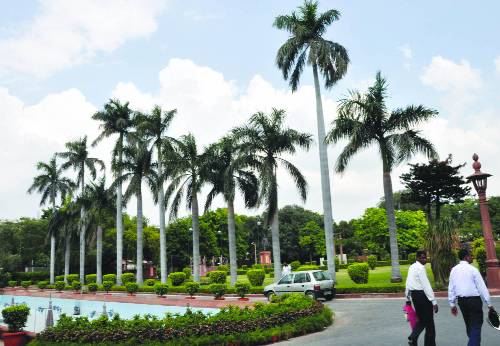 CLOUDSCAPE — Tribune photo: Mukesh Aggarwal

IGNOU Dip in Elementary Education
New Delhi, August 3
Indira Gandhi National Open University's School of Education (SOE) has launched a two-year Diploma in Elementary Education (D.El.Ed.), offered in ODL mode, for in-service teachers to enhance their competency. The announcement comes during the signing of an MoU between IGNOU and the Arunachal Pradesh Government by the registrar, IGNOU, S.V.S. Chaudhary and the state project director of the Sarva Shiksha Abhiyan Rajya Mission, (AP) Rajesh Kumar Mishra at the university today. — TNS
DUSU polls
For the Delhi University Students Union elections, the Vice-Chancellor has announced the names of the officials who will be conducting all the activities surrounding the polls. Ashok Vohra from the department of philosophy has been appointed the chief election commissioner while D.S. Rawat from the department of chemistry is the chief returning officer. — TNS