Mired in controversies, PTU VC may face axe
Jalandhar, August 11
With PPCC president Partap Singh Bajwa submitting at least five affidavits alleging financial irregularities by Rajneesh Arora, Vice Chancellor, Punjab Technical University (PTU), the latter is likely to face action in a meeting of the Board of Governors (BoG) to be held on August 16.
PPCC to file PIL against Sangat Darshan
Dera Baba Nanak (Gurdaspur), August 11

The Punjab Pradesh congress Committee president, Partap Singh Bajwa, said today that he had asked legal experts to file a PIL in the Punjab and Haryana High Court against the holding of Sangat Darshan by Chief Minister Parkash Singh Badal, which he described "against the Constitution and against the very ethics of democracy."
PPCC president Partap Singh Bajwa (second from right) and vice-president OP Soni (centre) welcome BJP leaders Arun Pappal (second from left) and Kanwal Nain Singh Gullu (right) into party fold in Amritsar on Sunday. Photo: Vishal Kumar

Science kits scam
Complainant told to provide evidence
Chandigarh, August 11
The Chief Vigilance Officer, Department of Industries and Commerce, has summoned Ludhiana resident Shiv Thapa to provide evidence in support of his allegations against the Education Department that it had favoured particular firms by purchasing overpriced science kits for government schools.







lakeside languor:

A bird lover feeds the ducks at the Sukhna Lake in Chandigarh early on Sunday morning. Tribune photo: Pradeep Tewari
SAD-BJP Govt deceiving Dalits, alleges BSP
Jalandhar, August 11
Accusing the ruling SAD-BJP alliance of deceiving the Dalits with false promises, the BSP has asked the coalition government to issue a 'white paper' on the facilities extended to uplift the living standard of the masses during its seven-year "misrule".
Disquiet as Bajwa appoints observers for DCC meetings
Patiala, August 11
As most District Congress Committees (DCCs) are holding "fake" meetings with no record of the number of workers attending these meetings, Punjab Pradesh Congress committee (PPCC) chief Partap Singh Bajwa has decided to appoint observers in every district.
BBMB erred in Pong spillage: Engineers
Jalandhar, August 11
The All India Power Engineers Federation (AIPEF) has questioned the Bhakra Beas Management Board's (BBMB) rationale behind curtailing generation at Pong powerhouse in June and July even as Pong Dam had excess water, which it released recently.
BSF wages war against drug abuse in border belt
Hardo Rattan (Amritsar), August 11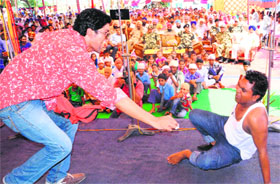 The Border Security Force today launched a drug de-addiction campaign by holding an awareness programme in this village located 500 m from the barbed border fence. The BSF exhorted the residents to start a new struggle to eradicate the drug menace which has taken its toll on the young generation. Its officials urged the people to socially boycott drug peddlers and others involved in the illegal trade.
Artistes perform a play organised as part of a BSF de-addiction awareness drive in an Amritsar village. Photo: Vishal Kumar

Small farmers turning to labour
Chandigarh, August 11
With farming no more viable, a considerable numbers of small and marginal farmers in the state have shifted to labour and other sectors. During 2001 - 2011, there has been a significant fall in the number of cultivators and agriculture labourers.

Registration scam
PUB-7 may have been sold to Sunny Deol
Bathinda, August 11
The name of Bollywood actor Sunny Deol figures in the list of persons who reportedly bought a VIP number (PUB-7) through middleman Gagan Teshwar who worked in tandon with former Bathinda DTO (District Transport Officer) BM Singh. The latter is in police custody for running a registration scam.
Return land to Punjabi farmers: SAD to Hooda
Chandiagrh, August 11
The SAD has urged Haryana Chief Minister Bhupinder Singh Hooda to frame a policy to return agricultural land to Punjabi farmers who were "systematically dispossessed" of the land given to them on lease in 1950s.
No delegation to Pak, says Manak
There may be no candle light vigil at the Attari-Wagah border on the intervening night of August 14 and 15.
Patients neglected as Rajindra Hospital lacks super specialists
Patiala, August 11
Government Rajindra Hospital, a premiere institute in the region, is no longer able to cater to the needs of the patients in the area as it faces an acute shortage of super specialists. Patients now have to look to private hospitals to get treatment.
PSEB gives 200 schools one more year to meet conditions
Mohali, August 11
Giving relief to over 200 associated schools, the Punjab School Education Board (PSEB) authorities have deferred its decision of closing down these schools to next year.
Sangrur admn takes steps to tackle stray cattle menace
Sangrur, August 11
In order to save lives, the district administration and the local Municipal Council have taken steps to tackle the menace of stray cattle in the city. Over a fortnight ago, a 52-year-old man from Ram Nagar Sibia village was killed when his motorcycle reportedly rammed into a stray bull near Nankiana Sahib Chowk here.
Come rains, unsanitary conditions plague Moga
Moga, August 11
The Municipal Corporation of Moga has turned a blind eye to the unsanitary conditions prevailing in the city, exposing its 1.65 lakh residents to health hazards.
Street vendors continue to sell unhygienic food in Patiala
Patiala, August 11
While the Patiala district Health Department claims frequent raids on eating joints in order to implement the Food Safety Act, the street vendors continue to sell unhygienic food in every nook and corner of the city.
Farmers submit lists of demands to DCs
Moga, August 11
Various deputations of the Bhartiya Kisan Union (Ugrahan) and Punjab Khet Mazdoor Union on Saturday submitted memorandums to the state government through the deputy commissioners at all the district headquarters. They demanded proper implementation of land reforms, compensation of Rs 2 lakh and a government job each to close relatives of the farmers who committed suicide.
Man held with smack
Abohar, August 11
The city police has arrested Harish Setia of Nanak Nagari here and recovered 20 gm of smack from him when he was intercepted near Ajit Nagar, located on the outskirts of the sub-divisional town.