Govt has failed on relief front, claims PPCC chief
Tarn Taran/jalandhar, August 22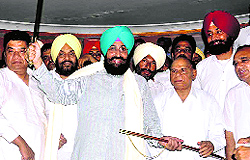 PPCC president Partap Singh Bajwa today visited flood-affected areas in the district. He alleged the state government had failed to provide timely compensation to the affected people. He said about 50 villages in the district had been affected and crops over 50,000 acres had been damaged, but the district administration had not provided any relief to the residents.

PPCC chief Partap Singh Bajwa at a party meeting at Kartarpur on Friday. A Tribune photograph

Sukhbir: BBMB told to regulate water flow
Fazilka, August 22
Hundreds of flood-affected villagers put forward their demands before Deputy Chief Minister Sukhbir Badal during his visit to the area today. As Sukhbir stopped near Kanwawali Pattan bridge (submerged recently) to have a first-hand account of the flood situation, a large number of restive residents thronged the venue.
Gujarat's Sikh farmers say no to SAD help
Chandigarh, August 22
In an embarrassment of sorts for the Punjab Government, Sikh farmers of Gujarat have turned down its offer of legal assistance by state Advocate-General Ashok Aggarwal.
Centre meddling in state affairs, says Sukhbir
Chandigarh, August 22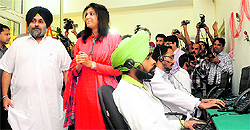 Deputy Chief Minister Sukhbir Singh Badal today said the Congress-led UPA Government at the Centre was playing politics by sending probe teams to Punjab on any issue.



Day 1: 547 calls & 86 complaints


No 'Kale Kachche Wale' gang: Home Minister

Deputy Chief minister Sukhbir Singh Badal at the inauguration of a Punjab Police helpline in Mohali on Thursday. Tribune photo: Vicky Gharu

Will approach party chief Rajnath, says CPS Sidhu
Amritsar, August 22


After her outburst against the state government over "denial of grants" to her Amritsar East constituency, Chief Parliamentary Secretary Dr Navjot Kaur Sidhu today said she had sought an appointment with national BJP president Rajnath Singh and would take up the issue with him.


Navjot Kaur Sidhu, Chief Parliamentary Secy

MLA's wife is Muktsar ZP chief
Muktsar, August 22
Abneet Kaur, wife of Malout MLA Harpreet Singh, who is also Chairman of the District Planning Board, was unanimously chosen chairperson of the Muktsar zila parishad today.

Rakhra confidant is new Patiala zila parishad chairman
Patiala, August 22
Proving their political supremacy in Patiala, state cabinet minister Surjit Singh Rakhra and his brother Charanjit Singh Rakhra were today successful in getting their aide elected unopposed as the chairman of the zila parishad. Jaspal Singh Kalyan was unanimously elected chairman and Avtar Singh Ghalorhi was elected vice-chairman of the zila parishad.

Won't support Food Security Bill in present form: SAD(B)


Fatehgarh Sahib, August 22
SAD(B) general secretary Prem Singh Chandumajra today said the fall of the rupee, repeated attacks on the Line of Control by the Pakistan army, capturing of the Indian Territory by Chinese soldiers was a clear indication that the Congress-led UPA government had failed on all fronts. He said it had failed in controlling inflation and corruption.



Golden Temple's kitchen to be re-designed to check pollution
Amritsar, August 22


The free kitchen at the Golden Temple is a major pollutant, something that has been contributing to discolouration of the shrine's gold-plating, a study conducted recently by the Indian Institute of Technology (IIT), New Delhi, has found.


A portion of the gold-plating that is facing discolouration at the shrine. A Tribune photograph


Denied choice postings, doctors allege betrayal
Chandigarh, August 22
A majority of newly appointed doctors in the state are a harassed lot. After promising to appoint them at the stations of their choice, the government has now dragged its feet.

DEO among 8 suspended for wrong info


Chandigarh, August 22
Education Minister Sikander Singh Maluka today suspended eight officials, including District Education Officer (DEO), Faridkot. He also sought explanation from three DEOs posted at Ropar, Ludhiana and Hoshiarpur and their computer faculty for allegedly sending incomplete and wrong information about inter-district transfer cases and hiding facts in the list received by the DPI (Senior Secondary).

DIFFERENT STROKES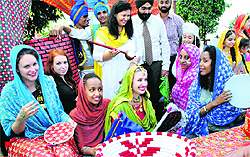 Students from Poland, Ethiopia, Norway and Russia dressed up in Punjabi attire during an exhibition at Play Ways Global Village in Patiala on Thursday. Tribune photo: Rajesh Sachar


Giani Mal Singh takes over as Takht chief
Amritsar, August 22
Giani Mal Singh was installed jathedar of Takht Sri Kesgarh Sahib at Anandpur Sahib today with Akal Takht chief Giani Gurbachan Singh honouring him with a 'siropa'.

'Insult' of Sikh Pupils
SAD seeks action against PGI head
New Delhi, August 22
The SAD has demanded "severe action" against PGI Director Yogesh Chawla and acting Registrar Krishan Guaba for allegedly discriminating against and harassing Sikh students during an entrance examination on August 18.

Govt wants formula for transfer of central funds changed
Chandigarh, August 22
The Punjab Government wants drastic changes in the formula on the basis of which funds are transferred to states from the central pool of tax revenue.

Sangrur civic body in financial mess
Sangrur, August 22
The local Municipal Council has been witnessing a financial crisis for the past few months. According to an official, the council has less sources of income of its own so it has to depend on the state government for funds in the form of VAT instalments or grants. The council requires at least Rs 1.50 crore from the state authorities in one go to do away with its liabilities, he said.

Finance Minister Dhindsa non-committal on DA
Patiala, August 22
Punjab Finance Minister Parminder Singh Dhindsa today said the state government was committed to giving Dearness Allowance (DA) instalments to its employees but could not say as to when these would be released.

PSEB ex-chief's daughter back on contractual job
Mohali, August 22
The board of directors of the Punjab School Education Board (PSEB) has revised the appointment of Navneet Gill, director, computer cell, from regular to contractual service. The decision was taken during a meeting of the board of directors at the PSEB complex here today.


A 204-year-old copy of the Treaty of Amritsar, dating back to the days of British East India Company, was sold yesterday for over four times its estimate at an auction of rare documents.

Farmers protest against power corporation
Patiala, August 22
Farmers from various parts of the state under the Bharti Kissan Union Ekta (Dakaunda) held a protest outside the power corporation head office here, demanding fixing of charges for bore wells at Rs 1,200 per horse power instead of Rs 4,700 being charged from them.



Maharaja's case: Trust allowed to withdraw Rs 50 lakh
Chandigarh, August 22
Additional District and Sessions Judge RK Yadav stayed the operation of order of lower court till next date of hearing regarding the control of properties of the erstwhile Faridkot Maharaja Harinder Singh Brar today. Maharwal Khewaji Trust, overseeing the affairs of his properties, had filed an appeal against the lower court order on Friday.





Mansa police arrests 3 for wheat pilferage
Bathinda, August 22
The Mansa police has arrested three persons, including two running ration depots, for selling wheat meant for BPL (below poverty line) families in the open market in connivance with middlemen.

Grant scam: Ex-principal arrested
Rajpura, August 22
The Rajpura Police has arrested Sanjeev Kalia, former Principal of the local Patel Memorial College, for his alleged role in the misuse of University Grants Commission (UGC) grant released to the college during his tenure.